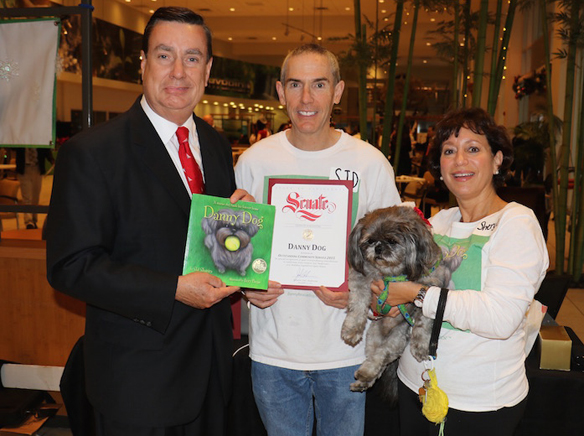 By Melody Smith
By Melody Smith
There are only a few ways to commemorate a community service and a heart-warming story, and Danny Dog gets four paws up. Danny Dog stole the show at student assemblies given at Sycamore Canyon Elementary School earlier this month. The assemblies were designed to teach students the value of community service. Danny Dog is a fun loving, captivating and intelligent Shih Tzu rescued by Sid Shapira and his wife Sheryl. Shapira's book "Danny Dog: A Rescue Dog Finds His Forever Home" colorfully animates the true story of Danny's journey towards finding a permanent home. At the assemblies, students were able to interact with Danny Dog-who graciously welcomed their attention.
Before the presentation, California State Sen. Joel Anderson, commended their unyielding commitment to community engagement, and provided Shapira and Danny Dog with Senate Certificates of Recognition.
"I am grateful Sid, Sheryl, and Danny Dog came to Sycamore Canyon Elementary School to share their passion for animal rescue and adoption with the students," said Anderson. "The Shapiras are an outstanding example of turning personal knowledge and interests into community service and having an impact."
Shapira and Danny Dog have visited over thirty schools to educate children about pet rescue and adoption. At the end of the presentation, students are able to ask questions and provide commentary. Several students related this to their own stories of having an adopted pet at home. Shapira recognizes that "so many dogs like Danny have gone through similar stories," and uses this point to encourage children to think critically about the benefits of adoption.