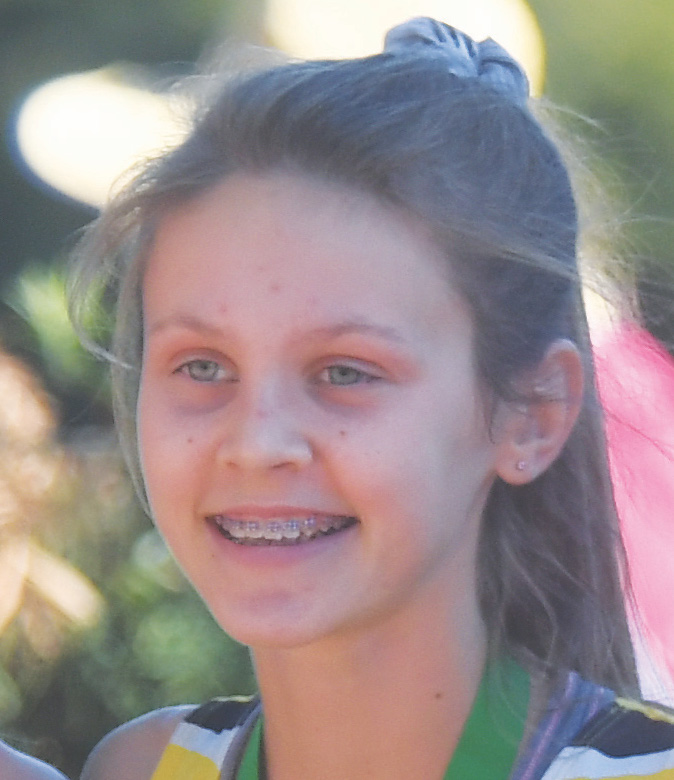 Ready, set, go! Those were most welcome words.
After more than a year off the course due to the COVID-19 pandemic, cross country has been the first sport to return to active status within the San Diego Section.
Five Grossmont Conference dual meets took place Feb. 12 across East County sites.
Obviously, a long list of protocols has been enacted to provide a safe and healthy environment in which to compete.
The season has been shortened to just league dual meets and teams are competing primarily on school sites with the closure of some parks.
Despite the challenges, runners throughout the region are rejoicing that there simply is a season in which to finally compete.
Vaquero pride
When the 2019 cross country season ended, the El Capitan High School boys and girls teams had made a trek to the state championship meet in Fresno after placing second among teams in their division at the preceding section finals.
The Vaqueros girls team, paced by freshman Amber Chase and senior Carolinh Calvert, placed sixth among the 24 scoring teams at the state meet while the El Capitan boys team, led by senior Andrew Sager and junior Parker Dixon, finished 19th in a field of 25 scoring teams.
Chase concluded a star-studded debut season at the high school level with a meteoric seventh-place finish among 203 runners her division at the state championship meet while Calvert, completing a star-studded prep career, placed 30th in the field.
Sager finished 28th among the 217 runners to conclude his high school career. Dixon had placed seventh at the section finals while Sager was 10th.
El Capitan finished runner-up to Cathedral Catholic in both the Division III boys and girls section fields.
Chase finished second among individuals while fellow ninth-grader Samantha Mauzy finished 17th in the field of 108 runners.
The new season looks equally exciting in its own way.
El Capitan stepped off the 2021 season with a dual meet against Grossmont Valley League rival Santana at Steele Canyon High School.
The teams split on the varsity scoreboard, with El Capitan winning the girls dual meet by a score of 25-32 and Santana capturing the boys dual meet by a score of 15-49.
El Capitan placed four of the top five runners in the girls dual to secure the season opening victory, led by Chase, now a sophomore, with a time of 15:55 for 2.55 miles.
Santana sophomore Mikayla Horning, a returning state meet qualifier after placing fifth at the section finals, finished second in the race in 17:05. But four Lady Vaqueros followed closely on her heels. Mauzy finished third in 17:10, senior Ashley Boinus placed fourth in 17:37 and freshman Jillian Rudolph was fifth in 17:40.
Santana followed with the next seven runners across the finish line in the 14-deep race.
"Our top girls have been running pretty consistently on their own throughout the pandemic," El Capitan coach Tyler Ludwig explained. "Our top three have been running since April and were just excited to finally get an actual race."
Ludwig said the team's No. 4 runner didn't join the team until school had started back up with in-person classes.
"I talked with her in my P.E. class and she began to run with the other girls almost immediately," Ludwig said.
"The team ran very well for their first meet. They took it easy for the first mile and then really pushed for the last 1.55 miles.  Santana is returning a lot of girls from a very good team last season (eighth at the section finals) and we were not quite sure what to expect. Our goal was to put three or four runners ahead of Santana's No. 2 runner by working really hard after the long hill on the Steele Canyon course. The girls did their jobs and we got the win."
Santana came out with a vengeance in the boys dual, placing the top six runners in the 16-deep field, including all six under 15:00 on the 2.55-mile course.
Senior Jack McMackin led the parade of Sultans across the finish line in 14:00, followed in order by sophomore Connor Cheary (14:16), junior Mateo Graham (14:26), sophomore Jayson Oliver (14:43), sophomore Cameron Thomas (14:45) and junior James Stuermer (14:47).
Only the top five runners on each team score points in a race.
El Capitan's top finisher included sophomore Trey Dixon in seventh place in 14:50. Santana junior Cameron Bressler finished in eighth place in 15:03 while El Capitan junior Dominic Villarruel finished ninth in 15:09. Santana senior Austin Butrovich rounded out the top 10 finishers with a time of 15:32.
The Vaqueros return to league competition Friday, Feb. 26, against Mount Miguel at Harry Griffen Park.
Off to the races
Santana's boys team placed 10 of the 12 runners in last Friday's dual meet against El Cajon Valley at Harry Griffen Park to remain undefeated on the young season.
Cheary recorded the top time of 12:47 in the 2.35-mile race, followed by El Cajon Valley senior Daniel Monganga in second place in 12:53.
The Sultans placed the next nine runners in the race to sweep to the win. McMackin was third in 13:01, followed by Graham in fourth in 13:02, just a stride back. Santana's top five scorers also included Oliver (fifth, 13:11) and Thomas (sixth, 13:22).
Santana's girls team tasted victory for the first time this season by placing the top eight runners in its dual against El Cajon Valley. The top five scorers in the 2.35-mile race for the Lady Sultans included Horning (15:35) and sophomore Trinity Johnson (16:46), junior Marie Tischer (17:05), sophomore Brianna Edwards (17:08) and freshman Abigail Melius (17:23).
The Valhalla girls team improved to 2-0 in league duals after defeating West Hills last Friday with a low score of 15 points. Seniors Kate Baranski and Peri Kraft led a 1-2 Valhalla finish with times of 11:55 and 12:57 for two miles.
West Hills countered with senior Angelica Emlund (13:50) and freshman Lillian Bozeman (14:33) in third and fourth place, respectively. The Lady Norsemen wrapped up the victory by placing three of the final five runners in the nine-deep field, keyed by freshmen Katie Waymire (fifth, 14:41) and Kayla Johnson (sixth, 15:34).
Valhalla stepped off the season with a 19-36 victory against neighborhood rival Granite Hills on Feb. 12. Baranski topped the 12-deep scoring field with a time of 11:57 while Kraft finished runner-up with a time of 12:40.2.
The Norsemen placed the top four place-finishers in the race, with senior Emilee Olander finishing third in 13:38.5 and junior Alyssa Kasyouhannon finishing fourth in 13:56.4.
Sophomore Kelly Cahill paced the Lady Eagles in fifth place with a time of 14:12.3.
Valhalla juniors Miguel Campos (11:11.5) and Nicholas Nance (11:35.4) finished as the top individual in the Norsemen's season opener on Feb. 12, a 20-35 win over Granite Hills. Junior Mel De Alba-Ruiz finished in third place with a time of 11:40.7 to lead the Eagles on the two-mile course.
Senior Landon Morales topped the field with a time of 10:59 as West Hills defeated Valhalla, 24-32, in competition last Friday. The team alternated the top six place-finishers before the visiting Wolf Pack secured the win with the seventh and eighth placers in the race to secure five of the top eight scoring positions.
West Hills junior Mark McCowin finished third in 11:14, followed by Valhalla's Nance in fourth place in 11:18. West Hills senior Sean Willweber finished fifth in 11:30, followed by Valhalla senior Vincent Cono in sixth place in 11:34.
The Wolf Pack wrapped up the victory as junior Ethan Trantalis placed seventh in 11:51 and senior Brandon Bennet finished eighth in 11:59.
Cougar country
Steele Canyon's boys and girls teams remained undefeated on the season after sweeping past Helix and Grossmont in their opening two dual meets.
In boys action, the Cougars edged Grossmont, 27-28, last Friday at Harry Griffen Park after cruising past Helix, 15-48, on Feb. 12.
Steele Canyon senior Diego Lopez scored medalist honors with the top time of 12:05 on the 2.35-mile course. The Foothillers followed with the next three runners to take an early lead in the scoring column. Sophomores Russell Blakely (12:06) and Ian Rosen (12:27) finished second and third, respectively, while junior Kei Okura placed fourth in 12:31.
But Steele Canyon rebounded with the next four scorers to claim the win. Senior Angel Arredondo finished fifth in 12:42, followed by sophomores Bradley Bell (sixth, 12:42) and Juan Pablo Arredondo (seventh, 13:00) and Dominic Rizzo (eighth, 13:08).
A week earlier on their home course, the Cougars placed the top six runners. Lopez led the pack with a winning time of 14:12, followed by Angel Arredondo (14:27), Bell (14:33), Juan Pablo Arredondo (14:33), Rizzo (14:57) and junior Sergio Gaytan (14:59).
Sophomore Joshua Caneday paced Helix on the course in seventh place in 15:41.
Steele Canyon coach Gary Stathus said his team had been waiting for the opportunity to compete.
"We have been training since July, waiting for the season to begin," Stathus explained. "They are all in very good condition. The Helix meet was the first meet of the season, so I didn't really know how well we would do. These boys hadn't raced since March 6 of last year during track season. We took the first six places, so I was very satisfied with the results."   
Steele Canyon's girls team ran past Helix, 15-50, by recording the top nine place-finishers in its season opener. The Cougars stepped off the season 2-0 following last Friday's 27-30 win over Grossmont.
Steele Canyon's top five scorers in the season opener included sophomores Graziella Mineo (13:56) and Chase Diffenbaugh (15:02), junior Ariel Curiel (15:20) and sophomores Eryka Garcia (15:33) and Alexa Ongley (15:47). All times were for 2.15 miles.
By contrast, last Friday's dual was much more of a nail-biter as the Foothillers placed three of the first five runners across the finish line before the Cougars placed five of the first nine runners to secure the three-point victory.
Senior Madeline Minutelli, a returning state meet qualifier and sixth at the 2019 Division II finals, remained undefeated on the season after posting a 50-second win over Steele senior Jennifer McCubbin (15:26) at Harry Griffen Park. Diffenbaugh placed third in 15:48, followed by Grossmont freshmen Suhey Arce (fourth, 126:26) and Ziara Hernandez (fifth, 16:30).
The Cougars placed three of the next four runners, however. Curiel (16:39) finished sixth while Ongley (16:54) placed seventh. Grossmont junior Isabel Cervantes (17:02) finished eighth while sophomore Savannah Cotter handed her team the win with a ninth-place finish in 17:20.
Grossmont swept West Hills in the teams' season opener. The Foothillers won the boys dual by a score of 21-34 and posted a narrow 27-29 victory on the girls side.
Rosen (11:00) and Blakely (11:03) were the first across the finish line in the boys dual, followed by West Hills' McCowin (11:17) and Morales (11:22). The Foothillers picked up the pace on the Wolf Pack's 2.05-mile home course by scoring the next three runners to win: Okura (11:45) and sophomores Joshua Edwards (11:47) and Mason Coyle (11:47).
Minutelli topped the 13-deep girls field with a winning time of 12:38. West Hills followed with the next three place-finishers: senior Berea Crescitelli (13:31), Emlund (13:49) and Bozeman (14:45). But Grossmont displayed a winning hand by pushing the next four runners across the finish line: Cervantes (15:09), seniors Junniet Mascareno (16:00) and Olivia Wangler (16:03) and junior Sara Standlee (16:21).
Monte Vista stepped off its season last Friday with a sweep of neighborhood rival Mount Miguel. The Monarchs placed five of the top eight runners in the boys matchup to finish with the low score of 15 points and placed five of the top nine runners in the girls dual to also post the low score of 15 points on the team's 2.5-mile home course.
Monte Vista sophomore Finn McClure was the top finisher in the boys dual with a time of 15:46, followed by Mount Miguel junior Thomas Peralta (17:08) in second place. Monte Vista senior Thomas Wilcox (17:25) finished third while Matador freshman Edward Foote Najera (17:26) finished fourth. The Monarchs placed the next three runners: freshman Edward Phillippi (17:42) and seniors Ivan Ayala (17:53) and Matthew Gonzalez (18:59).  
Mount Miguel freshman Kenzie Reyna paced the girls field with the winning time of 19:05. Monte Vista senior Valeria Sanchez finished second in 19:15, followed by junior teammate Taylor Robinson (19:34). Mount Miguel junior Madelins Haines broke up the field with a time of 21:19 in fourth place, followed by Monte Vista junior Sophia De La Cruz (21:49) in fifth place.
Mount Miguel sophomore Noemi Osuna (22:04) finished sixth while Monte Vista junior Hailey Donaghue (22:59) finished seventh. Mount Miguel sophomore Julia Foote Najera (23:05) finished eighth but the Lady Matadors ran out of runners as Monte Vista sophomore Rashel Aguilar (23:10) finished ninth.
Reyna led Mount Miguel on the course with a winning time of 16:11 in the team's season opener against El Cajon Valley on Feb. 12. However, both teams only fielded four runners, short of the minimum number of five to score.