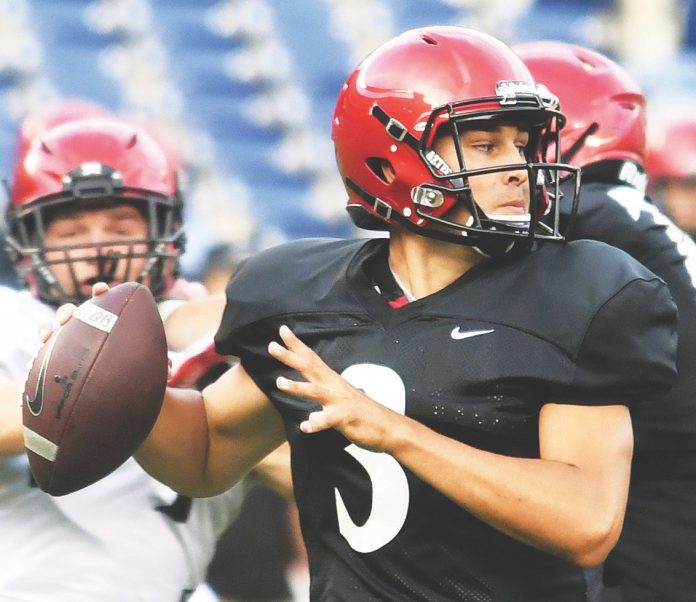 Carson Baker was the field leader behind center while attending Helix Charter High School in La Mesa.
He enters his redshirt sophomore season at San Diego State University in a familiar role after being named the team's starting quarterback.
He is proud to be an Aztec.
"Growing up in San Diego, my grandparents, parents both had season tickets to Aztecs sports, particularly Kawhi Leonard and the basketball team," Baker said. "We always watched football, too. I went to Helix High School down the street. It's awesome that I get to lead my hometown team. I'm extremely thankful and honored to be put into this position."
Standing six feet, three inches tall, he certainly commands a presence on the playing field.
Baker's statistics reveal he was a very successful field leader with a 34-7 record (.829 winning percentage) during his three seasons as a Highlander. He finished his Helix career with 5,544 passing yards and 62 touchdowns against only eight interceptions. He also rushed for 590 yards and seven touchdowns.
The Scotties, under Baker's guidance, finished 13-2 in 2017 with a trip to the Division I-AA state championship game, posting a runner-up finish to Folsom. During that senior season, he passed for 2,749 yards with 37 passing touchdowns and five rushing scores.
He led the Highlanders to a 26-19 victory over Mission Hills to win the 2017 San Diego Section Open Division championship after finishing runner-up to top-seeded Cathedral Catholic via a 35-27 setback in the Open Division finals as a junior.
He completed nine of 13 passing attempts for 116 yards with one touchdown with a 122.6 quarterback rating in the 2017 Open Division final.
He passed for 339 yards with four touchdowns and one interception in a 49-42 loss to undefeated Folsom (16-0) in the 2017 state championship game.
A two-time league offensive player of the year, Baker had a tremendous senior year by completing 68 percent of his passes to go with a 135.1 quarterback rating.
The Highlanders defeated St. Augustine, 44-30, to win the 2016 Open Division title. Baker played in five games that sophomore season.
He also was a key player in Helix's drive to the 2017 Division IV state basketball championship game as the Scotties finished a memorable 31-6 season with a Division II section title in hand.
SDSU head coach Brady Hoke named Baker as the team's starter on Oct. 15.
"It wasn't dramatic or anything," Baker confessed. "He pulled me aside and said that I earned the job. He said the coaching staff expects a lot out of me. I expect a lot out of myself. I've got to lead the team. I'm excited."
Baker served as the understudy to quarterback Ryan Agnew his freshman season, but did get the call to center in the team's final regular season game following an injury to Agnew.
He did not waste the opportunity by competing 19 of 24 passing attempts (79 percent) for 172 yards with one touchdown and no interceptions to finish with a lofty 153.1 quarterback rating.
He became just one of two starting SDSU quarterbacks (since 1969) to win his debut despite never having thrown a collegiate pass.
Baker played in two games during the 2019 season, kneeling down in victory formation in the Aztecs' 48-11 victory against Central Michigan in the New Mexico Bowl after taking six snaps late in the game.
In his redshirt season in 2018, he was on the travel squad for three games behind upperclassmen Christian Chapman (Carlsbad) and Agnew.
"When you're competing for a spot, you're really focusing on yourself, focusing on what you can do, on how you can get better and better each day. You put the blinders on and focus on how you can be the best version of yourself that day at practice."
Baker entered the 2020 season vying for the signal-calling position with three other players, including a pair of county locals: Rancho Bernardo's Mark Salazar and Mt. Carmel's Lucas Johnson.
Baker's chief competition in training camp appeared to be Johnson, a junior transfer from Georgia Tech, though Jordon Brookshire (Santa Rosa) enters the season second on the team's depth chart while Salazar is third.
Johnson played in 14 games during his time in Georgia, starting twice and completing 21 of 37 passes for 187 yards with one touchdown while being limited by injury.
Brookshire, who posted a 31-9 record at Cardinal Newman High School, earned honors as the All-Empire League Large School Player of the Year in 2016. He helped Laney College win the CCCAA championship in 2018.
Salazar guided Rancho Bernardo to the Division III-A state championship in 2015.
"Our quarterback room is a great group of guys, a lot of great quarterbacks," Baker said. "We all competed hard for this spot. We all worked our butts off. Hats off to those guys. We have a really great room."
Baker is hoping to build off last year's game experience, limited as it was.
"Any game experience and live game reps is always helpful," he said. "Get the first one out of the way, get a feel for the game, especially against a great opponent like BYU, just feel the speed, feel the contact, all that stuff. It was extremely helpful."
Indeed, there is much optimism for this year's Aztec squad. SDSU returns the bulk of its offense this season, including three of five starting offensive linemen. Braced by so many returners, the offense is expected to move forward this season.
The Aztecs may have the best assemblage of offensive talent over the past decade. But putting all that together will be key to the team's success.
SDSU seems sound defensively.
Baker said the extended amount of practice time due to the initial push back of the season allowed for extra game planning.
"We got so much time to meet on Zoom, to get walk-throughs in, we have been together trying to perfect this offense since the spring, since we got shut down," he said. "We've been working toward getting ready and comfortable with this system. I'm excited for it."
The Aztecs possess a train of quality running backs and wide receivers despite the graduation of standout Juwan Washington.
Christian alum Jesse Matthews is one of the team's more experienced wideouts after ranking second on the team last season with 48 catches for 633 yards and two touchdowns.
Junior Jordan Byrd (Albuquerque, N.M.), senior Chase Jasmin (Westlake) and senior transfer Greg Bell (Bonita Vista) rank 1-2-3 on the team's depth chart at the running back position.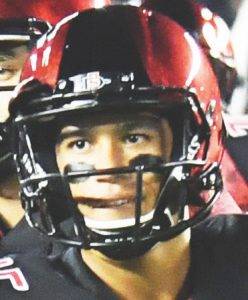 Jasmin appeared in all 13 games last season, rushing 79 times for 366 yards with four touchdowns while Byrd rushed 78 times for 355 yards with three touchdowns in 12 games.
Bell, who played previously at the University of Nebraska (2018) and Arizona Western Community College (2016-17), rushed for 2,632 yards and 34 touchdowns in 15 games as a senior as the Barons posted a runner-up finish in the Division IV-AA state bowl championship game.
Bell rushed for 2,404 yards with 18 touchdowns during his two seasons at Arizona Western where he was a two-time first team JC All-American. During his two seasons at Arizona Western Bell and his teammate finished 20-2.
He elected to transfer from Nebraska after four games (three starts), compiling 173 yards on 35 carries and 14 receiving yards on four catches.
St. Augustine grad Tariq Thompson will help anchor the SDSU defense after logging 55 tackles, three tackles for a loss, one sack, four interceptions and three fumble recoveries last season.
The Aztecs had the best defense in the conference last season, and one of the best in the nation by allowing an average of 12.7 points per game. SDSU led the MW with 18 interceptions and tied for second most in the conference with 31 sacks.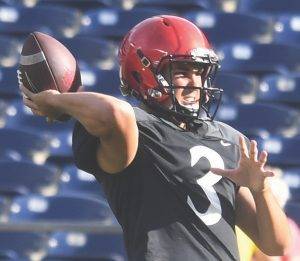 Locals only
For the most part, SDSU remains largely a homegrown team with 28 players on the fall roster hailing from the San Diego region among 86 overall from California.
Baker is one of three Helix alums on this year's squad, joining ex-Highlanders Rashad Scott (junior safety) and Michael Shawcroft (sophomore linebacker).
Matthews is listed No. 1 on the SDSU depth chart at wide receiver and punt returner and No. 2 at holder.
Shawcroft is listed at No. 2 on the depth chart at middle linebacker while Scott is listed at No. 3 at the "Aztec" defensive position.
Shawcroft appeared in 13 games last season as a non-starter with five tackles. He played three seasons at Helix, scoring seven touchdowns on offense while earning accolades as the 2017 San Diego Section Defensive Player of the Year. He helped lead the Highlanders to five shutouts in 2017.
Scott appeared in seven games with the Aztecs last season with two tackles and one fumble recovery after helping lead Helix to a 34-7 record during his three years at the La Mesa school, including a state championship game appearance in 2017. He logged eight interceptions and 11 pass deflections his senior year with the Scotties.
Baker said success is based on execution, which means following the game plan under head coach Brady Hoke and his assistants.
"We got a great offensive staff and a good offense that's going to put us in all the right positions to make plays," Baker said. "We just got to go out there and make them.
"We're going to try to get the balls to the guys in space, get the ball to our play-makers, whether it's through the run or the pass. We got a lot of good guys. We got a good offensive line. We do it any way.
"The amount of reps I have been getting in practice, the amount of team reps we've been getting in practice, I feel really confident. I feel like we had a lot of time in this system to get really comfortable with it. I have the utmost confidence in myself and the guys around me."
Red and Black
Hoke returns as head coach of the Aztecs following the departure of Rocky Long, who compiled an 81-38 record in nine winning seasons at Montezuma Mesa.
Following his retirement from SDSU, Long subsequently accepted a position as defensive coordinator at the University of New Mexico.
Long previously served as head coach of the Lobos from 1998-2008.
Hoke finished 13-12 in his two seasons at SDSU to help steer the program in a positive direction. His 2009 team finished 4-8 — doubling the wins from a 2-10 season the previous season under head coach Chuck Long.
Hoke's 2010 Aztec team finished 9-4 to capture the school's first winning record in 12 years.
Hoke got his first look at the 2020 team (and their new home away from home) during a two-and-a-half-hour closed scrimmage Oct. 10 in Carson during which the offense and defense went against each other in variety of situations, including red zone, black zone, two-minute drills and full-on scrimmage, among other situations.
"I thought we played hard," Hoke said after the scrimmage. "I thought there was good intensity. We gave them a lot of reps so we can get in game shape. I was happy at how we came out. It was great coming up here. It is a great facility and the guys enjoyed it. There were some mistakes we have to work through, but I think overall it was a good day."
The Aztecs are hoping for another good day in their season opener.
Saturday's game, which will be closed to fans due to the COVID-19 (coronavirus) pandemic, will be broadcast on the CBS Sports Network, starting at 7:30 p.m.
The lack of fans will not be a deterrent, according to Baker.
"It comes down that football is football. It's all 11 on 11 and that's all that matters. Whether it's loud or not, we're bringing the energy. Our sideline is going to be loud. We're going to be ready to go."
SDSU AZTECS 2020 FOOTBALL SCHEDULE
OCTOBER
24: UNLV at Aztecs, 7:30 p.m. PT
31: SDSU at Utah State, 7:30 p.m. MT
NOVEMBER
6: San Jose State at Aztecs, 6 p.m. PT
14: Hawaii at Aztecs, 1 p.m. PT
21: SDSU at Nevada-Reno, 12:30 p.m. PT
27: SDSU at Fresno State, TBA
DECEMBER
5: Colorado State at Aztecs, 7:30 p.m. PT
12: SDSU at BYU, TBA
19: Mountain West Conference championship game, TBA (home of team with the highest winning percentage in Mountain West games)
Note: Home games at Dignity Health Sports Park in Carson, Calif.