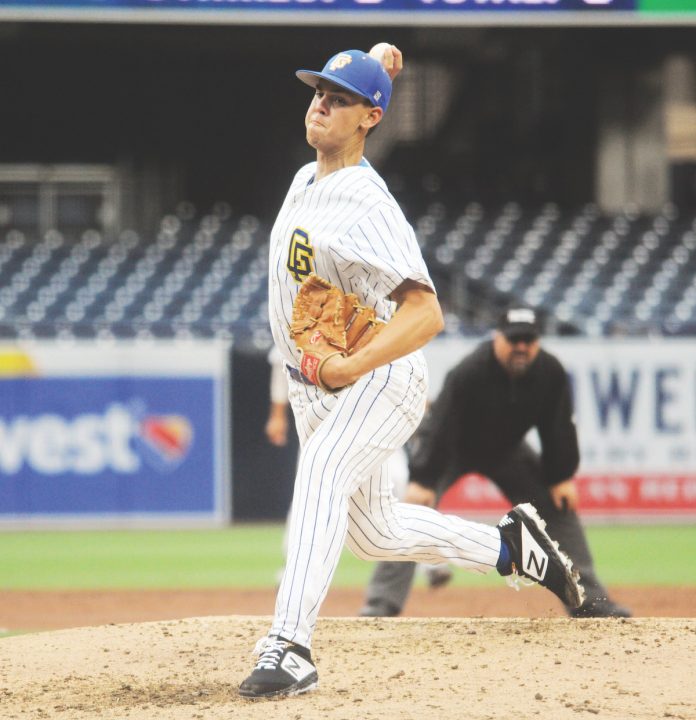 Collegiate baseball doesn't end with the College World Series in June. It's only a starting point for the next season.
Summer leagues across the country — most notably in Alaska and Cape Cod — have long been popular destinations for offseason competition among college-age ball players who are trying to get a leg up on the competition.
San Diego can now boast a robust training league of its own.
The San Diego League wrapped up its second season with championship playoffs Aug. 6 at Christian High School in El Cajon as the Hooks defeated the Brewers, 10-6, for the 2020 title.
The championship game concluded a whirlwind schedule that saw the eight-team summer circuit log 89 games in a 52-day period.
The 2020 season boasted a significant increase in membership from the four teams in its inaugural 2019 season.
Yet, it was a season like no other.
The San Diego League mixed baseball with social distancing, hand sanitizers in the dugouts and daily temperature-taking amid the ongoing COVID-19 (coronavirus) pandemic.
In a summer in which youth baseball teams were limited to sports day camp practices, collegians were able to step on the diamond, throw fastballs, hit home runs, make diving catches and chug around the basepaths.
"We had our own terminology—we created a bubble of normalcy," San Diego League vice president Mark Rogoff told the Baseball America publication.
The league did not escape unscathed, however, as seven players and one assistant coach tested positive for the COVID-19 virus (all described as asymptomatic) in the final three weeks of the season.
The positive tests took teams temporarily off the field and players out of the lineup. But the league regrouped and finished the season despite the adversity, with six teams participating in the championship playoffs.
Batter up
The focus of the San Diego League, according to its website, is on "improving athletically, overall development and comprehending and applying the analytics."
The league has attracted attention for its player tracking technology, especially swing-motion to maximize efficiency at bat and pitching that measures the impact of the spin of every ball to calculate its trajectory.
In a world that is being driven by changing technology, more information is always better.
Because some collegiate leagues were unable to operate this summer, it kept many players local and brought others in, which proved to the benefit of the San Diego League.
The league drew talent from not only the immediate San Diego County and Southern California regions but also nationwide.
Players descended on the league's field of dreams from as far away as New York, Alabama, Virginia, Missouri, Washington, Texas, Oregon, Colorado, Iowa, Illinois, North Carolina, Tennessee, Kentucky, Louisiana, Hawaii, Michigan, Florida, New Hampshire, New Jersey, Massachusetts, Kansas, Oklahoma, Idaho, New Mexico, Nevada and Arizona.
Locals were extremely well represented, of course.
The player registry included participants from San Diego State University, the University of San Diego, UC San Diego, Cal State San Marcos, San Diego Christian, Southwestern College, Grossmont College, San Diego Mesa College, San Diego City College and Palomar College.
Other California colleges represented included Menlo College, UC Berkeley, Providence Christian College, Long Beach State, Hope International University, Cuesta College, Santa Ana Community College, Cal Baptist University, San Francisco State University, University of Redlands, UC Santa Barbara, Cal State Fullerton, UC Davis, University of Southern California, University of the Pacific, University of San Francisco, Saddleback College, Fresno State University, The Masters University, Irvine Valley College, Mount San Jacinto College, Santa Clara University, Los Medranos College, Stanford University, Merced College, Cal State Northridge, Cerritos College, Asuza Pacific University, UCLA, Cal Poly San Luis Obispo, Santa Barbara City College, San Joaquin Delta College, Cal State Dominguez Hills, UC Riverside, Orange Coast College, Fresno City College, Loyola Marymount University, Pepperdine University, Westmont College, Biola University and La Verne.
It was a smorgasbord of talent assembled from throughout the Golden State.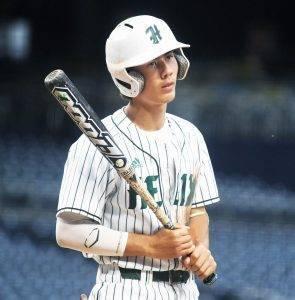 Newly minted Helix Charter grad Jordan Thompson (LSU) was on the Hooks' championship roster along with Grossmont High alum Scott Wood (San Diego City) while Helix's Justin Cervantes (San Diego City) was on the Brewers roster.
College locals contributed in other ways. SDSU's Mike Jarvis, along with three players from the University of San Diego — Tora Otsuka, Shane McGuire and Kevin Sim — figured prominently in the Hooks' championship game victory by combining for 13 hits, including 10 in the final four innings.
The title game featured multiple lead changes, clutch hitting and a full nine innings to finally determine a winner.
The Brewers, who motored to a fast 14-2 start this season, led 5-3 heading into the eighth inning but the Hooks' top four batters in the lineup rallied with four consecutive extra-base hits (doubles by Jarvis, Otsuka and Sim and a triple by McGuire) to put their team in position to win the game by taking a 7-5 lead.
The Hooks (14-10) added three more runs in the top of the ninth inning to balloon their lead to 10-5.
Jarvis, Otsuka, McGuire and Sim went 10-for-11 with seven RBI in their final three at-bats. Jarvis led the heavy-hitting quartet with four hits.
Dylan Pottgieser, who prepped at Foothill High School in Placentia and is now attending the University of the Pacific, started the game on the mound for the Hooks. He had not allowed an earned run all summer but coughed up four runs in six innings of work. Help from relievers Connor Kinney (Tufts) and Brandyn Lee-Lehano (Hawaii-Hilo) preserved the championship game victory.
The Brewers (15-7) topped the Warriors, 7-6, in the semifinals while the Hooks surfed past the Waveriders by a score of 7-2.
Point Loma's Michael Campagna (UC Davis) keyed the Brewers with three hits while Kyle Nevin (Baylor) and Ryan Cho (Hawaii-Hilo) each had two hits. The Warriors countered with three home runs — a solo round-tripper by SDSU's Matt Rudick, a three-run shot by Kaden Hopson (University of Arizona) and a two-run blast by Jack Costello (USD).
The Hooks-Waveriders semifinal proved to be a pitchers-duel with the score tied 2-2 with two out in the bottom of the seventh inning.
Carson Hamro (UCLA) started for the Hooks and did not allow a hit in the opening five innings, though he walked eight batters while fanning seven hitters. Shane Telfer (Pepperdine) pitched five innings, striking out six batters while allowing just two hits for the Waveriders.
Otsuka paced the Hooks with two RBI.
The Warriors, riding the crest of a 12-hit attack, defeated the Wild, 9-3, in the opening round while the Waveriders (12-13) smashed the Long Boarders (9-12) on the rocks with a 12-5 victory.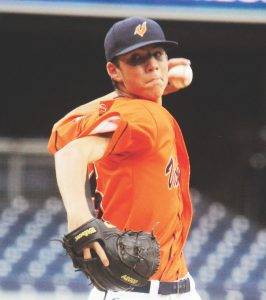 Costello and Eastlake alum Brian Leonhardt (SDSU) led the Warriors (14-10) with three RBI apiece while Valhalla grad Joseph Ingrassia (SDSU) pitched four innings of scoreless ball, scattering four runs and striking out five batters against the Wild (10-12).
Gaige Howard (New Orleans) and Nate Webb (Riverside) smashed back-to-back home runs in the fourth inning to power the Waveriders to a 9-1 lead.
The Hooks and Brewers both received first-round playoff byes.
Locals only
East County locals sprinkled through the league also included Patrick Henry's Brandon Scott (Grossmont College) and Granite Hills' Michael King (San Diego City) on the Long Boarders,  Valhalla's Kyle Casper (University of Arizona) and Grossmont's Jack Hyde (USD) on the Sharks, Steele Canyon's Billy Tellous (Grossmont College) on the Wild, Granite Hills' T.K. Parker (Long Beach State) on the Jets, and Granite Hills' Trevor Omahen (High Point University) and Clay Fordham (Grossmont College) on the Waveriders.
Hyde, who posted a 0.54 earned-run average with 27 strikeouts in 16.2 innings, earned first team all-league honors. He tied for third overall with a average fastball speed of 91.2 mph, with his fastest pitch clocked at 95.3 mph.
Ingrassia ranked 10th in the league with an average fastball speed of 88.9 mph. He recorded 25 strikeouts in 14.2 innings with a 2.46 ERA.
Casper hit .281 in 20 games while Fordham notched 19 strikeouts in 18.2 innings
Rudick earned selection as the league's player of the year while Pottgieser earned recognition as the league's pitcher of the year.