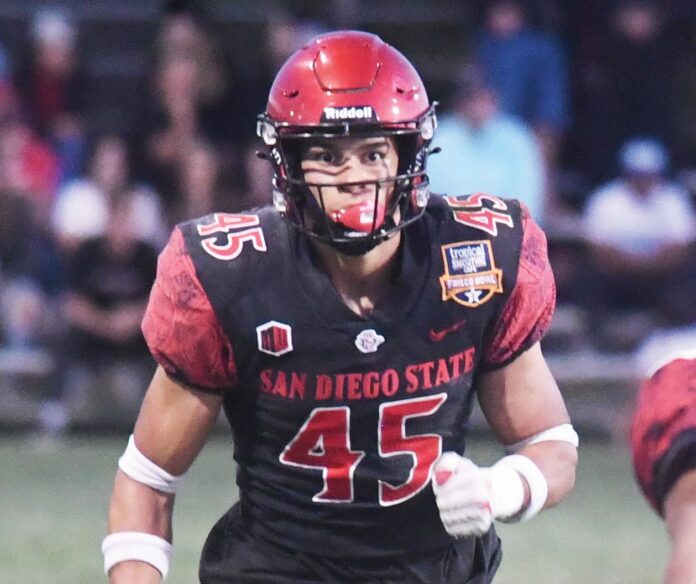 San Diego State University's football team has been picked to finish second in the Mountain West's West Division for the upcoming season.
SDSU received 148 points with eight first-place votes through polling at the league's recent media days in Las Vegas, trailing only Fresno State's 160 points and 20 first-place votes.
San Diego State, which set a school record with 12 wins in 2021 with a 12-2 record and appearance in the Frisco Bowl, won the West Division last year before falling to Utah State in the MW Championship game.
The Aztecs have now been picked first or second in nine of the 10 years of division play (since 2013).
San Jose State is picked to finish third in the West Division with 105 points, followed by Nevada (66), UNLV (58) and Hawaii (51).
Boise State, meanwhile, was picked to win the Mountain Division for the 10th consecutive season.
The Broncos, who have made five MW Championship games, received 151 points and 14 first-place votes. Air Force Academy (136) and Utah State (122) garnered 10 and three first-place votes, respectively, while Colorado State (90) had the other first-place vote in the Mountain Division. Wyoming (60) and New Mexico (29) also had votes.
SDSU kicks off the 2022 season with a Sept. 3 non-conference game against the University of Arizona at Snapdragon Stadium, which nears completion after two years in which the Aztecs have been forced to play all its games on the road.
Despite the two-hour commute to "home games" at Dignity Health Sports Park in Carson, SDSU managed to finish the 2021 season ranked 25th in the final Associated Press Top 25 poll.
Preseason honors
Seven Aztecs received berths on the MW's preseason all-conference team at the conclusion of the league's annual media days. Christian High School alumnus Jesse Matthews was among the group that also includes co-defensive player of the year Patrick McMorris (Santa Ana), and special teams player of the year Jordan Byrd (Albuquerque, N.M.), Alama Uluave (Laie, Hawaii), Keshawn Banks (Rio Rancho, N.M.), Jonah Tavai (Manhattan Beach) and Caden McDonald (Haslet, Texas).
Byrd received preseason honors both as a kick returner and punt returner.
SDSU earned eight of the 24 all-MW picks, one more than in its inaugural season of the league in 1999. SDSU had one more selection than its previous two seasons combined (three in 2021, four in 2022) despite losing four players to the NFL Draft.
The Aztecs also matched program highs in preseason defensive selections (four) and special teams' picks (two).
Matthews, a former walk-on who earned a scholarship prior to the Aztecs' appearance in the 2019 New Mexico Bowl, had team highs of 57 catches, 642 yards and nine touchdowns last year. The nine touchdown catches were the most by an Aztec since Vincent Brown had 10 in 2010 and tied for the 11th most in a season in program history. Matthews ranked eighth in the MW in receiving touchdowns (tied for 31st in FBS).
Over his final four games in 2021, he racked up 37 catches for
465 yards and seven touchdowns. Matthews, a first team and all-section selection his senior year at Christian High School where he helped lead the Patriots to an 8-3 record, snared 57 catches for 888 yards and 14 touchdowns in 2017. He was SDSU's Offensive Player of the Year for the 2019 season as a freshman.
McMorris had a team-high 90 tackles (53 unassisted), including 2.5 tackles for loss, a team-best four interceptions for 61 yards, nine pass breakups and a 15-yard fumble recovery.
Byrd returned 22 kickoffs for 601 yards (27.3 average) with a 100-yard kick return touchdown in 2021 while returning 27 punts for 193 yards (7.1 average). Byrd also rushed 37 times for 246 yards (6.6 average) with three touchdowns while making 13 catches for 76 yards (5.8 average).
Uluave, who has started all 22 games the past two seasons for the Aztecs at center, allowed just six pressures (two hits, two hurries and two sacks) in 409 passing chances in 2021 while playing the most offensive snaps on the team (953).
Banks logged 35 tackles (16 unassisted) in 2021, including 11 tackles for loss for 51 yards, five sacks for 31 yards, two pass breakups and 17 quarterback hurries.
Tavai had 47 tackles (23 unassisted) last year, including 14 tackles for loss, 8.5 sacks and 11 quarterback hurries in 14 starts. McDonald registered 49 tackles (21 unassisted) in 2021, including three sacks for 22 yards and 6.5 tackles for loss of 28 yards, seven quarterback hurries, two pass breakups and a blocked PAT.
The Aztecs also have home games against Idaho State (Sept. 10), Toledo (Sept. 24), Hawaii (Oct. 8), UNLV (Nov. 5), San Jose State (Nov. 12) and Air Force (Nov. 26). The contest against UNLV will be SDSU's annual homecoming game.
SDSU 2022 FOOTBALL SCHEDULESEPTEMBER
3: Arizona at SDSU, 12:30 p.m. PT
10: Idaho State at SDSU, TBA
17: SDSU at Utah, 8 p.m. MT
24: Toledo at SDSU, TBA
30: SDSU at Boise State, 6 p.m. MT
OCTOBER
8: Hawaii at SDSU, 7:30 p.m. PT
22: SDSU at Nevada, 7:30 p.m. PT
29: SDSU at Fresno State, TBA
NOVEMBER
5: UNLV at SDSU, 4 p.m. PT
12: San Jose State at SDSU, TBA
18: SDSU at New Mexico, TBA
26: Air Force at SDSU, 6 p.m. PT
DECEMBER
3: Mountain West championship game, TBA