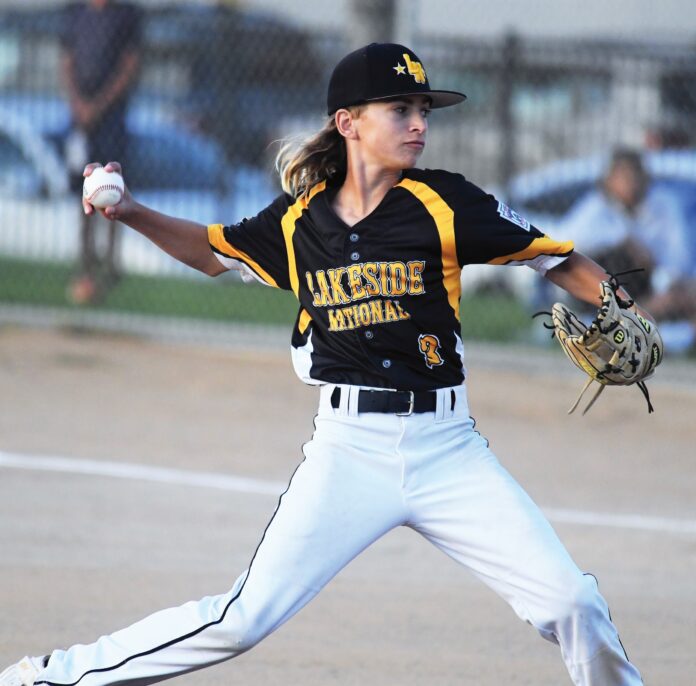 Though California District 41 Little League was shut out of advancing beyond the section level this year, district administrator Kim Mowrey sees positive growth for the future.
The return of all divisions within the parent Little League International organization has certainly created a big boost in enthusiasm.
"When baseball is back, it's big," she said. "We are higher in numbers. Last year we had 100 fall ball teams. It was crazy. Some of them had four times the numbers they had before."
The East County district is still pushing to get teams beyond the California Section 7 level in all-star tournament play. The last time a District 41 team advanced in the 12U tournament was in 2007 when Alpine Little League advanced.
Rancho San Diego's 10U team advanced in 2012 and its 11U team advanced in 2010. Jamul Intermediate's all-stars advanced in 2013. The last time a Junior Division all-star team advanced was in 2006.
The long wait continues after District 41 advanced four teams to section championship games this year but all four finished as runners up to teams from California District 42.
Lakeside National Little League qualified its 10U and 12U all-star teams while Rancho de Oro Little League qualified its 11U all-star team. Singing Hills Little League's Intermediate all-stars also qualified.
The 10U final was played at Fletcher Hills Little League on July 18 while the 11U and 12U championship games were played July 21 at Spring Valley Little League. The Junior and Intermediate divisions also held their finals at Spring Valley Little League.
Each section bracket included champions from District 41, District 42, District 66 and District 22 (Imperial Valley).
10U All-stars
Lakeside National slipped past Rancho de Oro, 3-2, to win the district banner before advancing to the section tournament. Lakeside National defeated District 66 champion Las Palmas Little League, 13-1, in its opening game on July 16 while District 42 champion Chula Vista American Little League shut out Yuma (District 22) by a score of 18-0 to hook up in the winners bracket final on July 17.
Chula Vista American won its first meeting with Lakeside American, 5-3, to advance to the championship game. Lakeside American eliminated Las Palmas in the losers bracket final, 18-2, to draw a rematch with Chula Vista American.
CVA scratched out a run in the first inning and made it stand up with the pitching combo of Manny Dorado and Sonny Garcia in the championship game.
Tanner Evans started on the mound for Lakeside National in the championship game and remained on the hill until departing in the top of the sixth inning.
Javier Rios, who tripled in Dorado in the first inning, greeted new pitcher Easton Lyon with a triple but was later thrown out at the plate to keep Lakeside National within one run on the scoreboard.
The bottom of the sixth inning opened with opportunity for the District 41 champions after the lead-off batter reached base on a fielding error in the outfield. A one-out base hit placed runners on first and second bases. But Garcia, entering the frame in relief, struck out the next batter for the second out.
The game ended with a hopper up the middle that a CVA infielder grabbed and stepped on second base for the game-ending force-out. With the win, the newly crowned Section 7 champions advanced to the 10-team Southern California regional tournament, the last stop for this age group.
11U All-stars
Rancho de Oro defeated Fletcher Hills, 14-0, in the district championship game on July 11 to advance to the four-team sectional. Rancho de Oro opened section play with a 4-2 win over District 42 champion Eastlake on July 16 and followed that up with a 10-0 victory against District 66 champion Lemon Grove on July 17. But an ensuing 15-2 setback to Eastlake on July 19 put the District 41 team's championship hopes up in the air and altogether grounded in a subsequent 9-2 loss to the same Eastlake team on July 21.
12U All-stars
Lakeside National defeated Rancho de Oro, 13-3, to win the district title and embark on the long and sometimes winding road to the iconic Little League World Series in South Williamsport, Pa. Lakeside National opened sectional play with defense at the forefront in a 1-0 victory over District 22 champion Calexico on July 16. The East County team's bats came alive in an 11-7 win over District 42 champion Sweetwater Valley the next day, with a grand slam by Gavin Kelly providing the margin of victory. The July 17 win advanced Lakeside National to the championship game on July 20 in a rematch against Sweetwater Valley after the latter team eliminated District 66 champion Spring Valley, 19-0, in a losers bracket contest on July 18. Lakeside National needed only to defeat Sweetwater Valley in the July 20 game to advance to the Southern California regionals while Sweetwater Valley had to defeat Lakeside National twice in double-elimination play to advance to the next round.
Sweetwater Valley put all facets of its game into play with 18-0 and 20-0 wins to indeed advance. Sweetwater Valley out-hit Lakeside National 21-4 in what proved to be the championship game on July 21.
Junior League
This division is reserved for 12-to 14-year-olds and uses a conventional 90-foot diamond with a pitching distance of 60 feet, 6 inches. District 41 champion West Hills rocked District 66 champion Spring Valley by a score of 16-2 in its section opener on July 14. But West Hills suffered a 23-0 loss to District 42 champion Park View on July 16 to drop to the elimination bracket.
The District 41 champions were unable to advance after dropping a 6-1 decision to District 22 champion Holtville on July 17. Holtville went on to meet Park View in the championship game, with Park View winning 24-0 to represent District 42 in the Southern California regional tournament.
Intermediate 50/70 League Singing Hills defeated Jamul Little League to win the District 41 championship, thus earning a spot opposite District 42 champion Sweetwater Valley in the section's best-of-three championship series.
Sweetwater Valley won the first game on June 19 by a score of 18-0 and eliminated Singing Hills from contention by a score of 20-0 on June 20.
This division, introduced as a pilot program in 2020 for 12-and 13-year-olds, uses 50-foot pitching distances and 70-foot basepaths.
California Section 7 Little League Championships
10U: Chula Vista American 1, Lakeside National 0
11U: Eastlake 9, Rancho de Oro 2
12U: Sweetwater Valley 20, Lakeside National 0
Junior League: Park View 24, Holtville 0
Intermediate League: Sweetwater Valley 20, Singing Hills 1
Senior League: Sweetwater Valley 14, Spring Valley 3