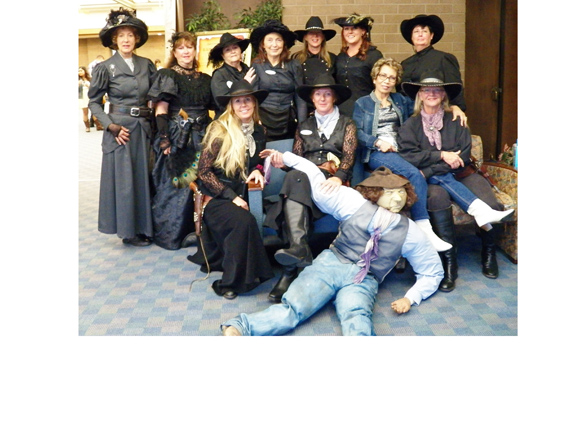 They called it Gunsmoke V.
Why? An Old West saloon materialized in El Cajon out of somewhere between thin air and high noon on the evening of Saturday, June 13.
They called it Gunsmoke V.
Why? An Old West saloon materialized in El Cajon out of somewhere between thin air and high noon on the evening of Saturday, June 13.
You could have bet your bottom dollar that over in a hazy far corner of the Ronald Reagan Community Center that night, you saw Marshal Matt Dillon and his longtime sweetheart Miss Kitty catching up on old Dodge times—but you would have lost. Those were members of the El Cajon Valley Host Lions and the Winchester Widows, who collaborated for a second year in staging the local Lions' major annual charity fundraiser.
Ray Ridlon is a lawman.
Ridlon is also the incoming president of the El Cajon Valley Host Lions Club. Lawman? Well, Ridlon has been a member with the Lions for about 10 years, and he was asked to serve as attorney on the local Lions Club Foundation Board about four years ago. As festivities kicked off for the night, Ridlon described his target wish as exceeding attendance and fundraising numbers from last year.
Gamblers could choose among standard gaming tables, including poker, craps and roulette. Highest winners at night's end could choose in a Chinese raffle among prizes such as cameras, a bicycle and a trip. The Winchester Widows conducted a Silent Auction for 75 items and assisted with selling raffle tickets. Four members of The Shirthouse Band set the background tone with bluegrass and gospel music.
Lions Club Past District Governor Scott Leslie was there, and he praised the event.
"I've been to all the Gunsmoke's," he said. "This is a great club and well-known for putting eyeglasses on East County kids. The food tonight is good, the tables are fun, and the turnout is great, with lots of camaraderie. I'm seeing people tonight I haven't seen in awhile."
In existence for 28 years, the Winchester Widows charitable income from the event was slated for the non-profit Challenge Ranch, a 10-acre Dehesa Valley ranch offering outdoor experiences focused around horseback riding to troubled, underprivileged youths, 7 to 18 years old. The relationship developed with a horse is, for some of these youngsters, their first lesson in responsibility, confidence and caring interaction with another creature. Lynn Spicer, one of the Widows, who enacts the role of "Bessie Ruth," described how the ranch pairs children with horses, teaching the youngsters to condition, train, monitor and care for their horses, leading to a 25-mile endurance ride.
"It's amazing what they do," Spicer said, of the benefits to the children.
About the Widows' participation in the evening, Spicer continued, "We helped with planning, and we provide atmosphere. We're adding color," she ended wryly. The Widows dress in black garb circa 1880 to depict the strength of Western women who were often widowed early in life when their men met untimely ends.
Event organizers noted as the event was wrapping up that the ticket sales had indeed met the sought-after number of 200 in attendance. Ridon's hope was that the night's fun fundraising activities, after final totals were tallied, would have raked in as much as $25,000 for the charitable endeavors the Lions and Widows support.
Spicer said of the Widows, "We are always looking for new members. We are all about supporting each other. We are looking for sweet girls to join."