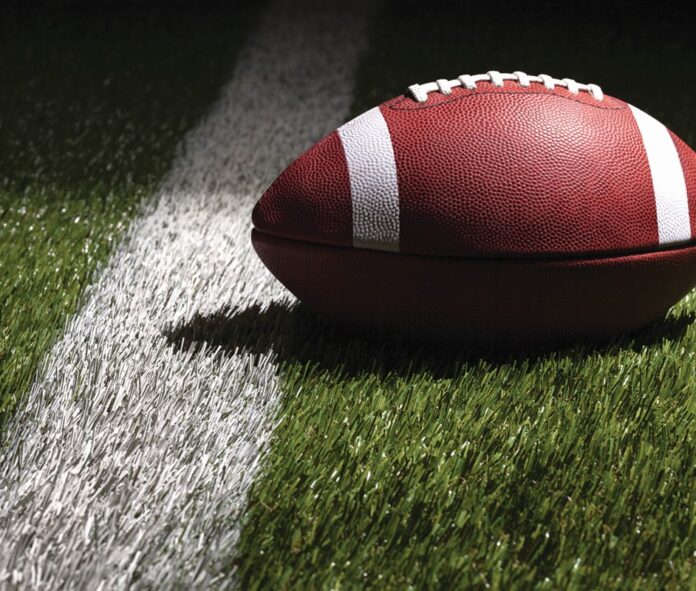 From staff reports
The community college football season has kicked off and the Southwestern College Jaguars and Grossmont College Griffins had a chance to renew longtime acquaintances in the season opener for both teams on Sept. 3.
The temperature was hot at kickoff and the offenses of both teams seemed on fire as the visiting Griffins captured a high scoring 41-31 non-conference victory.
Southwestern racked up 312 yards in total offense in the debut of new head coach Dionicio Monarrez, but Grossmont overwhelmed the Jaguars defense with 576 yards in total offense, including 402 passing yards.
SWC also lit up the airwaves with 231 passing yards but was outgained 174-81 on the ground. The Griffins ran 66 offensive plays to 47 for the hosts. Grossmont's Elia Kirisimasi (Steele Canyon) was the game's standout passing leader with 402 yards by completing 32 of 41 attempts with four touchdowns and no interceptions. Dillon Gebase (Scripps Ranch) paced the Griffins with six catches for 113 yards and one touchdown while Chris Dartey (five catches, 36 yards), Lukas Spencer (one catch, 28 yards) and Paul Solanke (one catch, five yards) also caught scoring passes.
The visitors scored two rushing touchdowns – one each by Keiyion Holloway (seven carries, 122 yards) and Kirisimasi (three caries, negative four yards). Holloway broke loose for a 55-yard run.
Jorge Aguilar (Lincoln) converted five of six point-after attempts and was 0-for-1 in field goal attempts. Cleveland Ford III returned two kickoffs for 76 yards. Holloway had one punt return for 18 yards while Dylan Snyder (West Hills) had one punt return for 17 yards.
Grossmont defenders snared two interceptions – one each by Tymon Palaefei and Cavin Howard (Grossmont). Howard returned his pick 20 yards.
Aldo Olweny (Canyon Hills) paced the Griffins with eight tackles while Jagger Giles (Helix) was credited with seven stops. Solanke is from Helix while Spencer is from Mountain Empire.
Southwestern's Ethan Hery completed 12 of 17 passing attempts for 184 yard with two touchdowns and two interceptions. Kahanu Davis completed one of two attempts for a 47-yard touchdown.
Top receivers for the Jaguars included Kader Diop (four catches, 100 yards), Raymond Romero (three catches, 55 yards), Davis (five catches, 50 yards) and Jo'Vahn Young (three catches, 47 yards). Diop had two receiving scores while Young (Southwest/Mar Vista) also caught a TD pass.
James Coleman (14 carries, 35 yards) and Sean Bryant (seven carries, 29 yards) were SWC's top ball-carriers. Jimmy Inman (three carries, one yard) scored the team's lone rushing touchdown.
Jacob Martinez finished the game with seven kicking points on one field goal and four extra point conversions. Bryant had three kickoff returns for 67 yards while Diop returned two kickoffs for 56 yards.
Michael Harrington keyed the SWC defense with six tackles, 2.5 sacks and one fumble recovery.
Grossmont saw its record leveled at 1-1 following an ensuing loss 50-14 loss to visiting Citrus on Sept. 10. The Griffins bounced back, however, with a 31-26 win over visiting Orange Coast last Saturday.
Kirisimasi passed for 201 yards with two touchdowns and two interceptions in the team's latest win while Holloway rushed for 168 yards and two touchdowns. Gebase (two catches, 71 yards) and sophomore Gus Espiritu (one catch, 16 yards) both caught scoring passes.
Giles had eight tackles as the Griffins accumulated four sacks, nine tackles for a loss, one fumble recovery and one interception. Sophomore Ulolo Samoata had one sack and one forced fumble. Payton Maull had an interception return for 35 yards.
Grossmont's season continues this Saturday at Moorpark (1-2). Southwestern dropped to 0-2 on the season following a 43-7 non-conference loss at College of the Canyons on Sept. 10. The Jaguars fell to 0-3 following last Saturday's 17-0 loss at Palomar College.