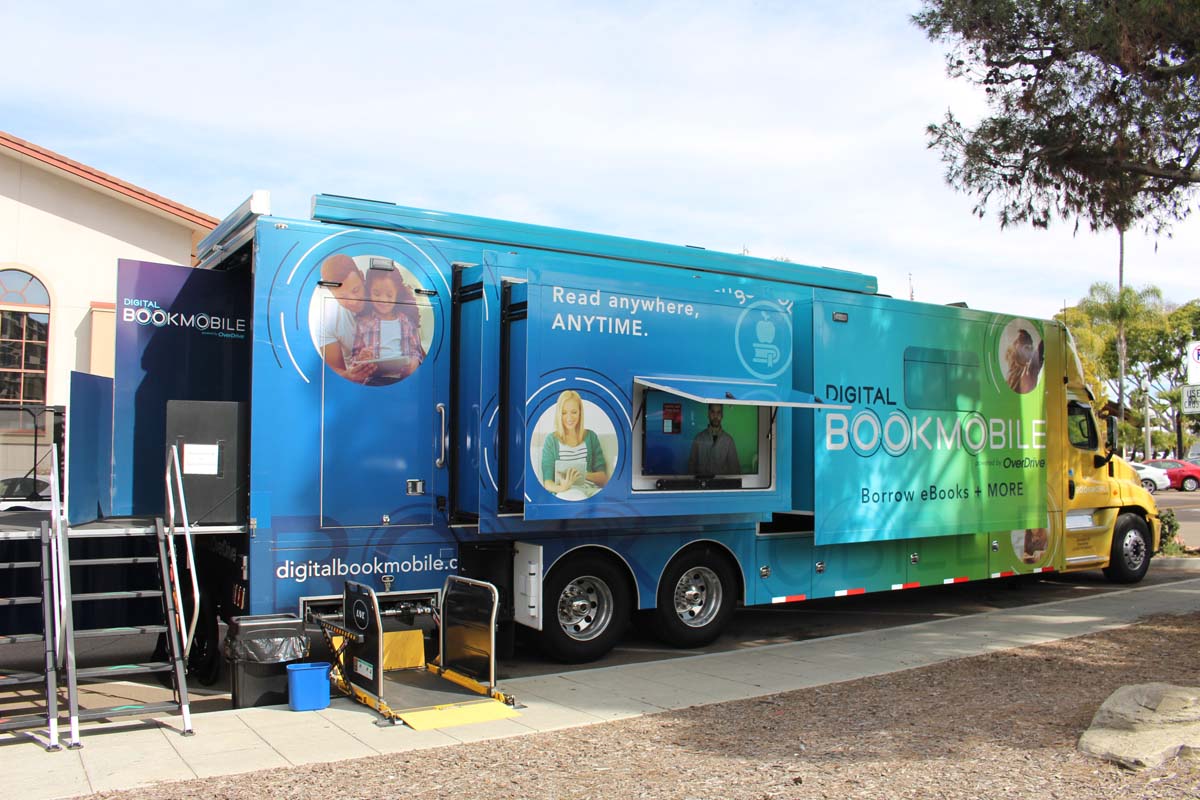 There are 54,173 free ebooks available through the San Diego County Library Libby application, as well as 17,670 audiobooks that library patrons can check out through one of two applications available for download on a personal electronic device.
Digital Bookmobile representative Marissa Gillett, who was on hand with the traveling bookmobile exhibit parked outside the La Mesa branch library on Feb. 27 pointed out that those numbers equate to unique titles; duplicates of the same book are not counted multiple times.
Seated outside the colorfully-painted bookmobile, Gillett worked with La Mesa branch librarian Denise Smith to answer questions from library patrons on ways to access ebooks through the county library system.
Once a patron installs either the Overdrive or Libby app onto their device, they are free to browse available titles then check them out online and read or listen to those books on their device through either application.
"It's really about making reading as accessible as possible," Gillett said.
She described the traveling Overdrive bookmobile as the middle man between publishers and libraries, there to create a world of happiness in reading, and explained the genesis of the Libby app that was the focal point of the bookmobile event.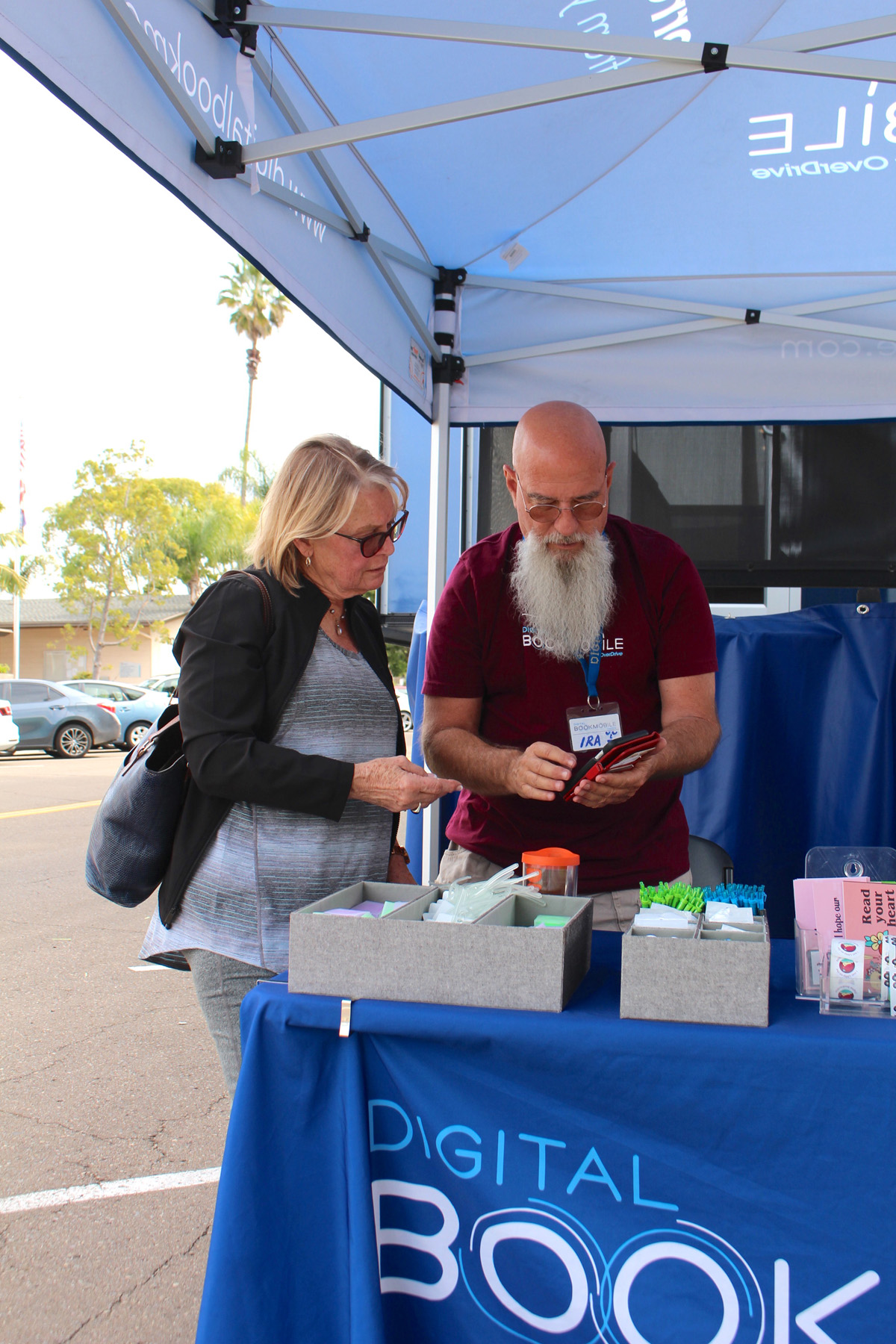 According to Gillett, Overdrive was the flagship app available to library patrons for use in accessing ebooks within the county library system. Digital content company Rakuten gathered feedback from users and librarians who initially used the Overdrive app, and then incorporated some of that feedback when they created the newer Libby app.
Both applications are available for free and used for connecting the community to the library system, but function differently when accessing books.
Gillette explained that Overdrive has screen reader capabilities so vision-impaired patrons can effectively navigate the app and use all the functions, such as hearing line-by-line readouts of items like a search tool. It also functions in multiple languages such as Spanish, connecting English language learners with available library books.
By comparison, Libby is a newer application and, as Gillett explained, has a more robust drive for tagging and keeping track of books in an organized fashion, as well as a more advanced process for downloading audiobooks as a single file. Additionally, Libby can connect with other library systems outside San Diego county if patrons are cardholders in another system; Gillette gave the Orange County library system as an example.
The Libby app allows for multiple typesets, increasing accessibility for patrons who can access the books with open dyslexic fonts. There is also a web browser version of the application available for any computer running Windows 10 or higher so library patrons who do not own a portable electronic device can still download and read or listen to books through a home computer.
"The people I usually get great feedback from are older adults who find themselves waiting around in doctor's offices. Accessing a book online makes those wait times a lot more pleasant without having to carry a book everywhere. So today, we're here helping people set up Libby onto a personal electronic device," Gillett said.
Inside the truck, the brightly painted walls were printed with historical facts about traveling libraries. Electronic devices such as iPads were grouped in a lounge arrangement so patrons could sit and learn how to access library collections online through interactive workstations featuring video tutorials and touchscreen activities.
As patrons entered the truck, they appeared surprised by the contemporary approach to a traditional library, one commenting on the bookmobile itself.
"I just started using the Libby app but what stood out to me were the facts inside the bookmobile," Devon White said.
The facts printed in a border along the interior of the 53-foot truck emphasized ways librarians have facilitated reading in communities that might not have access to a local library, from traveling book collections to newer online applications.
"Where a local branch library might have weekly hours, the Libby app allows patrons to access books through the library 24/7, 365 days a year,"  Gillett said.
She explained that specialists with the traveling bookmobiles offer three services: they help new users who are downloading either the Overdrive or Libby app for the first time; they offer demos on different electronic devices so new users can familiarize themselves with installation and navigation processes before heading home to download the apps on their own; they guide established users through questions and offer tips and tricks for better usability.
Smith said the La Mesa library offers drop-in computer help every Tuesday at 2:00 and that other branches' tech help times can be found on the library calendar at sdcl.org so that patrons who might not be overly tech savvy can learn how to access the library collections online.
"If people are nervous about trying it, just ask," Smith said.