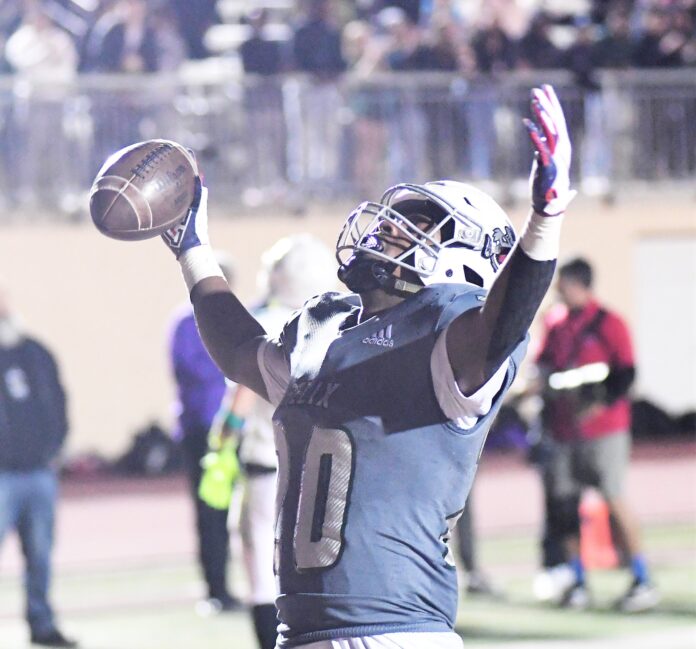 High school football in San Diego County is definitely rising to top-billing in 2022, it appears, on Saturday when defending state Division 2-AA champion Mater Dei Catholic hosts defending state Division I-AA champion Cathedral Catholic in a high-profile non-league clash.
The game will be broadcast live on KUSI-TV, Kick-off is 6 p.m. The local television station is
billing the game as "Saturday Night Live."
KUSI Prep Pigskin Report's Paul Rudy, Brandon Stone, Allison Edmonds, Nick James and Bowe Fertig will comprise the broadcast team for the PPR's first ever full game broadcast.
For those who follow high school football in the region, the live game broadcast is a very big deal. And it shouldn't disappoint as both teams are among the best in the state. Mater Dei Catholic enters the new season ranked 10th in the state while Cathedral Catholic is ranked 11th. It's not often that another San Diego County team, much less one from the Metro Conference, is ranked ahead of the perennial dreadnaught Dons. It's almost certain an overflow crowd is expected on the Crusaders' campus.
Cathedral Catholic won last year's Open Division section title while Mater Dei Catholic won last year's Division III section title.
Preseason rankings are out from MaxPreps and East County teams appear to have gained quite a bit of respect in the polling.
Mater Dei Catholic and Cathedral Catholic are ranked 1-2, and Saturday's game will likely determine if there is a flip-flop in the early season rankings.
Carlsbad (last year's Open Division runner-up) is ranked third among section teams while Lincoln (last year's Division I runner-up) is ranked fourth ahead of defending Division I champion Helix Charter, which occupies the section's No. 5 spot to kick off the new season.
Rounding out the top 10 teams are No. 6 Madison, No. 7 Scripps Ranch (last year's Division II champion, now in Division I), No. 8 Mission Hills, No. 9 Torrey Pines and No. 10 Patrick Henry (last year's Division IV champion, now in Division III).
Granite Hills enters the 2022 season ranked 12th (tops among Division II teams) while Steele Canyon is ranked 14th (11th among Division I teams). Grossmont is ranked further down at No. 37 among the section's 84 11- man teams (16th among Division II teams).
Helix, Granite Hills, Steele Canyon and Grossmont return as Grossmont Hills League rivals.
El Capitan, the top Grossmont Valley League team, is ranked 40th, followed by West Hills at No. 40. West Hills won last year's league title ahead of El Capitan. El Capitan is ranked seventh among Division III teams, followed by West Hills (11th) and Santana (12th).
Mt. Miguel is ranked ninth among Division IV teams while El Cajon Valley is ranked ninth among Division V teams.
It will be interesting to see where the teams rank in the various divisions three weeks into the
season and then at the end of regular season play for playoff seeding.
Extra points
Both Division IV finalists in 2021 move up to Division III this season — Patrick Henry as the top-ranked team in Division III and University City as the second-ranked team.
Filling the void in Division IV this season are No. 1 Palo Verde Valley and No. 2 Fallbrook. Palo Verde Valley finished as the Division V champion in 2021.
San Diego Section 2021 Champions
Open Division: (2) Cathedral Catholic 48, (1) Carlsbad 19 Division I: (1) Helix Charter 28, (3) Lincoln 21 Division II: (2) Scripps Ranch 42, (4) La Jolla 0 Division III: (2) Mater Dei Catholic 37, (4) Ramona 10 Division IV: (1) Patrick Henry 49, (2) University City 21 Division V: (1) Palo Verde Valley 41, (2) Mission Bay 19 Division VI (8-Man): (1) San Diego Jewish Academy 50, (3) Victory Christian Academy 28
SAN DIEGO SECTION FOOTBALL RANKINGS
(Through Aug. 14/MaxPreps)
1. Mater Dei Catholic
2. Cathedral Catholic
3. Carlsbad
4. Lincoln
5. Helix Charter
6. Madison
7. Scripps Ranch
8. Mission Hills
9. Torrey Pines
10. Patrick Henry
11. Poway
12. Granite Hills
13. University City
14. Steele Canyon
15. Ramona
16. Brawley
17. Eastlake
18. La Costa Canyon
19. Otay Ranch
20. Christian
21. Mira Mesa
22. El Camino
23. Rancho Bernardo
24. Bishop's
25. Central Union
DIVISION I
1. Mater Dei Catholic, 2. Cathedral Catholic, 3. Carlsbad, 4. Lincoln, 5. Helix Charter, 6. Madison, 7. Scripps Ranch, 8. Mission Hills, 9. Torrey Pines, 10. Poway, 11. Steele Canyon, 12. Eastlake, 13. La Costa Canyon, 14. El Camino, 15. Rancho Bernardo, 16. St. Augustine
DIVISION II
1. Granite Hills, 2. Ramona, 3. Brawley, 4. Otay Ranch, 5. Christian, 6. Mira Mesa, 7. Central Union, 8. La Jolla, 9. Mt. Carmel, 10. San Diego, 11. Valley Center, 12. San Marcos, 13. Santa Fe Christian, 14. Vista, 15. Oceanside, 16. Grossmont
DIVISION III
1. Patrick Henry, 2. University City, 3. Bishop's, 4. Point Loma, 5. Del Norte, 6. San Pasqual, 7. El Capitan, 8. Morse, 9. Imperial, 10. Rancho Buena Vista, 11. West Hills, 12. Santana, 13. Escondido, 14. Bonita Vista, 15. Canyon Hills, 16. Olympian, 17. Orange Glen
DIVISION IV
1, Palo Verde Valley, 2. Fallbrook, 3. La Jolla Country Day, 4. Mission Bay, 5. Coronado, 6. Westview, 7. Sweetwater, 8. Montgomery, 9. Mt. Miguel, 10. Francis Parker 11. Chula Vista, 12. Calexico, 13. Holtville, 14. Hilltop, 15. Valhalla, 16. Kearny, 17. Monte Vista
DIVISION V
1. Crawford, 2, Escondido Charter, 3. Classical Academy, 4. Vincent Memorial, 5. Southwest, 6, Mar Vista, 7. San Ysidro, 8. Army-Navy Academy, 9. El Cajon Valley, 10. Southwest El Centro, 11. Mountain Empire, 12, Tri-City Christian, 13. Hoover, 14. Calipatria, 15. Castle Park, 16. Clairemont, 17. Maranatha Christian, 18. O'Farrell Academy
Week 1 Prep Football Schedule
Thursday, Aug. 18
Sweetwater at Mt. Miguel
Friday, Aug. 19
West Hills at Grossmont, 7 p.m.
Menifee Heritage at Steele Canyon, 7 p.m.
Canyon Hills at El Capitan, 7 p.m.
Maranatha Christian at Monte Vista, 7 p.m.
Badgad Sultans (Ariz.) vs. Foothills Christian at Seau Field, 7 p.m.
Valhalla at Hilltop, 7 p.m. Mountain Empire at Hoover, 7 p.m.
Santana at Point Loma, 7 p.m.
El Cajon Valley at Mission Bay, 7 p.m.
Helix at Mira Mesa, 7 p.m.
Granite Hills at Poway, 7 p.m.
Christian at Ramona, 7 p.m.