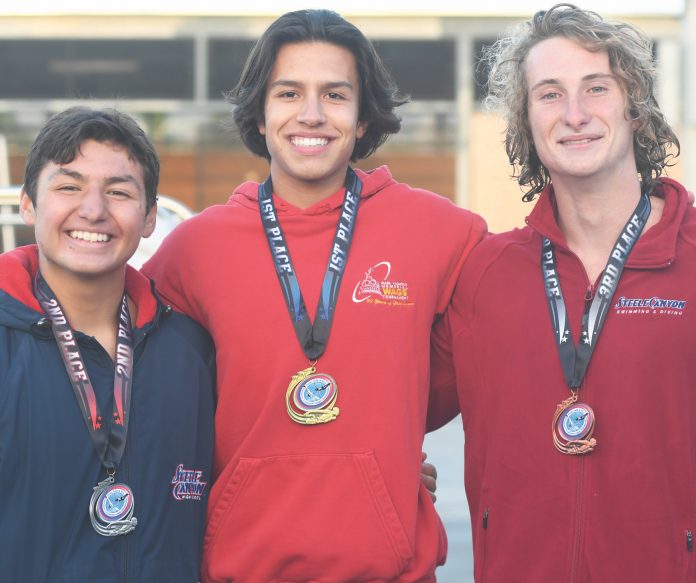 With 42 entrants in Monday's Grossmont Hills League diving championship meet at Granite Hills High School, there were some obvious logistical issues.
"It was a challenge with the long wait between dives," explained Steele Canyon senior Cole Stock, who captured the boys varsity competition with a high score of 254.9 points. "We stopped and then had to start all over again."
The field was broken down into four divisions: girls varsity (16 entrants), boys varsity (16 entrants), girls junior varsity (eight entrants) and boys junior varsity (two entrants).
Junior varsity divers completed four rounds while varsity divers completed six rounds.
Steele Canyon recorded the top three scorers in the boys varsity field. Stock, who finished undefeated in dual meet competition, led the parade of Cougars on the board, followed by junior Samuel Mascari with 231.75 points in second place and senior Ty Hunt with 222.7 points in third place.
"It was crazy — surreal might be a better word," Stock said. "It was really fun competing against the divers from all the different schools."
Helix seniors Avery Baker and Stone Eastman finished fourth and fifth with 201.45 and 195.75 points, respectively. Baker also finished undefeated in dual meets during the regular season.
"My goal has been to score 200 points and I did that today," explained Baker, who showcased his front somersault dive with a full twist on his final bound off the board. "It's been an amazing journey. I definitely would not have picked any other sport except diving to compete in. I love my team. It's satisfying when you work on something for so long and then and are able to do it in a meet successfully. It's so rewarding."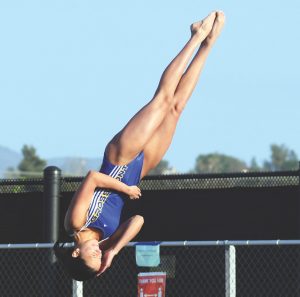 Eastman was terribly excited to score a nine on his second dive — an inward dive in the pike position.
"I have never scored a nine in any dive before," Eastman said with a toothy grin. "I had made it a goal for this season and I finally did it in my last meet this year. My teammates were so excited for me."
The boys varsity field featured 14 divers who scored more than 160 points and eight divers who topped 180 points. There was little numerical value that separated many divers.
The top eight scorers received medals.
Grossmont's Bruce Nordlof placed sixth with 187 points while Valhalla's Sam Blando, a freshman, finished seventh with 186.8 points. Helix junior John Funk placed eighth with 185.8 points while Steele Canyon's Jason Lee finished ninth with 178.9 points.
Granite Hills' Gage Mowrey placed 10th with 165.95 points while Helix's Erik Freshley finished 11th with 164.6 points. Valhalla's Aidan Treltas placed 12th with 163.9 points, followed by Granite Hills' Joel Corella in 13th place with 152.95 points, Granite Hills' Kade Gaeir in 14th place with 137.45 points, Valhalla's Kai Treltas in 15th place with 131.3 points and Granite Hills' Joel Alvernaz in 16th place with 104.05 points.
Grossmont sophomore Kaila Getch and Valhalla junior Jordan Alstad entered the league finals as the top two female divers and neither disappointed off the board.
Getch won with 274.4 points while Alstad finished runner-up with 249.2 points.
Both young ladies let the chips fall where they may.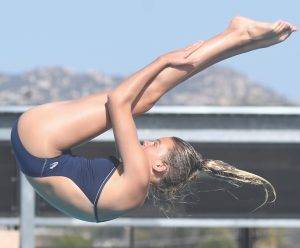 "I definitely had the goal of winning," said Getch, who was limited to just one meet last year as a freshman before the season fell victim to the COVID-19 pandemic. "I put my best foot forward with all my best dives. I think I performed well. I had a few bumps but I got through them and wound up where I wanted."
Valhalla coach Maya Fielding said she thought Alstad, a CIF place-winner as a freshman, turned in her best effort of the season.
"I think I had a good meet overall," Alstad said with satisfaction. "I focused on myself a lot more. I focused on making the meet more fun."
VHS swim coach Steena Harriman concurred.
"Jordan dove great," Harriman said. "She is very composed and positive when she dives. It's always a joy to watch."
Adrienne Riley of West Hills finished third with 198.45 points, followed by Granite Hills' Jayden Savory with 177.45 points in fourth place, Steele Canyon's Halle Severson with 177.35 points in fifth place, Steele Canyon's Cortlyn Patterson with 163.95 points in sixth place, Granite Hills' Makenzie Monteleon with 160.2 points in seventh place and Granite Hills' Kelly Henderson with 147.4 points in eighth place.
Helix's Evelyn Hernandez missed a medal by one point, placing ninth with 146.4 points. Granite Hills' Bella Kamahi placed 10th with 138.75 points, followed by Valhalla's Elle Fishwick with 133.15 points in 11th place, West Hills' Samantha Clifton with 130.6 points in 12th place, Grossmont's Lily Nordlof with 129.8 points in 13th place, West Hills' Ireland Allison with 117.95 points in 14th place, Valhalla's Hope Pillsburty with 106.15 points in 15th place and West Hills' Morgan Kruger with 90.25 points in 16th place.
Granite Hills placed the top four divers in the girls JV field. Kendall Kusy finished on top with 102.15 points while Bailey Schuler placed runner-up with 83.05 points. Corena Tanson finished third with 80.6 points while Carlie Tanson placed fourth with 79 points.
Rounding out the JV girls medalists were West Hills' Peyton Carlino (fifth place, 69.45 points), Steele Canyon's Kyla Custeau (sixth place, 67.25 points), Valhalla's Melia Cawley (seventh place, 64 points) and West Hills' London Smith (eighth place, 62.6 points).
The boys JV field included Helix' David Ngo in first place with 114.8 points and Granite Hills' Luke Knierim with 74.5 points.
All six Grossmont Hills League schools were represented on the diving board.
Granite Hills led the combined field with 13 divers while Valhalla and Steele Canyon both had seven divers compete in the meet. West Hills and Helix both had six divers compete while Grossmont entered three divers.
Meet director Ron Ortiz applauded the efforts of all the participants, staff and spectators.
"It actually went pretty well," he said. "The divers knew exactly what they were doing. We had a great team of parents who supported the kids. For a COVID season where so much has been taken away from the students and their families, to have this event means so much. That it was a success was a victory for East County."
Making a splash
The Grossmont Hills League swim finals are Friday at Granite Hills High School, starting at 4 p.m.