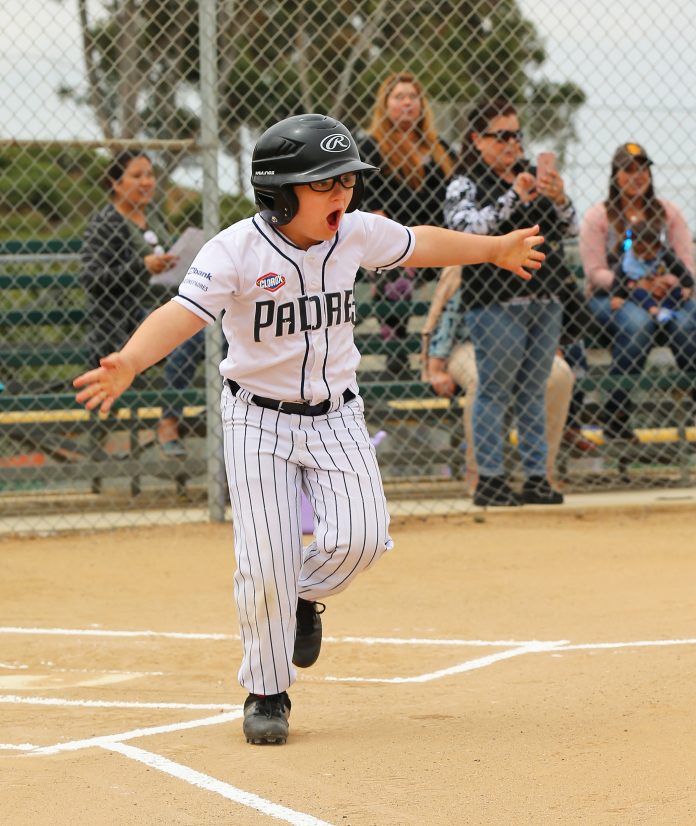 El Cajon Western is no ordinary Little League.
Kristin Dimler serves as the Challenger Division representative for El Cajon Western Little League. She got involved in the program six years ago through her son Anthony; this year is her first as the division representative.
She's is obviously enjoying championing the cause of the program.
"El Cajon has a large community of special needs," Dimler explained. "We found out about the program through a friend. I grew passionate about it and took it over."
Little League Baseball has embraced the Challenger Division at the national level; it is made it available to the local level, usually within each district.
According to Little League Baseball's website, the program, which was established in 1969, allows mentally and physically disabled youth the full benefits of Little League participation in an athletic environment structured to their abilities. The program is available to any special needs child between the ages of 5-18 or who is in an ongoing high school program.
According to the national organization, more than the skills of baseball are learned through the experience of participating in the program. The value of the Little League Challenger Division is found in the proven therapeutic and socialization benefits of participating in sports, the strengthening of participants' self-esteem, the opportunities to mainstream into other divisions of play, and the disciplines of teamwork, sportsmanship and fair play which are hallmarks of the Little League program.
Challenger Division participants learn not only the fundamentals of baseball, but also how it feels to be just like other children pulling together as a team, being cheered on and earning awards for their achievements.
California District 41 Little League, which serves East County, hopes to expand the program to all of its 16 leagues.
The current Challenger Division program at El Cajon Western Little League has 43 individuals with special needs registered in the program, which has been in existence for 10 years, according to Dimler.
The current program features two younger teams and two older teams. The season runs from February through mid-June. There are no residency limits.
The El Cajon Western Little League Challenger Division will hold a season-ending championship event on June 14 at Tuttle Park, 379 W. Chase Ave., El Cajon, starting at 6:30 p.m.
It will be a chance for participants to share in the friendships they've developed with others over the season as well as enjoy the game of baseball under the lights in a showcase setting.
Dimler brought one of the league's younger teams to the participate in the California District 42 Little League Challenger Jamboree held Saturday, June 1, at South Bay Little League in Chula Vista.
The jamboree, which drew about 170 participants, featured teams from neighboring Mexico (Tijuana and Mexicali) and Imperial Valley as well as groups representing El Cajon, South Bay Little League and Eastlake Little League from District 42.
The Padres' Swinging Friar mascot was on hand to greet all the participants during a gala pregame introduction ceremony. The Swinging Friar was a hit with both younger and older participants.
The jamboree featured games for young teams, moderate teams and advanced teams based on age and disability level.
Games were scheduled every hour. Some participants needed an able-bodied buddy to compete. Two participants were in wheelchairs while another used a walker.
The event as topped off by a USA-Mexico all-star game featuring the 10 best players from each group.
Dimler said the exposure beyond the borders of East County was important for her group of young ballplayers.
"The biggest thing is to get more inclusion with other leagues and us," she said. "It's nice to get more exposure, more kids involved."
Lily Walter has served as Challenger Division coordinator for South Bay Little League for 10 years. The program has been in existence for 24 years.
She concurs with all of what Dimler has expressed about the special needs youth baseball program.
"It's important for the kids to play at their fullest potential because it instill confidence," Walter explained. "They get to form friendships with kids who function at the same level that they do. One of our goals is to build a community for the players, making friendships that will follow them all their lives."
For more information on the El Cajon Western Little League Challenger Division, visit the website at www.ecwll.com.