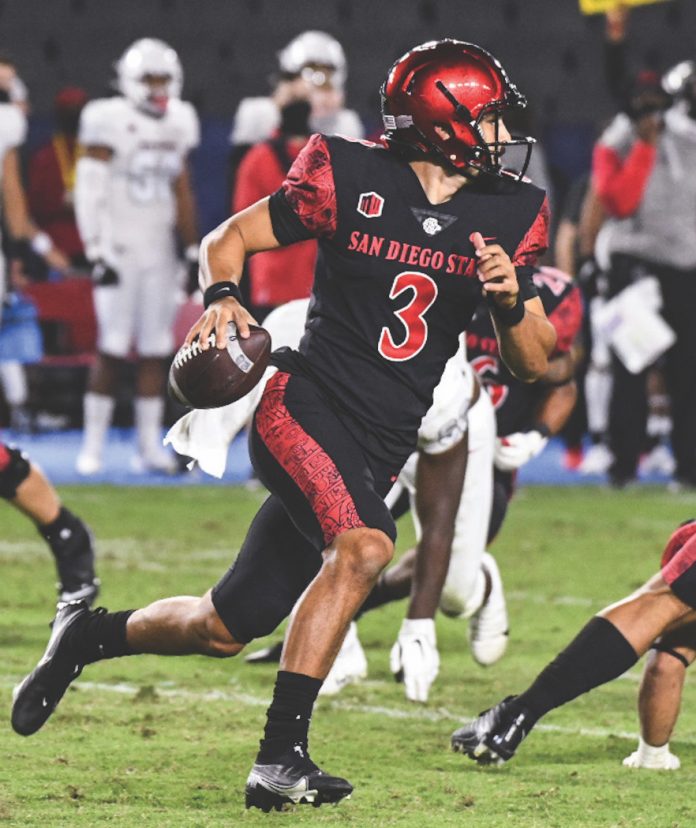 San Diego County prep alumni once again stood tall on the field for the San Diego State University football team as the Aztecs defeated host Utah State, 38-7, last Saturday to improve to 2-0 on the young season and, in the process, remain in the chase for a berth in December's Mountain West Conference championship game.
For the second consecutive week, Helix Charter High School alumnus Carson Baker and Bonita Vista High School graduate Greg Bell logged top offensive honors.
Baker completed 18 of 27 passes for 163 yards with two touchdowns while rushing six times for 29 yards. 
Bell led SDSU on the ground with 22 carries for 157 net yards and one touchdown. He also caught two passes, including a 29-yard touchdown reception, to finish the game with two touchdowns.
The former Baron standout led the Aztecs with 186 all-purpose yards in last Saturday's win.
In two games, Baker has passed for 300 yards with three touchdowns, a 57.7 completion percentage (30-of-52) while tacking on 38 rushing yards for a 125.19 quarterback efficiency rating.
He improved to 3-0 as a starting quarterback and has not thrown in interception in 79 attempts.
In two games, Bell has carried the ball 41 times for 268 yards, a 134-yard per game average, with two touchdowns. He has ripped off 30-yard runs in both games.
"I'm feeling good," Bell said. "My O-line (offensive line) blocked really well and opened a lot of holes for me. Everything worked out well. Our O-line did a great job blocking for me. We all push each other in practice, working on details. Without those guys opening the holes for me, I wouldn't be able to see those holes.
"I just go out there and try to be patient and let my O-line do the work and follow behind them. It just feels good to run through there and to try to run over a DB (defensive back)."
SDSU head coach Brady Hoke was complimentary of his team's effort.
"Number one, it's great to be 2-0," Hoke said. "It's great to come here and win on the road in a place that they have a pretty good football team. I thought our guys came out with great intent. They were physical on both sides of the ball and played 60 minutes of football."
SDSU completed its second victory in turnabout fashion.
In defeating UNLV, 34-6, in its season opener on Oct. 24, the Aztecs raced to a 27-0 halftime lead, then struggled offensively in the second half. In last Saturday's win in Utah, SDSU nursed a 10-7 halftime lead before exploding on the field for 27 second-half points.
SDSU out-gained Utah State (0-2) in total offensive yards 570-215, accumulating a commanding 417-116 edge in rushing yards.
The Aztecs opened up a 10-0 lead on a 15-yard scoring pass from Baker to Kobe Smith and a 28-yard field goal by Matt Araiza.
The Aggies got back in the game on a 37-yard pass from Jason Shelley to Deven Thompkins at the halftime whistle.
But the second half was all SDSU.
Greg Bell scored on a six-yard run early in the third quarter to help put the visitors ahead 17-7 on the scoreboard. Chance Bell (no relation) upped the Aztec lead to 24-7 on a 27-yard run play.
Greg Bell scored his second touchdown of the game on a pass from Baker to make the score 31-7. Jordan Byrd put an exclamation mark on the victory on a 73-yard breakaway run with 5:14 to play in the game.
"We've always said that you make your best improvement from Game 1 to Game 2," Hoke offered. "I think that Carson did that. I thought he did a great job. I thought he played with poise. I think as a leader he continues to grow. I'm really happy with his output."
Christian High School alum Jesse Matthews caught three passes for 24 yards though he was kept off the scoreboard for the second consecutive week.
Smith paced the Aztecs with six catches for 64 yards with one touchdown in last Saturday's game.
Smith, a junior from Compton, led SDSU with 58 catches for 691 yards with four touchdowns last season while Matthews ranked second with 48 catches for 633 yards and two touchdowns.
The SDSU defense remains stout. The Aztecs have allowed only 13 points on defense this season, holding opponents to one touchdown in each game to start the season. SDSU recorded two interceptions and four tackles for a loss in their latest win.
East County preps made a statement on defense as Helix Charter alums Rashad Scott recorded one interception and Michael Shawcroft recovered a fumble.
Shawcroft, the 2018 San Diego Section Defensive Player of the Year, also registered three tackles (two solo hits) in the game. In two contests to kick off the 2020 season, Shawcroft has recorded seven tackles, including five unassisted tackles, and two fumble recoveries.
Araiza (Rancho Bernardo) recorded eight kicking points for SDSU in the win over Utah on five extra-point conversions and one field goal.
The Aztecs logged 30 first downs compared to 11 for the Aggies.
William Dunkle (Eastlake) recorded his second consecutive start at right guard for SDSU.
The Aztec offensive line has paved the way to bulldoze opponents for 725 rushing yards in two games.
"Their performance is big to the whole offense," Bell reiterated. "Without them, we can't get the ball moving or get the passes off. Without them working hard in practice every day, we wouldn't be able to do what we've done.
"Honestly, it doesn't feel real to me that I'm back playing football because it's been so long (25 months). So when I go home, I look in the mirror and (realize) I'm really back playing football and it feels good."
Helix Charter alum Elelyon Noa had seven carries for 25 yards for Utah State. In two games, the former Highlander star has logged 13 carries for 31 yards in his freshman season.
Noa rushed for 5,830 yards during his four years at Helix to break the school record held by Heisman Trophy winner Reggie Bush.
The Aztecs return to Dignity Health Sports Park to host San Jose State on Friday, Nov. 6, at 6 p.m.
San Jose enters the upcoming game with a 2-0 record after defeating New Mexico, 38-21, behind 467 passing yards and five touchdowns from quarterback Nick Starkel.
SDSU and San Jose State are tied with Nevada-Reno and Boise State with 2-0 records to lead the conference standings. Fresno State, Wyoming and Hawaii are all 1-1 through two games.
College notepad
Helix Charter alum Ezekiel Noa, Elelyon's older brother, had five tackles for No. 25 Boise State (2-0) in its 49-30 MW victory against the Air Force Academy (0-2). Noa, a redshirt junior, led the Broncos with eight tackles, including five unassisted and one for a loss, in a 42-13 blowout win over Utah State on Oct. 24.