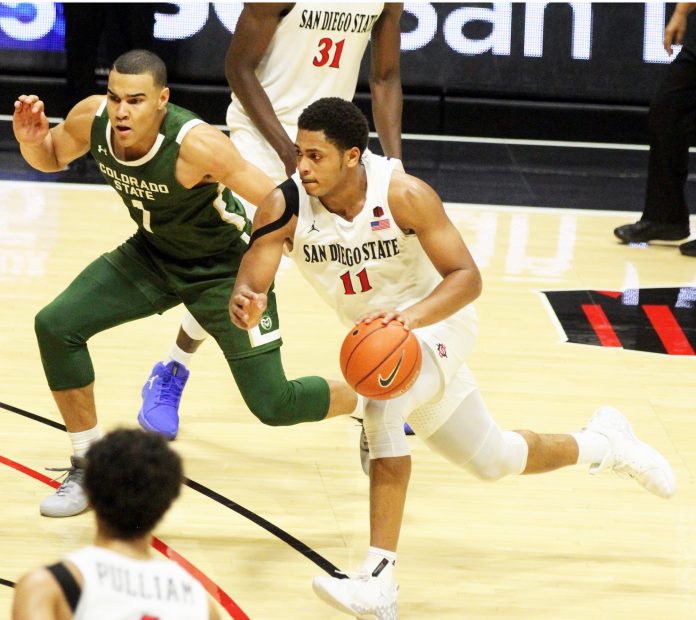 With the college football season having christened its latest NCAA Division I national champion after No. 1 Alabama (13-0) defeated No. 3 Ohio State (7-1), 52-24, Monday in Miami, it might be time for San Diego State University fans to start charting a course for Aztec basketball this season.
SDSU's men's team turned in a superlative 2019-20 season by finishing with an overall 30-2 regular season record, including a monstrous 27-game winning streak, to post a runner-up finish to Utah State in the Mountain West championship game.
Fans filled Viejas Arena on campus, making the team a hot draw regionally.
However, the team did not get the chance to prove itself against the nation's best after the NCAA canceled its 2020 March Madness tournament because of the COVID-19 pandemic.
SDSU advanced to the NCAA Sweet Sixteen round in both 2011 and 2014. Coach Steve Fisher's 2010-11 team went 34-3 while his 2013-14 team finished 31-5.
It appeared as if the Aztecs might forge an undefeated season to tip off the 2020-21 season after whipping through their opening five games without a loss, including wins over Top 25-ranked teams UCLA and Arizona State. That won't happen as the team has picked up two losses through its opening 11 games, including a 3-1 mark in conference play.
But the prospect of yet another magical season remains in sight.
Top scorers so far this season include senior Matt Mitchell with 15.8 points per game, senior Jordan Schakel with 13.3 points per game and junior Nathan Mensah with 10.6 points per game.
Mensah leads the team with 7.4 rebounds per game, followed by Mitchell with 5.2 rpg.
SDSU made its debut in the AP Top 25 poll at No. 24 on Dec. 7 with a 4-0 record.
But losses to BYU (72-62 on Dec. 18) and Colorado State (70-67 on Jan. 2) dropped the Aztecs to No. 41 in the NCAA NET rankings to start the 2021 portion of the season.
Boise State was ranked 13th in the poll while Colorado State was ranked No. 40. SDSU rebounded to defeat Colorado State, 78-65, in a rematch at Viejas Arena on Jan 4.
The Aztecs ran their latest winning streak to three games following a sweep of visiting Nevada-Reno Jan. 7 (65-60) and Jan. 9 (69-67).
The latter game had a dramatic ending as senior Trey Pulliam, taking the ball coast-to-coast with four seconds remaining in a tie game, banked in a shot as time expired while on the run.
Though fans are currently not allowed in Viejas Arena, the Aztecs have played some very crowd-pleasing basketball, even if only available on television.
SDSU continues MW play with games at Utah State on Jan. 14 and Jan. 16. Another pair of road games follows Jan. 22 and Jan. 24 at the Air Force Academy in Colorado Springs.
The Aztecs return home to host a two-game set against Wyoming Jan. 28 and Jan. 30.
Conference play extends through Feb. 27.