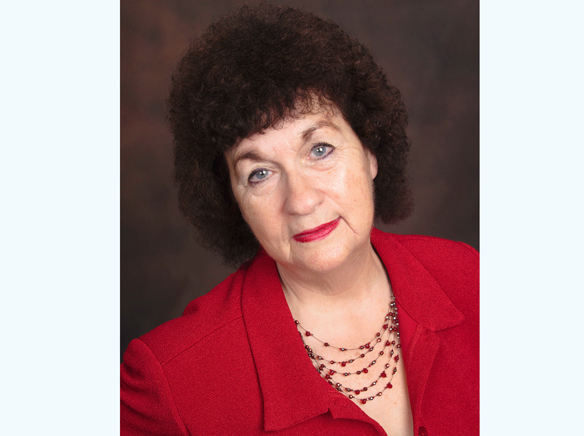 An afternoon to remember is what most people at the Lemon Grove Library would call Louise Mathews' lecture and story telling about her experiences as a cook for jails. On February 6, attendees were treated to a luscious helping of stories based on her book, "Jail House Cuisine: From the Right Side of the Bars."
An afternoon to remember is what most people at the Lemon Grove Library would call Louise Mathews' lecture and story telling about her experiences as a cook for jails. On February 6, attendees were treated to a luscious helping of stories based on her book, "Jail House Cuisine: From the Right Side of the Bars."
To deal with jailbirds, a person really needs to think fast on her feet and be somewhat of a wisecrack. Louise Mathews easily fits that description. She had a big job as the chief of food services for the San Diego County Sheriff's Department for 21 years.
Beginning in 1984, with help from 15 employees and 600 to 700 inmates, Mathews served nearly 8,000 inmates and staff members each day. Some of the inmates had dietary restrictions, others, religious. But for Mathews, the biggest challenge, and the most rewarding, was figuring out how to save everyone time and money while providing the highest quality of meals.
As the daughter of a chef, working side by side with her father as she grew up, Mathews learned early on what did and did not work when it came to efficiency. So when she had more than 8,000 people to feed at the Sheriff's Department, Mathews realized a much more efficient system needed to be put in place. The food would have to be prepared, pre-cooked and pre-cooked and packaged at a central location.
"It's called Cook-Chill Technology. Now most restaurants, hospitals, even Meals on Wheels use it," she said.
In 1991, the Central Food Production center, opened in 1991, such a center opened near the East Mesa Detention Facility in Otay Mesa. The center employs hundreds of people and puts smiles of satisfaction on the inmates' faces when they eat.
And that is no small matter.
"Did you know that most riots in jail are food-related?" Mathews asked.
She told a story about some inmates who were playing a game of poker using her baked sweet buns as chips. In the meantime, there was a fight going on over who got the sweet bun.
None of this intimidated Mathews. She just shrugged it off as another funny story and would continue to make her favorite recipes. The guys loved her cooking, including her Cream of Broccoli Soup, Miss Marie's Fried Chicken and her Secret Ingredient Cookies, just to name a few.
Mathews learned early on to roll with the punches. On her very first day of work, she encountered a group of naked men in her kitchen.
"I called Security, and they just laughed and said, "Haven't you ever seen a naked guy before? I replied that of course I have, but that having naked men in the kitchen was against Section 98 or some such thing. I mean, I made it up on the spot," Mathews said.
She waited for the laughter of the audience to calm down. "I finally told them several years later that I'd made that law up," she said, her eyes twinkling.
"I didn't mind working with all men. The very first meeting that I had with the Commander of the department, they all stood up when I entered the room," she said.
Women inmates, on the other hand, come with their own set of challenges.
"Most of the time, I could settle a dispute between men with food. But women couldn't care less. So we had to figure out what would work. We found that no talking rules work," she said.
So how did Mathews get such boldness and know-how for such a job? Put it down to her life choices.
She was going to UCSD, studying English. "I had big plans, but then I fell in love with a Navy man. Falling in love can ruin your own big plans," she said, with a wink.
After Mathews married, they were always on the move, so she had to find work that could adjust to her life. Food service was the best choice, especially since she had grown up learning the trade from her family.
In 1984 the couple settled in San Diego County when her husband retired, a disabled veteran. Mathews looked for a job that would allow her to spend more time with him but bring in enough money. She found the ad for a food services position with the county and decided to apply.
After an eight-month application process–which included a background check, polygraph test, physical and mental health exams, and individual and panel interviews– Mathews got the job. She started as chief of food services in September 1986.
Truth be told, before Mathews even considered working for the Sheriff Department, she had a fuzzy concept of jail food as something like porridge and beans.
When she interviewed for the job, Human Resources advised Mathews to not make eye contact with the inmates.
"But I felt bad for them," Mathews said.
So she went back to Human Resources and said for them not to hire her unless they were prepared for good food.
"I can't do anything other than that," she said.
On the day she retired, June 22, 2007, San Diego County Chairman Ron Roberts with all the members of the San Diego County Board of Supervisors presented Mathews with a proclamation. It said that June 22 would be known as Louise E. Mathews Day throughout the county.
"I am still thrilled," Mathews said.
"Jail House Cuisine: From the Right Side of the Bars" is available at Amazon, Barnes & Noble and Outskirts Press.