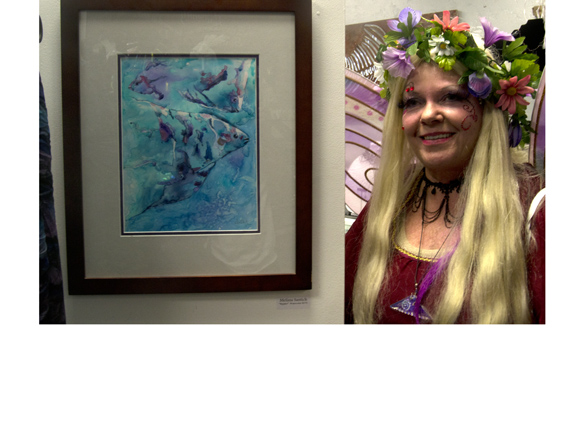 In celebration of the summer solstice, fairies, fauns, mischievous and lovely winged creatures gathered in La Mesa for the annual "A Midsummer Night's Dream" art exhibition.
In celebration of the summer solstice, fairies, fauns, mischievous and lovely winged creatures gathered in La Mesa for the annual "A Midsummer Night's Dream" art exhibition.
A dream came true once again for artists and co-founders Debbie Solan and Paul Fernandes of Fusionglass Co. gallery and studio. The two artist hosted opening night of "A Midsummer Night's Dream…at the beach" art show. The show will be on display from June 20 -Aug. 1, culminating in "Artists Award Night."
A sea of magnificent fairytale themed costumes flooded the night with a magical essence, in honor of this year's beach theme. Music, food and wine supplemented a night of creative people and their wonderful art. The Moreton Bay Figs Morris Dancers thrilled the crowd with traditional dancing, and the Parking Lot Jam, supplied tunes all night.
Artist Suz Knight has been doing art silk for 35 years, and presented her artwork "And the Hunter gets Captured by the Game," which featured faces of a man and woman. Using the techniques of salt, alcohol, resist and blending with watercolors, Knight told a love story with dye and silk.
"Her cheeks are all a glow and his nose is red, and this is a dance, a love dance," she said. "And then in case you didn't like that I put a kitty cat," she said.
A closer look at Knight's artwork reveals a small cat face. A closer look at Knight as an artist reveals her inspiration, which she says she receives from, "you, me, him, them, nature!"
Mona Sturges provided the fairy royalty of the night with masks "Oberon and Tatiana, King and Queen of the Fairies." Sturges used fused glass to create her masks, a process that may require a piece of glass to remain in a kiln for 15 to 20 hours. A graphic designer, and photographer, Sturges has worked with glass for only a few years and enjoys making strange masks for her viewers' enjoyment and inspiration.
"I want them to look at things differently," she said.
Her inspiration for Oberon and Tatiana emerged from the night's theme.
"Our theme was to be midsummer night's dream, so there are a king and queen of the fairies," she said. "Didn't want to do a pucker and a donkey," she said with a smile.
Artist Melissa Santich used yupo paper, a plastic paper that does not absorb water, to create a beautiful image of water and nature.
"I'm really into experimental art, I love to just play and try anything and everything," she said. "I just see what happens."
Similarly, artist Pamela Klein will just see what happens as her artwork derives from doodling. Klein doesn't necessarily plan, and when she does not know what to do, she waits.
"If I don't know what to do I let it speak to me, if I use my head it doesn't turn out well," she said. "It is sort of like a gut feeling that (says) 'okay this the color I need, this is what I need to do.'"
A former tapestry artist, Klein switched to oil canvas for a faster pace. Shapes and color filled her canvas within her artwork "Reds."
A popular artwork was Roxanna Maria's "The Rescue." Her clay sculpture features a mermaid on her knees hoisting up a seahorse she has just rescued, face to face the mermaid cherishes the precious gift of a life form on the verge of extinction.
"It is just to bring awareness of how we are damaging our environment more than anything else," she said. "I want to make a statement but I don't want it to scar people away, I want to make them aware."
Maria does this "by touching their souls, making them think, and touching their hearts." Maria began sculpturing out of boredom 30 years ago, since then she has fallen in love with her art. "For me it's about my soul reaching out and touching someone else's soul," she said.
For Maria it is the moments when viewers identify emotionally with her artwork that bring her joy and inspiration.
Like fellow artist of the gallery, Maria rarely begins art with a plan.
"I sat down to make an organ grinder one time and came out with a mariachi," she said laughing. "The clay takes me wherever I want to go, wherever I'm meant to go."
Maria is a resident of La Mesa, and teaches there, as well as around the country.
A group of nine artists were selected to present its art in this year's show. One artist will win the grand prize of $250 and the opportunity to have a solo show hosted by Fusionglass Co. Various types of art and artist were included in the art show.
Solan hopes to build a strong relationship between Fusionglass Co. and La Mesa.
"We do the party because we really want to foster a sense of creativity within our community," she said. "The other aspect is to promote the artist that we are showing."
Solan and Fernandes traveled and sold artwork in various cities across the nation in their careers, but wanted a sense of community where they could bring creative people together. That idea led them to purchasing the property Fusionglass Co. gallery occupies today.
"We've created this amazing network of people who are really creative," she said. "It needs to be somewhere, and were making it happen."