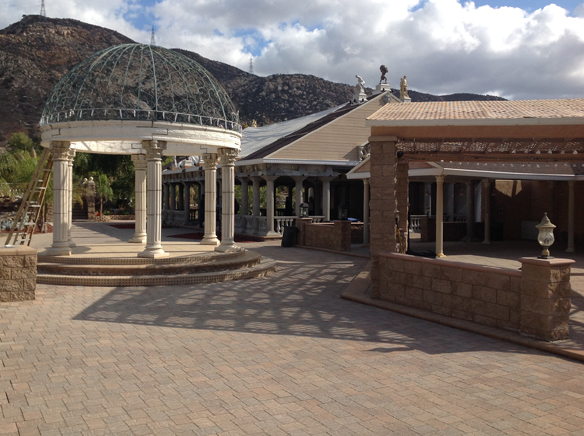 Annual Lakeside Historical Society's Holiday Home Tour is a sight to behold
Rain, rain, go away.
Annual Lakeside Historical Society's Holiday Home Tour is a sight to behold
Rain, rain, go away.
That's just what the Lakeside Historical Society wished last Saturday for its annual Holiday Home Tour planned. Mother Nature gave them a helping hand and held the rain off until late afternoon. More than 120 spirited gals and guys braved the clouds and wind to visit the properties on the tour.
Lori and Darryll Stokes home, high on the mountaintop, was beautifully decorated, awash with exquisite holiday décor which rivaled the million-dollar view of Santee and El Capitan Mountain, all the way to the Laguna Mountains. It was built in 1960 and after the Stokes bought it in 2002 they remodeled it with post and beam construction. A touching story about her home was the chandelier hanging over the dining room table. It was her mother's favorite. Left behind at their last home, Lori Stokes bought it back from the owners.
Lorie Stokes cleaned it up as best she could and took it to be repaired. Thinking he was doing a favor the repairman changed many of the crystals to "make it right". But she wanted the old crystals that her Mother loved so much, so they got put back on to everyone's satisfaction.
Another home on the tour had a cowboy Christmas theme. Christina Cunningham, had a real cowboy playing his guitar and singing carols. Her rustic décor had everyone talking about the clever yet simple ideas she had created in her country home.
Imagine a Greek Garden in Lakeside, this unique business is called Magic Moments, Private Events and the owner, John Hodgkins, said he host's weddings, reunions, parties and fun, up to 350 people. John and his workers made all the Greek statuary, tall columns, pavers and balusters. Waterfalls and other water features were a sight to behold. Hodgkins said his goal in life is to put smiles on people's faces, which he did notice, were on the faces of the folks on the tour and he added "no one would dream this was in Lakeside."
Three homes were open to see on Betty Frizell's and Mark Beeson's Horse Ranch. The men folk especially enjoyed the extensive collection of farm implements and tools. They also have a Homesteaders cabin completely furnished with rustic antiques. The gals enjoyed seeing all the dishware, kitchen implements and antique furniture in both homes. Frizell collects 1920/30 dishware and other collectibles.
Her daughter, Stephanie and hubby Chris Gywr lost their home to the Cedar Fire in 2003 but their newer home was rebuilt to look old, similar to the Veterinarian's office on Maine Avenue in Lakeside.
They collect newer 1940s antiques that they mostly still are able to use in the kitchen. She proudly showed off her grandmother's secretary desk.
Following the Holiday Home Tour, folks came back to the History Center to get some great bargains in their Christmas Resale Shoppe. All of the gently used Christmas decorations have been donated and will find new homes for the holidays. The Christmas Shop is open Tues-Sat. 10 a.m. until 2 p.m. Fridays 12 p.m. until 4 p.m. You may call the History Center at 561-1886 for more information.