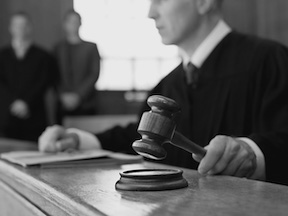 A judge declined to set any bail Aug. 18 for a Spring Valley woman who is charged with killing her roommate who was stabbed to death.
Anielka de los Angeles, 37, pleaded not guilty to killing Manuel Castro, 41, who was found dead in their apartment in the 3500 block of James Circle in Spring Valley on Aug. 9.
El Cajon Superior Court Judge Daniel Lamborn set a preliminary hearing for Sept. 29.
The attorneys appeared remotely and Arbizu was seen on a video screen from a room at the Las Colinas Women's Detention Facility because the courts are mostly closed due to the coronavirus.
The facts of the case were not discussed during the live screened audio arraignment. The medical examiner's office said the cause of death is a stab wound to the chest.
•••
Jury service to all county courthouses has been suspended through September 11 due to the coronavirus outbreak, according to the presiding judge of San Diego Superior Court.
Anyone with jury service up to Sept. 11 will not need to report and their jury service will be considered complete.
          •••
A Spring Valley bank robber who made threats was sentenced Aug. 17 to 70 months in federal prison and was ordered to pay $7,356 in restitution to all three banks he held up.
Andre Lafayette Holmes, 32, pleaded guilty to robbing the US Bank at 9831 Campo Road in 2016 and to holding up two other banks in Hillcrest several years later.
Holmes was only caught because he allegedly made telephoned threats to the San Diego Pride organization where he once worked as a security guard.
Pride workers called San Diego Police after hearing Holmes saying "I'm going to shoot up the Pride event," using homophobic slurs. Police arrested him the next day in his 2009 Toyota minivan on July 11, 2019.
Police recovered the cell phone in the minivan from which the calls to Pride were made.
Ironically, it was the Pride threats case that got him in further trouble as police found a bag of bank money in his home, according to court records.
Holmes is awaiting a preliminary hearing in San Diego Superior Court on charges of making death threats to three people.  He has pleaded not guilty.
His federal attorney, Kathryn Thickstun, urged a sentence of three years while Assistant U.S. Attorney Mario Peia asked for an 188-month term.
"His mental illness turned into his bank robberies," said Thickstun.
"I feel for the bank tellers. At the same time…this is what happens when you work for a bank," said Thickstun.
U. S. District Court Judge Larry Burns noted "these were armed robberies…and violence. I think it was a big deal."
"No teller is looking to be robbed," said Peia. "All the victims are too afraid to come here today."
Peia noted that Holmes brought in a Big Gulp cup that was partially filled with water and instructed tellers to put the money in it so it could short circuit any dye tracker.
Thickstun said Holmes now has "clarity" with medication after spending a year in jail.
"I'm extremely remorseful for what I did," said Holmes, wearing a blue mask and a prison uniform. "I do not want to pass down a legacy of criminality."
Holmes told Burns he recalled "trying to do the right thing" by attending a rally for Donald Trump in 2016.
"My plan, while I'm incarcerated, is to better myself," said Holmes.
Holmes said after his release, he hopes to deter teen-agers from crime by telling of his experiences.
"I'll never again rob a bank. I'll never again do anything criminal," said Holmes.
Said the judge: "His violent nature is escalating. While mental illness is certainly there…there's a need to protect the public."
The demand note to the Spring Valley teller said this: "I'm sorry, good man on hard times, sincerely bank robber.