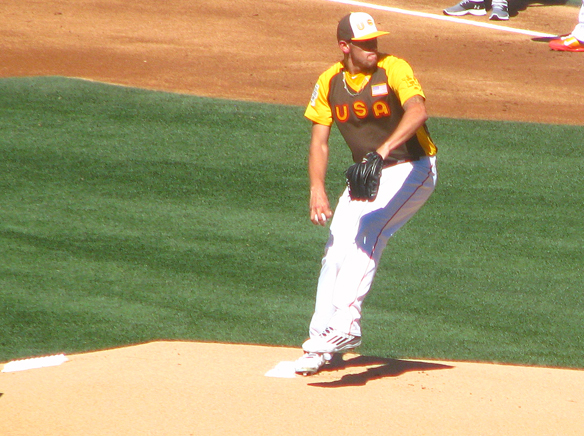 The future stars of Major League Baseball were showcased in Sunday's aptly named Sirius XM All-Star Futures Game at Petco Park as part of MLB All-Star Week. It only seems a matter of time before former Grossmont High School standout Joe Musgrove gets his time to shine in a MLB uniform.
The future stars of Major League Baseball were showcased in Sunday's aptly named Sirius XM All-Star Futures Game at Petco Park as part of MLB All-Star Week. It only seems a matter of time before former Grossmont High School standout Joe Musgrove gets his time to shine in a MLB uniform.
Musgrove, a six-foot-five right-handed pitcher, represented the United States Team in Sunday's Futures Game. The El Cajon native earned the start in his San Diego homecoming. It was a big deal for the now 23-year-old Musgrove, who signed a professional baseball contract at the conclusion of his senior season at Grossmont High School.
The Futures Game appearance was the first for Musgrove as a professional baseball player in his hometown after signing his first pro contract at age 18.
"It was a blast – just to be selected for this game was cool," explained Musgrove, who now is a member of the Fresno Grizzlies of the AAA-level Pacific Coast League. "I had family and friends here — friends I haven't seen in a long time — and I got to start."
The Futures Game, now in its 18th edition, pits the top Minor League prospects from each MLB club in a standalone all-star showcase. Rosters are divided into teams representing the United States and the World Team (international players).
Musgrove started the game for the United States Team and set down the World Team in order on just 11 pitches, inducing three groundouts.
"In a game like this, you've got one inning to showcase yourself, so I wanted to go out there and do what I do best, which is to pitch for contact (putting the ball in play)."
Musgrove received the loudest cheers during pre-game introductions for the Futures Game aside from the three Padres prospects who also participated in the game: outfielders Manuel Margot and Hunter Renfroe and infielder Carlos Asuaje, all from the PCL El Paso Chihuahuas.
Margot (San Cristobal, Dominican Republic) and Asuaje (Barquisimeto, Venezuela) represented the World Team while Renfroe (Crystal Springs, Miss.) represented the United States Team.
Musgrove was clocked at 94 mph during his one inning of work. He called his performance in this year's Futures Game a "confidence boost."
"It was fantastic to get the start," he explained. "I wish I could have more work but that's the nature of games like this.
This in an event where everyone is the best of the best. You just go out and have fun."
Musgrove definitely had an impact – and a lot of fun — during his playing days at Grossmont High School where he was part of a record-setting dynasty baseball program.
He helped lead the Foothillers to San Diego Section championship game appearances during the 2010 and 2011 seasons. The 2010 Grossmont team tied a section record with four consecutive division titles while the Foothillers' 2011 squad came up short in a bid to set a new CIF record with five consecutive division titles.
The Foothillers finished the 2010 season with a 27-7 overall record, defeating Grossmont Conference rival Helix, 8-0, in the 2010 Division II championship game. Musgrove tossed a complete game two-hitter with four strikeouts. Musgrove also went two-for-four at the plate with one run scored.
Musgrove went 11-1 on the mound his junior season with a 2.07 earned-run average, one shutout and five saves. He struck out 70 batters in 77-plus innings.
Grossmont finished 26-8 in 2011 after suffering a 6-0 loss to Rancho Bernardo in the Division I championship game. Musgrove took the loss in that game after yielding two runs in the opening three frames. He struck out five batters while allowing three hits.
Musgrove finished his senior season with a 7-5 record, 2.40 ERA and 100 strikeouts in 78-plus innings. He was a terror at the plate with six doubles, two triples, nine home runs and 32 RBI to go with a .350 hitting average.
He retains fond memories of his time as a Foothiller and being part of baseball history at the school.
"It was cool," he recalled. "Our school had won it (the CIF division championship) the last three years my first year making it there and then we won it to give the school four (CIF titles) in a row. My second year there, we wanted to set a CIF record with five (division championships) in a row but we finished second."
With 18 wins and 170 strikeouts his junior and senior seasons, Musgrove felt he was ready to make the next jump in his baseball career. The Toronto Blue Jays selected him in the first round of the 2011 MLB Amateur Draft (46th player overall) and he promptly signed on the dotted line.
"I wanted to play ball," Musgrove explained. "I was pretty much done with school. I wanted to go play pro ball."
Musgrove has played for nine teams in seven leagues throughout his minor league career since turning pro.
The Houston Astros acquired Musgrove's contract via a trade with the Blue Jays in July 2012. Musgrove has played for four teams since 2015. He was assigned to the Lancaster JetHawks from the Quad Cities River Bandits in May 2015, and assigned to the Corpus Christi Hooks in June 2015.
The former Foothiller standout has also spent time with teams in the Gulf Coast League and Appalachian League.
However, Musgrove has excelled wherever he has played. He was named a Baseball America Short-Season All Star in 2014 and was named the New York-Penn League Pitcher of the Week in August 2014 for Tri-City. He was named a MiLB (Minor League Baseball).com organization all-star in 2015 with Houston.
In 145 innings since 2015, across four levels, the El Cajon native struck out 148 hitters while yielding just 13 walks to go with an earned-run average under 2.00.
In two seasons at the AA-level, Musgrove complied a 6-1 win-loss record and 1.51 ERA. The Astros promoted Musgrove to their Fresno AAA-affiliate on May 13 of this year.
He started off his career in Fresno on a positive note by recording a 2.00 ERA with 19 strikeouts against just two walks upon his promotion from Corpus Christi where he started the season with a 0.34 ERA and 77 strikeouts in 94-plus innings.
Musgrove admitted the last five years in the minors have been a learning experience.
"You learn a lot about baseball, learn things from everyone, learn from the best," he said. "I've been throwing well; I'm not saying this is where I want to be yet (in terms of development in his career)."
Musgrove called consistency the dividing line between competing in the minor and major leagues.
"That's what keeps players like us down here and them up there," he said succinctly.
World at their feet
Though Musgrove was not involved in the decision in Sunday's all-star outing – the game was still scoreless when he left – the United States Team went on to build a 3-0 lead through five innings before coughing up nine runs in the final two innings to the World Team in an eventual 11-3 loss.
Musgrove was one of two Astros prospects who participated in Sunday's showcase contest, joining Fresno teammate Alex Bregman, who led the United States Team with three hits, including a double and triple with one run scored, in five plate appearances.
Musgrove also was one of seven California natives on the United States Team roster, joining pitchers Phil Bickford (Ventura) and Amir Garrett (Victorville), catcher Chance Sisco (Corona) and infielders Willie Calhoun (Vallejo), Ryon Healy (West Hills) and Dominic Smith (Los Angeles).
Sisco homered in the fourth inning to stake the United States Team to its early 3-0 lead. Healy (Oakland A's prospect with the PCL's Nashville Sounds) had two hits, including a double.
Playing in a MLB stadium was not the first for Sisco, had previously played at Anaheim Stadium as part of the Angels high school scout team.
"It was a great experience to share the clubhouse with these guys and the field with these guys," explained Sisco, a Baltimore Orioles prospect, who is currently playing for the Bowie Baysox in the AA-level Eastern League. "It was my first time playing professionally in California. It's an honor to be here, a lot of friends and family were here to watch me play."
Sisco simply shrugged when asked about the game's outcome.
"It's an all-star game," he said. "You can be leading the whole game and have one inning get away from you. In an all-star game, you just try to go out and have fun."
Down on the farm
The three Padres prospects brought some impressive numbers to Sunday's Futures Game.
Renfroe entered the game with a .335 hitting average, 0.611 slugging percentage, 119 hits, 27 doubles, four triples, 21 home runs and 76 RBI while Asuaje had a .323 hitting average, 106 hits, 17 doubles, seven triples, five home runs and 45 RBI.
Morgot was hitting .299 with 103 hits, 14 doubles, eight triples, four home runs and 34 RBI. He made a leaping catch at the 396-foot mark in the bottom of the sixth inning to rob the United States Team of a home run.
Margot also had one hit in four plate appearances and scored two runs for the World Team. He was credited with a RBI when he drew a bases-loaded walk in the top of the ninth inning.
Asuaje went two-for-two at the plate and scored one run for the winners.
A fourth Padres prospect – Austin Hedges could easily have been added to the United States Team roster. Hedges, from San Juan Capistrano, had eight RBI and crushed two home runs in Sunday's 11-2 El Paso win over the host Salt Lake Bees. Hedges is batting .397 with 16 home runs, 53 RBI and a .809 slugging percentage. Hedges batted .168 with three home runs and 11 RBI in 56 games with the Padres in 2015.
The Padres' outlook is definitely toward the future.
"It's going to be exciting when all of us are up here," said Renfroe, who went hitless in two plate appearances with a walk in Sunday's Futures Game.
Former Padres great Trevor Hoffman served as United States Team manager,
The World Team was comprised of players from 10 countries: Canada, Taiwan, Puerto Rico, Dominican Republic, Lithuania, Venezuela, Colombia, Mexico, Cuba and the Virgin Islands.
The United States Team roster included players representing 22 MLB organizations.
MLB's outreach and recruitment from the Caribbean and Latin America has provided definite dividends, as proven by the World Team in Sunday's Futures Game. Eloy Jimenez (Santo Domingo, Dominican Republic) blasted a double and home run and drove in four runs. He also made a sensational running catch in right field while slamming into the bullpen fence.
Cuba's Yoan Moncada (Boston Red Sox prospect) hit a two-run home run in the top of the eighth inning to put the World Team ahead 4-3 on the scoreboard. The Dominican Republic's Raimel Tapia (Colorado Rockies prospect) also finished the game with two RBI.
The Dominican Republic led the World Team with a whopping 13 Futures Games selections.