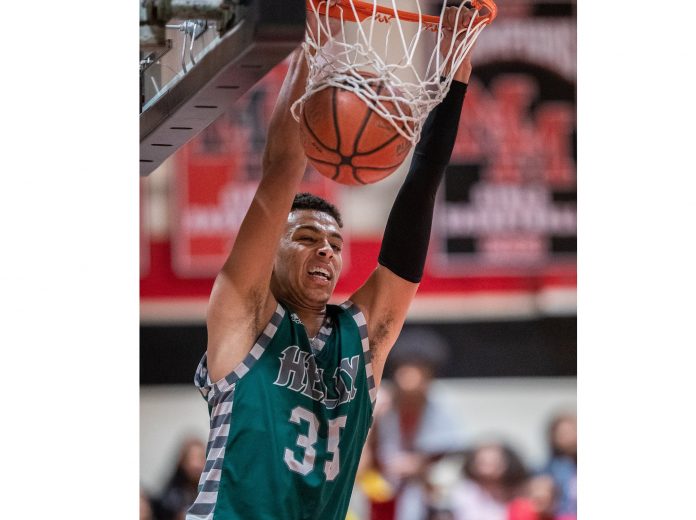 Junior Maurice Holmes scored Helix's last nine points against Mount Miguel Friday, and he will remember the last three for a long time.
With 3.7 seconds on the clock and the score tied 51-51, Highlander junior Jadyn James took the inbound pass, dribbled up the court and passed to Holmes on the edge of the arc. The 6-foot-6-inch forward fired a contested three-pointer towards the basket and started backpedalling.
Holmes's steps turned into a full sprint when the shot splashed the net right as the buzzer sounded, capping a 7-0 Helix run in the final minute of play in the 54-51 victory.
"I told my teammates, 'come get me a screen, we have three seconds left,'" Holmes said. "I got open and got the shot off. I don't know how, but I got it off."
Helix (14-9, 4-1) moved into first place in the Grossmont-Hills League with the win and is just a half-gameahead of Mount Miguel (16-7, 3-1) and Steele Canyon (5-13, 3-1).
Experience could be a factor in the conference race. Mount Miguel is the defending CIF San Diego Division III champion, and seniors Marquise Edwards (25 points) and Mikeece Dunbar (16 points) led the Matadors against Helix. Steele Canyon's leading scorer Grant Childs is also a senior.
Helix head coach John Singer's rotation, however, heavily relies on underclassmen.
"This is a group that's learning," Singer said. "I mean there's not a senior that plays, so it's hard. You're trying to teach young guys how to play and this is not AAU ball where you've got three games in one day. You've got one game, you know."
Though Holmes is a year behind his rivals in school, he still displayed a veteran's composure against the Matadors. Aside from the late-game heroics, he had a pair of third-quarter dunks that re-energized the Highlanders.
"It just turns up everybody," Holmes said. "Turns up our crowd, turns up our cheerleaders, everybody. It just makes everybody want to go make the next play."
Singer said the energy was contagious.
"It excites our bench kids," he said. "I thought our bench too, in terms of the kids that do not play, I was very happy with them. I mean we've got some kids that never get off the bench and they're very supportive of the starters."
Helix trailed Mount Miguel 29-20 at halftime and 39-30 after the third quarter. Holmes said the Highlanders moved from a zone defense to man at halftime, though Singer said their resilience and sustained effort were bigger factors in the comeback.
Helix forced three turnovers in the final minute, including one with less than five seconds on the clock, to give Helix a chance, and Holmes only scored five points in the first half before dropping 18 — and the game-winner — in the second.
"We couldn't make a shot to save our lives and [Holmes] couldn't make one pretty much the whole game, but we felt in that situation what we were going to try to run was to give him a look," Singer said. "I mean he is a good shooter. I don't care how he shot tonight. Like I told him, 'you didn't make a goddamn thing for three-and-a-half quarters but you make the biggest shot of the game.'"
Helix and Mount Miguel still have three and four more league games, respectively, and close the regular season with a rematch on Feb. 8.
But with Steele Canyon still in the mix, the Grossmont-Hills League could be primed for a wild finish.