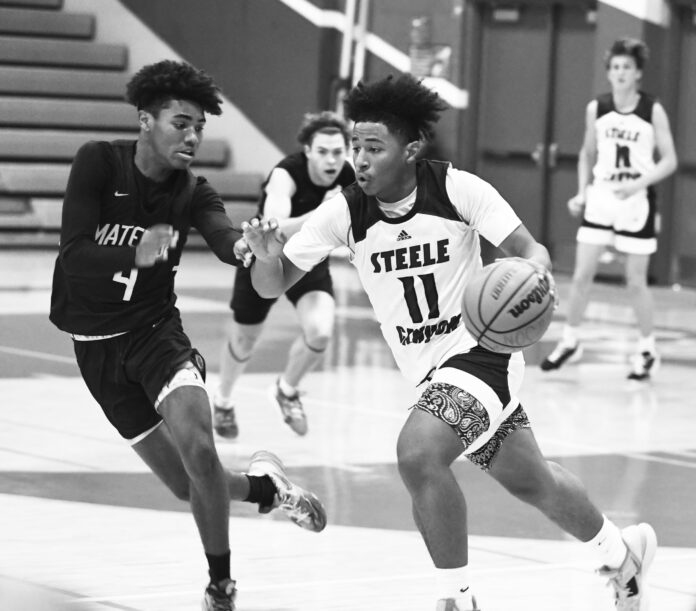 Browsing through the San Diego Section basketball rankings, there are a lot of teams – both boys and girls – with outstanding records as we approach the midpoint of the 2022-23 season.
La Jolla Country Day tops the girls section rankings with a dominating 18-2 record while second ranked Westview is 16-3. Not far behind are No. 3 Poway at 14-2, No. 4 Bonita Vista at 14-8 and No. 5 Mt. Miguel at 10-6.
Teams rounding out the section's top 10 include No. 6 Mission Hills (8-7), No. 7 Mater Dei Catholic (12-5), No. 8 Rancho Bernardo (18-2), No. 9 Del Norte (14-5) and No. 10 Imperial (16-3).
Teams with top-heavy records are sprinkled deep down the rankings. For instance, Imperial with a 16-3 record is ranked 11th while San Diego with a 16-1 record is ranked 15th. At 14-5, Our Lady of Peace is ranked 18th while Grossmont (10-3) is ranked 21st.
At 14-6, El Capitan is ranked 22nd while Granite Hills (14-5) is ranked 26th. At 16-4, Steele Canyon is ranked 27th while Morse (13-5) is ranked 28th. Helix (13-5) is ranked 29th.
A lot of good teams, indeed. The section playoff seedings should be interesting, to say the least On the boys side, it looks to be very competitive down the stretch run with the top seven ranked teams all possessing lopsided win-loss records.
St. Augustine continues to hold down the No. 1 section ranking with a 16-3 record with Carlsbad right behind in the No. 2 slot with a 16-4 record. Montgomery entered the week ranked No. 3 with a 15-3 record, followed by Torrey Pines at No.4 with a 13-6 record. San Diego was ranked No. 5 with a 12-6 record while Mission Bay was ranked No. 6 with a 15-5 record and Mater Dei Catholic ranked No. 7 also at 15-5.
La Costa Canyon was ranked No. 8 with a 9-8 record while Santa Fe Christian was ranked ninth with a lofty 15-3 record. Del Norte held down the No. 10 ranking with a 10-5 record.
Again, the section's depth is somewhat astounding with an 18-2 Lincoln squad ranked No. 15 and a 17-2 West Hills squad ranked 24th.
The list is long on teams with winning records this season. The first team with a losing record in the rankings sits at No. 29 — Scripps Ranch at 9-10.
Ladies first
All five teams in the Grossmont Hills League sport winning records.
Following the Lady Matadors' lead are Grossmont (10-3 overall), Helix (13-5 overall), Monte Vista (12-5 overall) and El Capitan (14-6 overall).
Mt. Miguel is ranked fifth among Division I teams while Grossmont is ranked 14th. El Capitan is ranked seventh among Division II teams while Helix is ranked No. 9 and Monte Vista is ranked 11th.
The top four teams in the Grossmont Hills League all have winning records: Valhalla (9-7 overall), Granite Hills (14-5 overall), Steele Canyon (16-4 overall) and El Cajon Valley (11-6 overall). Valhalla and Granite Hills are both 2-0 in league play while Steele Canyon and El Cajon Valley are both 1-1 in league play. West Hills (7-8 overall) and Santana (6-13) are both 0-2 in league play.
The CIF playoffs could get interesting.
Valhalla is top-ranked among Division V teams while Granite Hills and Steele Canyon are ranked second and third, respectively, among Division III teams.
El Cajon Valley is ranked fifth among Division III teams.
The Lady Matadors haven't had any problems putting the ball through the hoop so far this season. Senior Zanna Hurst paces Mt Miguel in scoring with 17.4 ppg, followed by senior Jennifer Moreno at 16.7 ppg, senior Ixchel Rojo at 11.5 ppg, senior Yaneli Rosales at 8.5 ppg and sophomore Helen Rosales at 7.3 ppg.
Hurst is averaging 5.0 rebounds per game and 2.4 steals per game while Moreno is averaging 4.5 rebounds per game, 3.8 assists per game and 2.6 steals per game. Rojo is averaging 4.2 rebounds per game, 5.9 assists per game and 2.7 steals per game.
Yaneli Rosales is averaging 7.0 rebounds per game and 2.6 steals per game while Helen Rosales is averaging 4.5 rebounds per game.
Moreno poured in 31 points in the Lady Matadors' 72-27 league opening win over Grossmont last Friday while Hurst had 17 points. Helen Rosales had seven assists while Moreno had seven steals.
Junior Alexis Matos paces Valhalla win scoring with 10.0 ppg and 11.0 rpg. The Lady Norsemen had three players (junior Alonna Bush, sophomore Ava Miles and junior Alexa Amaya) each drop in 10 points in the team's league opening 43-38 win over West Hills on Jan. 10 while senior Rae Reyes led the team with nine points in a low-scoring 29-25 win over Santana on Jan. 12.
Eastern exposure
West Hills entered the week 2-0 in Grossmont Valley League boys play following victories against El Capitan (78-67 on Jan. 10) and Steele Canyon (68-49 last Friday).
The Wolf Pack is ranked No. 2 among Division III teams while the Vaqueros (14-5) are ranked second among Division IV teams behind Clairemont.
West Hills finished 12-14 last season, 1-9 in league play, with a first-round exit in the Division III playoffs as the No. 14 seed (55-30 loss to third-ranked Scripps Ranch).
This season has been a far cry from 2021-22 thus far.
The Wolf Pack returns much of last season's cast with an extra year of experience, and it's paying dividends. Add size to that equation and it's been a deadly combination.
Senior forward Zaid Salem is 6-6, junior forward Vince Hillman is 6-5, junior Loni Mesina is 6-3 and senior guard Caden Akins and freshman guard Shawne Owens are both 6-2 to lead the group. The Wolf Pack roster contains seven players at least 6-0
in height.
Measuring in at 6-0 are senior power forward Luke Gibson and junior guard Theron Humphries. Senior Jordan Dunlop and sophomore Khalel Sok are both 5-11. Rounding out this year's cast are junior football player Diego Calderon (5-7) and senior guard Spencer Burke (5-8).
Salem is averaging 16.5 points per game.
One of the team's signatures this season is the propensity for slam dunks. The Wolf Pack has also been proficient at shooting from three-point range. The team's start is believed to be the best in school history.
Head coach Tim Barry acknowledged it's been a total team effort. El Capitan defeated Santana, 72-54, last Friday to pick up its first league win. Senior Jaylin Padilla led the Vaqueros on the court with 23 points and 17 rebounds while senior Micah Odell contributed 17 points, 16 rebounds, five steals, six assists and four blocks. Junior Chance LaChappa collected 11 points and four assists while freshman Jason Wilson had 10 points and three steals.
Odell (6-6 but looks taller) tops the Vaqueros with 23.4 points per game while Wilson is next up on the ledger books with 11.4 ppg. Padilla is averaging 9.8 ppg while LaChappa is averaging 8.8 ppg.
Padilla leads the team with 11.0 rebounds per game, followed by Odell with 10.9 rpg and LaChappa with 9.9 rpg. LaChappa tops the Vaqs with 8.7 assists per game while Odell also leads the team with 3.7 steals per game, followed by LaChapppa with 3.4 steals per game.
Helix (10-11) is off to a 2-0 start in Grossmont Hills League play, followed by Granite Hills (9-7 overall) and Valhalla (12-8 overall) both with 1-0 records. Bringing up the rear are Monte Vista (8-13 overall) and Grossmont (1-18 overall) both with 0-2 league records.
Despite being down in the standings, both the Monarchs and Hillers are competitive in league play.
In games last Friday, Helix downed Monte Vista, 58-52, while Granite Hills topped Grossmont by a score of 54-47. In a non-league game on Saturday, Valhalla defeated Maranatha Christian 53-40.
The Norsemen tipped off league play with a 61-60 win over Monte Vista on Jan. 10. Senior Zaki Monqad poured in 31 points to lead VHS while senior Tony Famoyin dropped in 10 points and had nine rebounds.
Valhalla out-scored the host Monarchs 17-9 in the fourth quarter to claim the one-point win.
Monqad is averaging 24.3 ppg, 6.5 rebounds per game and 3.9 assists per game while Famoyin is averaging 11.9 ppg.
Senior Lawond Zangana paces Granite Hills in scoring at 19.9 ppg while sophomore Lathan Fry and junior Robert Petrich are both averaging 11.2 ppg.
Fry leads the Eagles with 10.5 rebounds per game while Zangana follows with 8.4 rpg. Senior Easton Peterson is the team leader with 4.4 assists per game while senior Daveon Green leads the team with 2.8 steals per game.
Petrich was the CIF kicker of the year during the football season.
Peterson and Green also played football for the state champion Eagles as did junior Josh Zander (2.7 steals per game). Zangana jammed in 24 points in a 72-62 non-league win over Valley Center on Jan. 5 while Peterson had 18 points. Petrich added 11 points while Zander had 10 rebounds.
SAN DIEGO SECTION BASKETBALL RANKINGS
TOP 50 BOYS TEAMS
(MaxPreps through Jan. 16)
1. St. Augustine 16-3
2. Carlsbad 16-4
3. Montgomery 15-3
4. Torrey Pines 13-6
5. San Diego 12-6
6. Mission Bay 15-5
7. Mater Dei Catholic 15-5
8. La Costa Canyon 9-8
9. Santa Fe Christian 15-3
10. Del Norte 10-5
11. San Ysidro 9-8
12. El Camino 13-5
13. Otay Ranch 12-6
14. La Jolla Country Day 13-6
15. Lincoln 18-2
16. Mission Hills 11-8
17. Coronado 17-5
18. Cathedral Catholic 10-9
19. Victory Christian Academy 13-5
20. Poway 11-8
21. Bonita Vista 12-8
22. Scripps Ranch 10-9
23. Rancho Bernardo 10-9
24. West Hills 17-2
25. HTH San Diego 13-4
26. Bishop's 13-7
27. Canyon Crest Academy 13-5
28. Rancho Buena Vista 13-5
29. San Marcos 9-10
30. Hoover 9-8
31. Helix 10-11
32. University City 11-7
33. Olympian 11-5
34. Madison 11-6
35. Eastlake 11-8
36. Clairemont 15-2
37. Mt. Carmel 9-10
38. Ramona 10-9
39. Sage Creek 7-8
40. Vista 7-13
41. Westview 9-11
42. Calexico 10-6
43. Valhalla 12-8
44. Mission Vista 11-7
45. El Capital 14-5
46. Vincent Memorial 11-4
47. Canyon Hills 14-6
48. Francis Parker 7-13
49. Christian 9-10
50. San Dieguito Academy 6-7
TOP TEAMS
SAN DIEGO SECTION
Division I: 1. St. Augustine
Division II: 1. Otay Ranch
Division III: 1. Victory Christian Academy
Division IV: 1. Clairemont
Division V: 1. Valley Center
TOP 40 GIRLS TEAMS
(MaxPreps through Jan. 17)
1. La Jolla Country Day 18-2
2. Westview 16-3
3. Poway 14-2
4. Bonita Vista 14-8
5. Mt. Miguel 10-6
6. Mission Hills 8-7
7. Mater Dei Catholic 12-5
8. Rancho Bernardo 18-2
9. Del Norte 14-5
10. Imperial 16-3
11. Scripps Ranch 15-4
12. Olympian 12-8
13. Carlsbad 13-6
14. Mt. Carmel 14-6
15. San Diego 16-1
16. Torrey Pines 13-7
17. Francis Parker 11-5
18. Our Lady of Peace 14-5
19. St. Joseph Academy 13-5
20. Cathedral Catholic 7-12
21. Grossmont 10-3
22. El Capital 14-6
23. San Marcos 10-9
24. La Costa Canyon 9-9
25. Holtville 11-10
26. Granite Hills 14-5
27. Steele Canyon 16-4
28. Morse 13-5
29. Helix 13-5
30. Fallbrook 11-9
31. Montgomery 10-6
32. Oceanside 11-4
33. Monte Vista 12-5
34. Point Loma 12-7
35. El Cajon Valley 11-6
36. Ramona 10-7
37. Eastlake 7-9
38. Sage Creek 11-8
39. Calexico 13-7
40. Mission Vista 3-9
41. Central Union 10-9
42. Classical Academy 7-4
43. Christian 7-7
44. San Dieguito Academy 7-8
45. Otay Ranch 5-10
46. Calipatria 10-7
47. Rancho Buena Vista 8-8
48. Mira Mesa 6-13
49. Victory Christian Academy 6-13
50. Vincent Memorial 7-2
TOP TEAMS
SAN DIEGO SECTION
Division I: 1. La Jolla Country Day
Division II: 1. Olympian
Division III: 1. San Diego
Division IV: 1. Palo Verde Valley
Division V: 1. Valhalla