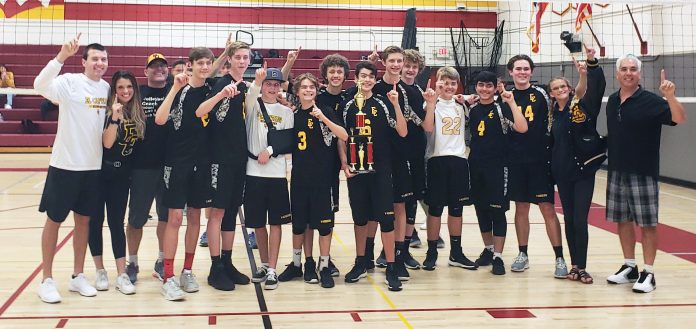 The El Capitan High School boys volleyball team finished 3-23 last season but had already doubled its win total in the early stages of the 2020 spring season with a 6-4 record.
It was doubly disappointing then when the remainder of what looked like a particularly promising season for the Vaqueros was put on hold due to the coronavirus pandemic.
"I have a young team so although it's devastating the year is over, I didn't have anyone lose their senior year," explained El Capitan head coach Tim Wargo, whose team opened the season by winning the Ruby Bracket championship with a 4-0 record at the 51-team Sweetwater Prime Sports Invitational.
"My heart aches for all the spring senior athletes who missed out on their season due to an unprecedented event.
"Our boys are resilient and seemed very upbeat when I met with them about the situation via Zoom."
Wargo commended Grossmont Conference President Brian Wilbur and San Diego Section Commissioner Jerry Schniepp for doing everything within their power to look at all the possibilities of continuing the spring sports season before cancelling it.
"I truly know and feel they had the student-athletes' best interest in mind while having to make the difficult decision to cancel the season," Wargo said.
Everyone must now move forward. For many programs that includes the start of off-season training and club sports.
"My boys are trying to work out as much as they can while at home," Wargo said. "We are hoping that this clears in time to get back to our off-season program and many players are anxiously awaiting their upcoming club seasons."
Next year could provide for future growth among Wargo's group. Outside hitters Mike Angeles and Russell Bradbury will both be seniors for the 2021 season. Angeles has been on varsity since a freshman, while Bradbury has been in the program the last two years.
"My sophomore class has five starters in it and is looking forward to their junior season," Wargo said.
That current sophomore class consists of team captain Dyson Wutske (setter), Trevor Moklestad (middle), Patrick McMillin (middle), Max Niederberger (outside hitter) and Aaron Cox (outside hitter) — all starters.
The Vaqs have one returning freshman on varsity for next year: libero Matt Yeakle.
Prime time
El Capitan was among eight East County teams that participated in the Sweetwater tournament, joining Grossmont, El Cajon Valley, Granite Hills, Christian, Monte Vista, West Hills and Liberty Charter high schools.
El Capitan opened the tourney with a 0-3 pool record but rebounded with four wins to sweep the Ruby Division playoffs.
The Vaqueros defeated Monte Vista, San Ysdiro, Oceanside and Gompers Prep Academy to win the five-team round-robin pool at Monte Vista High School.
Granite Hills and West Hills both finished 1-2 in pool play while Christian, Monte Vista and Liberty Charter all finished 0-3 in pool play.
Granite Hills and Christian (both 2-4 overall) qualified for the Bronze Bracket playoffs. Christian advanced to the semifinals with a win over Mar Vista while Granite Hills was eliminated in the quarterfinals by eventual bracket champion Escondido.
West Hills and Liberty qualified for the Copper Bracket playoffs. Both teams finished 1-1.
Monte Vista finished 2-2 to take third place in the Ruby Bracket playoffs behind San Ysidro.
Helix had started the season 4-1 with a three-game winning streak after sweeping Hilltop, Olympian and Serra in straight sets.
The Scotties dropped a 3-2 contest to visiting Cathedral Catholic on March 10.