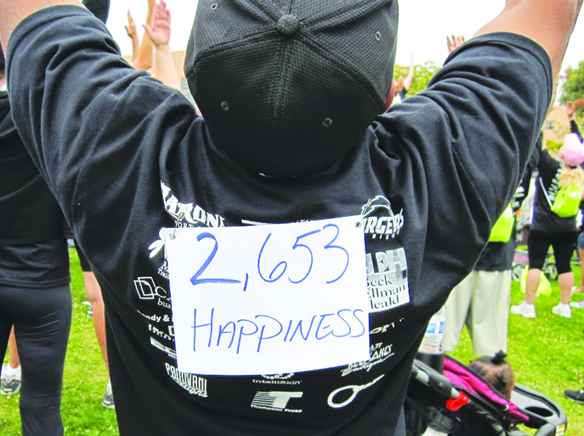 Women, who end up at the Kiva Center, a drug and alcohol rehabilitation center run by Jeanne McAlister, have hit bottom. There is no sugarcoating it, and there's nothing glamorous about the place or condition they are in. What makes Kiva different is that women can come with their children—from babies to those in grade school—and live at the facility with them as they go through recovery. It was one of the first five programs in the country to accept women and children together. Women with nowhere else to go, who are self-referred, or mandated by the courts show up and fill Kiva. They find substance abuse therapy, shelter, food, clothing, and safe, albeit temporary place for their kids to call home. But what they all really need is hope.
McAlister and her staff provide that unconditionally. When the rest of the world doesn't know what else to do with these women who come to Kiva in Lemon Grove with kids or without, McAlister does.
"Give me someone for two weeks and I have messed up their using for the rest of their life," McAlister said.
She has more than thirty years helping people at Kiva, which consists of three separate programs: adult detox (women are not permitted to see their children while detoxing), New Connections, which helps men and women transition back into society after prison terms for drug-related offenses, and the Kiva Learning Center for Women and Children.
McAlister is also in recovery with 57 years clean, and is emphatic about addiction as a disease that can be treated. It is a premise on which she's built a foundation in her life and helped re-launch, even save, countless others.
Now, Kiva Center is one of 27 programs that McAlister runs in 22 locations. There are residential, outpatient, and detox facilities. Addiction and mental health are treated together, because they often go hand in hand. A county mental health worker assesses the women who come in. From there, treatment plans are individualized, and women must agree to follow criteria, or they are out. McAlister's goal, she said, is to ruin their high forever.
"They'll know that there is another way to live, they will have felt good for two to three weeks. It always surprises me when women tell me they didn't know another way to live," McAlister said.
A tour through the residential facility revealed a program that leaves zero wiggle room for slippage in treatment. Every patient gets assigned a job, whether it is preparing a meal or cleaning. Inpatient mothers have meals with their children, and must be in their rooms with them, ready for bed by 7:30 p.m.
Every corner, every room, every common area is basic. No frills, just necessities. Tables and fold-out chairs for eating, crowded bedrooms with little on the walls except pictures of children many of the women patients are trying to win back from the courts. The women are there to do the tough work required to get, and stay, sober.
Kiva assures that all children are as comfortable as possible. The children's day rooms are colorfully painted and decorated, with age appropriate educational toys and books available. Kiva works with local schools for school aged children, and female patients walk their children to school. There is also a quiet room for infants, whose mothers are permitted to visit during the day.
"As soon as these women get clean, the first thing they want to do is be a good mother," McAlister said.
Mothers or not, Kiva gets women from all walks of life. Drug and alcohol addiction does not discriminate and it is obvious on the young and older faces of the women at Kiva. Still, everyone is treated with respect and given the same expectations.
"A woman walked in right off the street to us yesterday, with two little kids. Said she couldn't stop using," said Susan Hill, counselor at Kiva of six years.
Once here, the women form a bond, what Hill called a "sisterhood."
Hill started out working in the adolescent center, of which there are three in the county, for kids twelve through eighteen. McAlister runs the only adolescent detox in the state. It is not infrequent for McAlister to see the adult children of former patients come through her facilities. It's indicative of the tragic cycle of addiction.
"Some of those kids are children of people who have gone through my program, and the mothers are clean, but the children get involved. I don't think people realize how easy it is, how available drugs are in the schools. It's very hard for a teenager to say no," said McAlister.
To keep kids from starting drugs or drinking alcohol, McAlister suggests that parents spend time with their kids.
"Know what's going on with them. Don't be afraid to make them accountable and set boundaries. Eat with them. One kid was asked what he liked best about the program and he said 'I ate three times a day.'"
At age 81, McAlister could retire and pass the torch in what is an emotionally taxing, round-the-clock field with high employee turnover, but she has kept going.
"Some days it's very hard," she said. "But I've heard people say 'I just graduated from Kiva and it saved my life.' Also, if people are clean for a couple of years, we'll take them and train them, they go to school. I see a lot of my clients that are twenty, twenty-five years sober, and that makes it all worthwhile."
McAlister maintains that while addiction is a treatable disease prone to such success as well as routine failure, all they can do is give their clients the tools to stay clean. Everyday, she and her staff try help those who no one else can reach, who are used to chaos but seek serenity.
"I'd be bored without the chaos," said Hill.
McAlister goes to every graduation for her clients who have completed their program. When milestones are reached, it is a cause for celebration. On June 21st at 8:00 a.m., McAlister Institute is hosting their third annual Walk for Sobriety at Liberty Station. People walk with their number of sober days on their backs, kids walk with the numbers of days they've had their parents back. Walk for Sobriety is a fundraiser, a declaration of hope and proof that there is no such thing as a lost cause. Find more information by logging onto www.walkforsobriety.com.