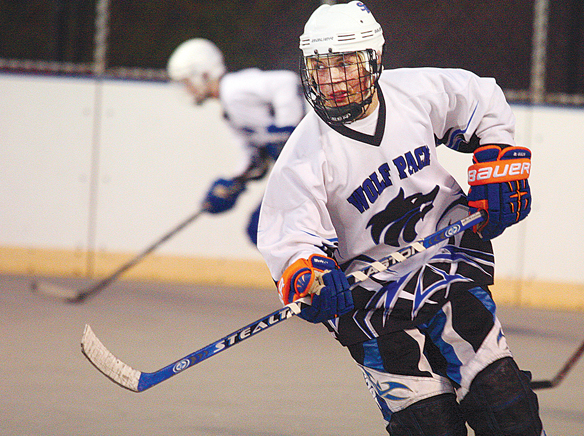 At the midpoint of the 2012-13 high school roller hockey season, West Hills High School coach Steve Baldwin has to like where his team sits in the scheme of things.
"I feel that any one of six teams, four from the North County League, and two from the Central League, can win CIF this year," Baldwin said after a recent 17-0 non-league conquest of the Eastlake Titans. "I think on any given day that any one of those six teams can win. There's a lot of parity now. I don't think you could say that last year or the year before."
At the midpoint of the 2012-13 high school roller hockey season, West Hills High School coach Steve Baldwin has to like where his team sits in the scheme of things.
"I feel that any one of six teams, four from the North County League, and two from the Central League, can win CIF this year," Baldwin said after a recent 17-0 non-league conquest of the Eastlake Titans. "I think on any given day that any one of those six teams can win. There's a lot of parity now. I don't think you could say that last year or the year before."
Of course, one of the two teams from the Central League picked to contend for this year's Kiwanis Cup championship title is Baldwin's own Wolf Pack, which seems to have shaken off a slow start to the season with a four-game winning streak heading into Monday's big showdown against the No. 1-ranked Rancho Bernardo Broncos, the 18-team CIF-Metro Conference's lone undefeated team at 11-0.
West Hills started Central League play with a loss (2-1 to St. Augustine) and a tie (7-7 against Cathedral Catholic) but has since risen to the top of the league standings with a 4-1-1 league record, including recent wins against St. Augustine (5-3 on Jan. 2) and Cathedral Catholic (12-7 on Jan. 13).
The Wolf Pack proved it stands a breed apart after recording its 17-0 shutout win on Jan. 14 against Eastlake, one of the strongest of the conference's nine South County teams.
Brad Majeski (six goals, one assist) and David Baldwin (three goals, four assists) led West Hills with seven points each while Ryan Vanoni collected six points (two goals, four assists).
The Wolf Pack improved to 6-3-1 overall following a 16-3 blowout victory against Central League rival La Jolla Country Day on Jan. 16. Vanoni (seven goals, two assists) and Baldwin (four goals, five assists) led the offensive assault with nine points each while Majeski scored four goals and Zach Peters added four assists.
The elder Baldwin said his team has shown balance when all the pieces to the puzzle are present. Scoring leaders through the team's opening 10 games include David Baldwin (21 goals, 39 points), Vanoni (24 goals, 35 points), Majeski (19 goals, 27 points), Peters (13 goals, 26 points) and Cody Boyer (seven goals, 15 points).
"We are in the running for CIF if we play our best at full strength," Baldwin said. "The problem we've had so far is that we haven't had a full team together for most of our games. We're carrying only seven players on our varsity roster and when you're down to five players, it's difficult to deal with when fatigue sets in late in games. But when we have everyone together, we can beat anyone," he added.
Regular season play extends through mid-February, followed by the Kiwanis Cup championship playoffs. West Hills finished third last season after placing runner-up two years ago.
Obviously, stay tuned.