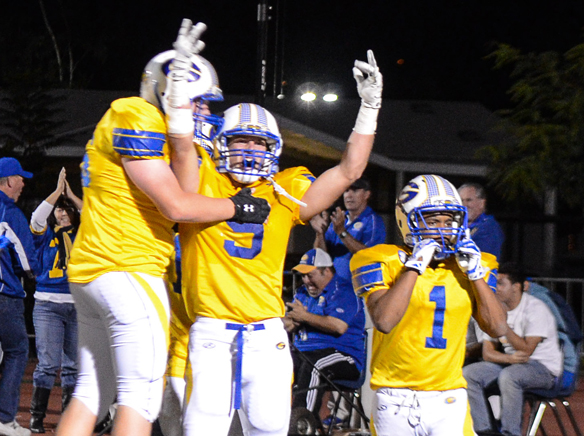 Helix won the musket in the rivalry game vs. Grossmont with a 58-36 win.
Helix won the musket in the rivalry game vs. Grossmont with a 58-36 win.
Grossmont High School thought for sure this was their year to get the musket back after not seeing it since Head Coach Tom Karlo last helped his team win the musket in 1991 but their hopes were slowly dashed in the first seconds of Friday nights game when the ball was ripped from running back Jake Harr's hands at Grossmont's 32 yard line as he was returning the opening kick. Just a couple of plays later sophomore quarterback Michael Austin scored the first touchdown taking advantage of that turnover and making it 7-0 Helix. Leaving the Foothillers to wonder if it just was not meant to be yet again for the musket to come home.
Hillers quarterback Anthony Lawrence answered back with a hand off to wide receiver Jake Harr on the next series to even the score to 7-7 and thus began a game of back and forth that led to the highest scoring game between the two schools with a total of 94 points beating out the previous highest total of 72 points in 1957.
Lawrence had 31 completions for the night for a total of 344-yards. He also threw three touchdowns and scored two on keepers. While he fell short by 48-yards of breaking the SDCIF Record for Most Career Yards he did Break the Record for the Most Career Pass Completions with 632. This number is surely to go up with one game left in the season and post-season play.
Lawrence relied heavily on his favorites, wide receivers Jake Harr, Christian Brooks, and JT Barnes finding each of them when it mattered most and putting the hollers into scoring position.
Sophomore Michael Austin completed 15 passes for 232-yards. He threw two touchdowns and personally scored two touchdowns on keepers. Austin relied heavily on wide receivers Jalen Davin and Nathen Stinsen. Stinsen caught a 73-yard pass from Austin that tied that game 14-14 and Jalen Davis scored an 82-yard touchdown at the opening of the second quarter.
"Both teams were well-matched in the first half but in the second half they just seemed to over take us," said one visibly upset hillers player.