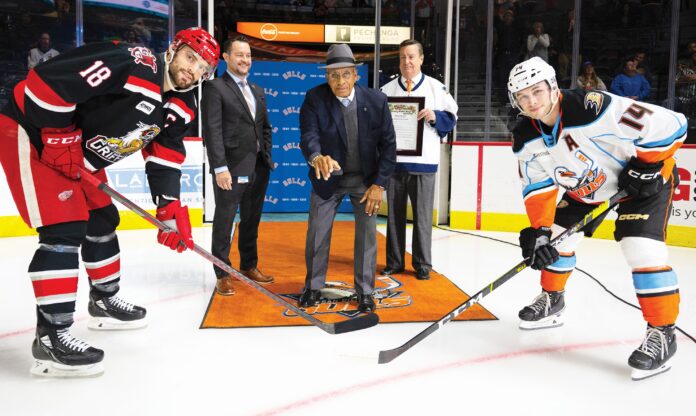 Former teammates — and fellow admirers — continue to refer to him as "Legend," and rightly so.
Longtime La Mesa resident Willie O'Ree's backstory is truly of legendary proportion as the first black man to play in the National Hockey League.
The date was Jan. 18, 1958, when O'Ree, a minor league callup by the Boston Bruins, officially broke hockey's color barrier in a game against the Montreal Canadiens.
It came in an era in which there were just six NHL franchises, all located in the northeastern corner of North America, and opportunities to play the sport were limited across the board.
Player rosters throughout the 1940s, 1950s, 1960s, for instance, were almost exclusively comprised of Canadians.
A native of Fredericton, New Brunswick, O'Ree was born in Canada and hockey was therefore in his blood from birth. And the game has taken him to unimaginable heights since he first laced up his skates as a youngster. He was elected into the Pro Hockey Hall of Fame in 2018.
O'Ree, a spry 87, now serves as the NHL's Director of Youth Development and Diversity Ambassador, a position he's held since 1998 after concluding a 21-year professional playing career, including seven seasons with the original San Diego Gulls of the Western Hockey League and another season with the San Diego Hawks of the Pacific Hockey League.
His seven-year totals with the Gulls (1967-74) included 153 goals, 161 assists and 314 points in 407 games. He racked up 21 goals and 25 assists in 53 games during one season with the Hawks (1978-79) at age 43. His NHL totals included four goals and 10 assists in 45 games with the Bruins.
"All I ever wanted to do was play hockey and things just started happening," the hockey trailblazer said during an in-game break in last Saturday's American Hockey League between the current edition of the Gulls and the Grand Rapids Griffins.
O'Ree was presented with a county proclamation declaring Nov. 19 "Willie O'Ree Day" throughout San Diego County by San Diego County Supervisor Joel Anderson, an avid Gulls fan. Anderson presented O'Ree with the award alongside Gulls president of business operations Matt Savant during the ceremonial pre-game puck drop.
O'Ree was honored not only for his incredible contributions as a valued member of the San Diego community, but for his influential legacy throughout the sport of ice hockey and his commitment to empowering youth with the sport.
"Willie O'Ree is an exceptional athlete who broke the race barrier in the NHL and paved the way for future players of all backgrounds — and he did it all while secretly blind in one eye," Anderson said. "Even after retirement, Willie continued promoting sportsmanship and empowering youth through his 'Hockey is for Everyone' initiative. It is my great honor to present one of my heroes a proclamation in honor of his contributions to our county and country."
O"Ree said he was "excited and overwhelmed" at the honor.
"The years I played hockey, I received a lot of proclamations and awards," he said. "It's always nice to be recognized."
O'Ree spent 13 years in the Western Hockey League, six years with the Los Angeles Blades before the birth of the original Gulls during the 1966-67 season. He led the WHL twice in goal scoring — first in 1965 with the Blades (38 goals, 75 points) and then in 1969 with the Gulls (38 goals, 79 points).
"It's been great the years I played hockey — some of the accomplishments I've made," he said. "I played with some great hockey players, made friends with several. I very clearly remember the day I signed my first contract with the Gulls in 1967."
O'Ree still attends Gulls games and relates to the players who are aspiring to accomplish what he did — play in the NHL.
"Every day you have to work hard," he said. "There's no substitute for hard work. I can recognize what these young players are going through. I tell them to stay focused on what they want to do and go after that."
O'Ree also humbly acknowledges his celebrity status.
"It's part of the program," he said. "Sometimes I get a little tired. Most of the time I'm happy to pose for pictures or sign autographs. It's a nice feeling that you're still recognized."