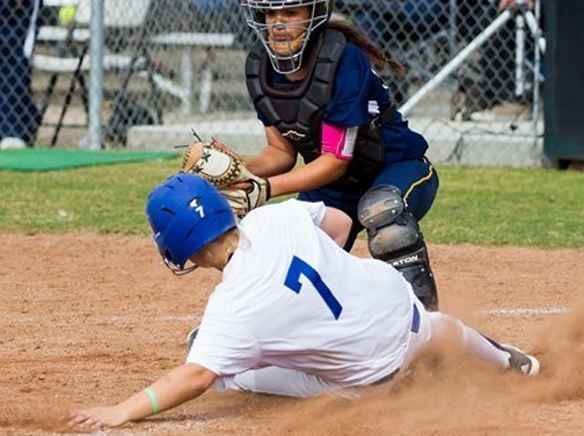 Although it was just a few miles away, a little bit of home cooking may be enough to turn around the San Diego State University's women's fastpitch season.
Although it was just a few miles away, a little bit of home cooking may be enough to turn around the San Diego State University's women's fastpitch season.
Following a pair of mediocre finishes in a pair of tournaments, the Aztecs were going nowhere, standing with a 12-12 record. However, upon returning home, SDSU now owns a seven-game winning streak, including all three during the San Diego Classic II, held last weekend at Sportsplex USA.
Steele Canyon High product Lorena (Klopp) Bauer, who was both a player of the year and a pitcher of the year with the Cougars, continues to shine with the bat for the Aztecs.
In the tournament finale against Texas Tech, Bauer busted open a scoreless pitchers' duel. In the sixth inning, Kayla Jordan (Bonita Vista) was hit by a pitch, eventually scoring on a base hit up the middle by senior Kamerin May.
Bauer followed with a two-run homer to center field to give SDSU a 3-0 victory. The blast was her team-leading eighth of the season.
Earlier in the day, the Aztecs also shutout Seton Hall, 9-0. The sweep gives State a seven-game win streak entering its Mountain West Conference opening series at home against New Mexico, running March 28-30.
During the team's current hot streak, four of the victories were by shutout. However, Bauer is also contributing with the bat. In a 12-0 pasting of Miami (Fla.), the junior pumped a homer and a double, good for a season-best five RBI to quell the Hurricanes.
Bauer leads the Aztecs in batting average (.408), homers (8), doubles (13), total hits (40), and slugging percentage (.837). She is also the school's career record-holder in homers, setting the new mark in just her cadet season.
CSUSM sweeps
Cal State San Marcos also swept its women's fastpitch tournament last weekend, going a perfect 5-0 at the Tucson Invitational.
The Cougars (26-4), ranked No. 1 nationally in the NAIA, capped the event with Sunday's sweep of conference rival Jamestown, 11-2 and 6-1.
West Hills High product Alex Miller paces all CSUSM hitters with a .440 batting average, plus the lead in doubles (14), runs (26), hits (40), and slugging (.692).
Meanwhile, Valhalla High alum Kaitlin McGinley is second to Miller in almost every offensive category, including a .359 batting average. McGinley is also a remarkable 25-for-25 in stolen base attempts.SDCC baseball
San Diego Christian College has been playing ball the season without head coach Chris Bando.
Following an extensive playing career, featuring the game-winning home run to capture the 1974 College World Series for Arizona State, the wear and tear took its toll on Bando's body.
"Coach is taking a year off after undergoing a hip replacement," said Kyle Ferguson, the Hawks' media relation's director. "It got to the point where he couldn't even hit fungos to the players."
Managing the Hawks is associate coach Ralph Grajeda, who previously resurrected the Vanguard University program, debuting the Lions in the NAIA Top 25 in just his second season and advancing to the semifinals of the NAIA regionals in 2010.
Meanwhile, Bando's son, senior catcher Nick Bando, is also out for the season following knee surgery. The NCCAA all-region selection is red-shirting.
This year, the Hawks opened with nine straight non-conference wins, but are climbed over the .500 mark in Golden State Athletic Conference play following a 3-game weekend sweep of Westmont.
The series was held at various sites throughout the county, including Poway High and Cal State San Marcos, due to conflicts with Christian High's annual baseball tournament.
San Diego Christian (20-10 overall, 11-10 GSAC) hopes to build a new baseball stadium near its new Santee campus. The school also announced plans to add women's fastpitch to its athletics menu.