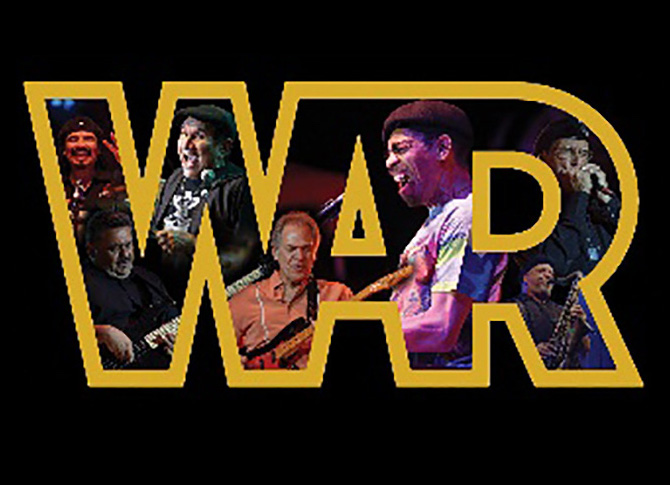 Originally from Long Beach, WAR made its name in using its music to spread the message of peace and harmony. Its songs spoke out against racism, hunger, gangs, and was a musical revolution during the anti-Vietnam War era.
Multi-platinum record selling WAR is visiting The Magnolia on Dec. 17, with more than 12 Billboard Top 40 Hits, seven top 10 hits, and over 50 million records sold to date with an international audience.
Singer-song writer Lonnie Jordan is a founding member of this street band playing piano, guitar, synthesizer, and percussion, and is continuing to utilize the street band's message of "brotherhood and harmony." Although the times have changed in what is happening across the globe today, Jordan said that their message remains the same.
Jordan said with its songs, "The World Is A Ghetto," "Why Can't We Be Friends," "The Cisco Kid," and the list goes on, brings the synergy of jamming and personal connection.
"Us being troubadours travelling all over the world we can always tell people things they might not be aware of in the rest of the world," he said. "That is a fact because the world is a ghetto, and we are all in this together. Expect to have fun and walk away happy and loving one another in this world that is so angry. We are going to throw some happiness in this world. This is WAR, that shoots out rhythms, melodies, and harmony. Our choice of our weapon is our instrument. It does not draw blood. It draws love."
Jordan said it is phenomenal back on the road after COVID restrictions and connecting with his "rock and roll hall of fans.
"They put me here and they can take me out," he said. "Unfortunately, we were all out of commission for a while. I understand. They understand. I am rejoicing in the fact that we can get back out there. I have my same energy that the people give to me, and I give back to them. And I love every moment."
Jordan said they plan to set the stage on fire. "You'd better bring a lot of water because the stage will be smoking full of music," he added.
Jordan said that WAR is a jam band, which is how it started and could not wait to some jamming on the stage.
"Through our jams you will hearing some new melodies, new lyrics, together with some of the old songs that we recorded," he said. "I always have the people sing with me. People will be seeing people that they never knew before singing along with them, and that is all part of our plan. Bring people together."
Tickets are available at https://livemu.sc/335onXo.