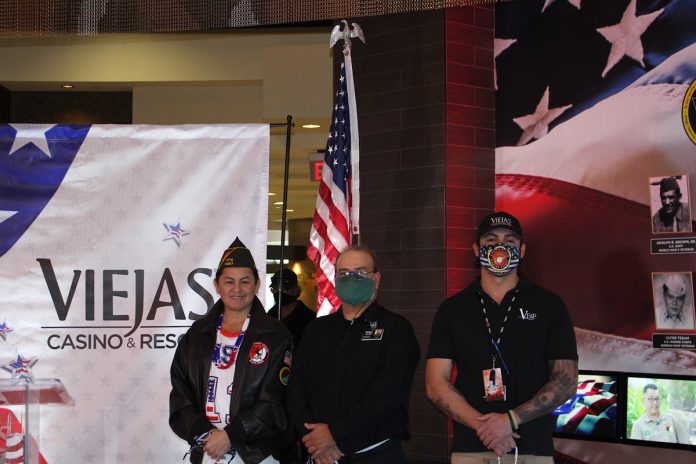 Viejas Tribal Councilman and United States veteran Adrian Brown stood in  his brown leather bomber jacket and Veterans of Foreign Wars cover to officially dedicate the Viejas Veterans Wall of Honor on Wednesday.
The colorful wall, he said, was established in honor of those who came before and fought for freedom.
It stands inside a camouflage net made of shimmering metal to frame the space, interactive displays, and photographs of Native Americans who served in the United States military featured on the main wall labeled 'Viejas Veterans of a Humble Hall'.
"It's a Native American wall built in appreciation of those not only
serving their country but also serving their tribe and their people. We owe them recognition," Brown said.
Brown read the names of Native Americans who have passed on, then took a moment to recognize living Veterans who were present at the dedication.
He also honored all the VFW and VFW Auxiliary leaders who attended the event and, with a little help from VFW District 1 Commander Paul Jansen, publicly thanked Alpine VFW representatives Commander Jack Gauthier, Quartermaster Carl Silva and Chaplain Theo Silva among others who came from VFW posts across the county for their support.
Brown said pulling off the event under COVID-19 related restrictions was tricky.
"We had the resources for the event but we can only do so much to honor our Veterans with physical distancing restrictions," Brown said.
He said the tribe plans to hold a Veterans Day event each year from now on.
"We've been celebrating our veterans for years but we will make sure to join together and do something like this next year and every year afterward," Brown said.