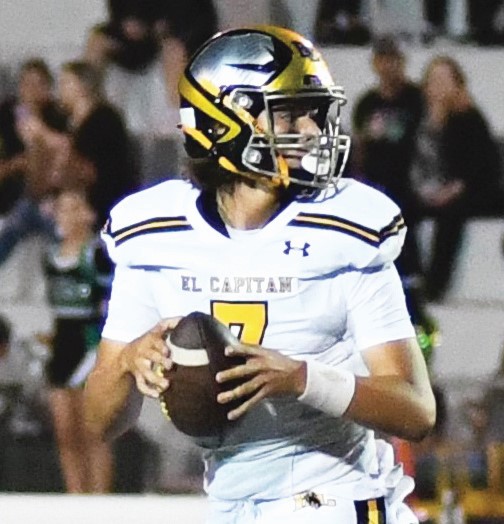 The El Capitan and West Hills football teams remain undefeated in Grossmont Valley League play through last weekend's spate of games.
The Vaqueros defeated visiting Valhalla, 45-0, on Oct. 13 while West Hills topped visiting Monte Vista by a 41-21 score on Oct. 14.
Both El Capitan and West Hills are 4-0 in league play with two games remaining in regular season play.
Santana, which had a bye, remains in the league title chase at 3-1 in league play, 3-5 overall.
"Coming off of another league win versus Valhalla we look to this coming week versus Monte Vista," El Capitan head coach Ron Burner said. "We have two regular season games left: Monte Vista and then we close out with West Hills. It looks like the league championship will go through West Hills as they are also undefeated at this point, but first we can only look at Monte Vista and coach Ron Hamamoto, He always has his teams well prepared and our battles are epic each year."
The Vaqueros scored six touchdowns in the victory against the winless Norsemen (0-x in league, 0-8 overall). Senior Angel Diaz (10 carries, 121 yards) scored four rushing touchdowns while senior Bruce Newland III (four carries, 19 yards) also scored a rushing touchdown.
Senior Brandt Barker (153 passing yards) threw a touchdown pass to senior Jaylin Padilla (two catches, 34 yards). Junior Julian May collected 101 all-purpose yards – 15 rushing, 42 receiving and 44 on kick returns.
Diaz had 144 total yards by tacking on 23 rushing yards. Junior Ryder Lynn keyed the El Cap defense with nine tackles, including seven solo stops.
The Vaqueros racked up five sacks and two interceptions in the game.
Seniors Dominic Denha and Austin Cordeiro both recorded sacks, as did juniors Justin Hildebran-Cantrel and Gavin Ames. Seniors Chad Allread and Manuel Vincencio shared one sack.
Sophomore Chance LaChappa and Cordeiro both registered interceptions. LaChappa returned his pick 29 yards.
Ames also caused a fumble.
Sophomore Laila Rodriguez netted six kicking points on extra-point conversions while senior Aden Ramirez booted a 39-yard field goal.
Howling like the wolf
Junior quarterback Collin Dill amassed 218 total yards — 135 passing (with two touchdowns) and 83 rushing (with one score) — to lead host West Hills.
The Wolf Pack scored seven total touchdowns in the game, leading 35-0 to place separation between the teams.
Junior Nate Stevens (three carries, 11 yards) scored one rushing touchdown while senior Dylan Smith (one catch, 28 yards) and junior Alexander Grubbs (one catch. 35 yards) both caught touchdown passes. Kyler Oberg scored on a 30-yard interception return while senior Tyler Haley accumulated 11 kicking points on five extra-point conversions and two field goals.
Monte Vista scored its touchdowns via a 31-yard run by junior Jaidyn Ellison, a nine-yard run by junior Matthew Felix and a 14-yard scoring pass from junior Diego Peguero to junior Sebastian Pitoau. Felix rushed for 119 yards in the game for the Monarchs (0-4 in league, 1-7 overall).
El Cajon Valley 47, Mt. Miguel 42
The Braves and Matadors combined for 79 points as the teams remained in contention for playoff berths in their respective divisions.
El Cajon Valley (3-2 in league, 4-5 overall) received 228 rushing yards on 34 carries from senior Kal-el Gordon, who led the host Braves with four rushing touchdowns.
Junior Darick Dubose rushed 11 times for 98 yards and scored two rushing touchdowns.
El Cajon Valley bulldozed ahead for 437 total offensive yards while recording two sacks, four interceptions and one fumble recovery on defense.
Junior Chris Cosio had two interceptions to lead the Braves. Junior Jeremiah Castillo scored three touchdowns for the Matadors while senior Antrell Burbidge scored on a two-yard run and junior Davian McGowan caught an 11-yard touchdown pass.
Christian 21, Mira Mesa 20
The host Patriots scored a huge upset win to solidify their
playoff standing.
Senior Aaron Shebloski passed for 216 yards with two touchdowns and two interceptions to lead the Patriots while senior Brady Bingham rushed for 34 yards and scored one rushing touchdown.
Senior Hunter Provience caught five passes for 146 yards and one touchdown while adding three extra-point conversions.
Sophomore Brady Eads had three catches for 41 yards
and one touchdown.
Junior Dylan Eads topped Christian with eight tackles.
The Patriots rallied from a 20- 14 deficit through three quarters with the only touchdown in the fourth quarter.