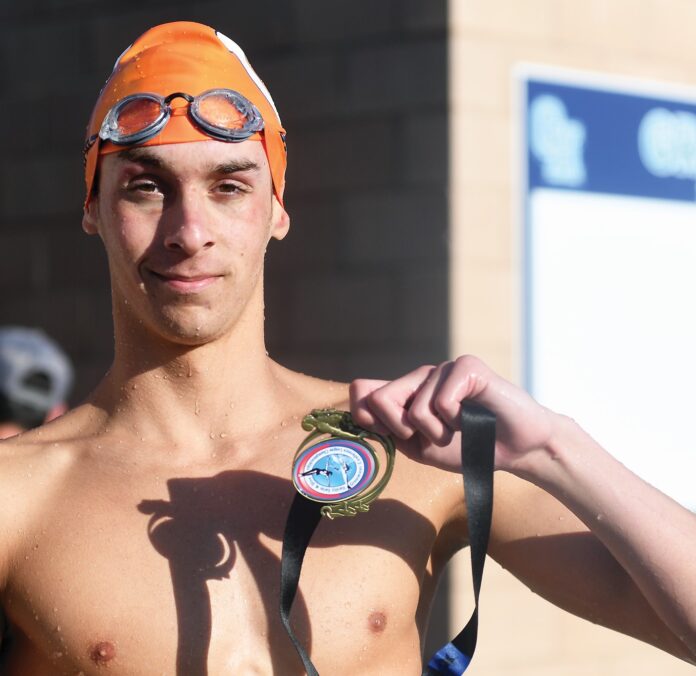 The Valhalla High School swim and dive team has already seen impressive performances halfway through the season. The Norsemen hope to leave their best in the pool in upcoming championship competition.
The Grossmont Hills League finals are scheduled Monday, April 25, for diving, Wednesday, April 27, for swim prelims (3:30 p.m. start) and Friday, April 29, for swim finals (4:30 p.m. start).
The San Diego Section prelims and finals are scheduled May 4-7 at Granite Hills High School.
It will be difficult to top last year's electrifying league and CIF finals, but the old saying goes where's there's a will, there's a way.
The Norsemen are led this season by senior swimmers Jack Forstot and Eli Mohr, as well as senior female divers Jordan Alstad and Elle Fishwick.
Notable swimmers also include juniors Rachel Munch and Emily Hansen and sophomores Alexandria Schow and Tess Forstot. Junior Alexander Golu is working to chase the 100-yard breaststroke school record.
As for impact newcomers, Valhalla welcomes several new members who, in the words of coach Steena Harriman, are proving to be "shining stars." They include sophomore Miles Boone and junior Johnny Brikho.
"We are looking forward to quality training sessions over the spring break and then an excellent championship season in late April," Harriman said.
Orange Nation Valhalla finished fourth in last year's league boys finals, trailing Helix Charter, Grossmont and Granite Hills, in that order.
Jack Forstot ended his junior year with a personal best 48.39 to win the boys 100 freestyle to claim the 10th best time in the event in school history. He finished third in the 50 freestyle with a time of 22.35.
Mohr finished second in the boys 500 freestyle (4:49.11) to record the 11th fastest time in school history in the event while Golu placed second in the 100 breaststroke (1:02.80).
It took a school record time of 4:48.77 by Granite Hills sophomore Aidan Keane to relegate Mohr to second place in the distance event.
Valhalla recorded runner-up times in both the boys 200 medley relay (1:43.63) and 400 freestyle relay (3:21.03) while
Munch set a new league record in the girls 200 individual medley in 2:07.76 while placing runnerup in the 100 breaststroke with a new school record time of 1:07.24.
Both of Munch's individual races were heart-stoppers. She came up one stroke short behind Granite Hills' Rachel Sapper in the 100 breaststroke, with Sapper touching first to decide the furious race by 0.40 second.
Munch edged Helix junior Maya Garcia-Hale by a scant 0.05 second in the 200 IM with her meet record time, which also set a new school record in the event.
Alstad, who logged five years of competitive gymnastics before beginning her diving career, placed eighth at the Division I section dive finals as a freshman in 2019 to make a noteworthy prep debut. She dueled for last year's league title before settling for a second place finish as a junior. She won last summer's California State Games one-meter competition with 335.55 points and finished with the silver medal in the three-meter program with 346.35 points.
On board again
Underclassmen ruled the waves at last year's league finals.
Among the notables were Grossmont's Patrick Reynolds, who won two individual gold medals (boys 200 IM in 1:59.20 and 100 butterfly in 54.40) and a relay gold medal (200 freestyle 4×50 in 1:33.15) as a sophomore, and Helix Charter's Riley Hull, who won two gold medals (girls 200 freestyle in 1:55.75 and 500 freestyle in 5:10.11) as a freshman.
CIF schedule
The Division I swim prelims are scheduled May 4, starting at 3 p.m., while the Division II swim prelims are scheduled May 5, also starting at 3 p.m.
The section diving competition is scheduled May 6 in two gender fields (Division I and Division II). The girls dive card starts at 10 a.m., followed by the boys dive card at 2 p.m. (or 90 minutes after the girls finals are finished).
The section finals are scheduled for May 7. The Division I meet starts at 9 a.m., followed by the Division II meet at 3 p.m.
GROSSMONT HILLS LEAGUE DUAL MEET SWIM/DIVE SCOREBOARD
Granite Hills 127, Valhalla 59
GIRLS TOP MARKS
200 medley relay: 1. Granite Hills (Brooke McCoy, Erin Kluge, Izzy Cox, Delaney Fry) 1:56.47; 2. Valhalla (Tess Forstot, Rachel Munch, Marin Furlong, Emily Hansen) 1:57.96 200 freestyle: 1. Delaney Fry (GH) 2:04.34; 2. Chloe Morgan (GH) 2:08.22; 3. Alexandra Schow (V) 2:15.08 200 IM: 1. Rachel Munch (V) 2:11.96; 2. Korinne McCarty (GH) 2:28.35; 3. Ava Eaton (GH) 2:33.84 50 freestyle: 1. Izzy Cox (GH) 25.90; 2. Carly Seiter (GH) 26.86; 3, Emily Hansen (V) 27.78 Diving: 1. Jordan Alstad (V) 244.20 points; 2. Skylar Parga (GH) 196.55; 3. Makenzie Monteleone (GH) 175.60 100 butterfly: 1. Erin Kluge (GH) 1:00.61; 2. Tess Forstot (V) 1:05.26; 3. Olivia Sapper (GH) 1:05.94 100 freestyle: 1. Brooke McCoy (GH) 56.74; 2. Delaney Fry (GH) 58.98; 3. Chloe Morgan (GH) 1:00.12 500 freestyle: 1. Izzy Cox (GH) 5:35.90; 2. Alexandra Schow (V) 5:56.00; 3. Olivia Sapper (GH) 5:59.99 200 freestyle relay: 1. Granite Hills (Ava Eaton, Carly Seiter, Korinne McCarty, Chloe Morgan) 1:52.42; 2. Granite Hills (Sophia Birkenbach, Athena Miranda, Olivia Sapper, Maggie Vo). 1:57.21 100 backstroke: 1. Erin Kluge (GH) 1:02.50; 2. Tess Forstot (V) 1:03.28; 3. Brooke McCoy (GH) 1:04.42 100 breaststroke: 1. Rachel Munch (V) 1:10.89; 2. Korinne McCarty (GH) 1:17.85; 3. Ava Eaton (GH) 1:18.57 400 freestyle relay: 1. Granite Hills (Erin Kluge, Delaney Fry, Brooke McCoy, Izzy Cox) 3:52.45; 2. Valhalla (Morgot Chammas, Alexandra Schow, Rachel Munch, Tess Forstot) 4:06.82 Granite Hills 122, Valhalla 61
BOYS TOP MARKS
200 medley relay: 1. Granite Hills (Aidan Keane, Teagan Pennings, Braden Felio, Vaughan Clark) 1:45.67; 2. Valhalla (Eli Mohr, Alexander Golu, Jack Forstot, Christopher Raffo) 1:48.25 200 freestyle: 1. Braden Felio (GH) 1:49.85; 2. Jacob Belasco (V) 2:03.22; 3. Joseph Alvernaz (GH) 2:07.67 200 IM: 1. Aidan Keane (GH) 2:05.37; 2. Alexander Golu (V) 2:08.58 50 freestyle: 1. Jack Forstot (V) 22.76; 2. Braden Felio (GH) 23.10; 3. Lucas Johnson (GH) 24.73 Diving: 1. Chance Hall (GH) 270.95 points; 2. Jonah Leistiko (GH) 130.45; 3. Dalin Jenkins (GH) 103.80 100 butterfly: 1. Jack Forstot (V) 55.98; 2. Branson Riggs (GH) 1:02.29; 3. Jacob Belasco (V) 1:02.68 100 freestyle: 1. Cavan Cox (GH) 53.30; 2. Lucas Johnson (GH) 55.43; 3. Matthew Hansen (V)
55.68 500 freestyle: 1. Eli Mohr (V) 5:10.63; 2. Cavan Cox (GH) 5:19.41; 3. Vaughan Clark (GH) 5:29.82 200 freestyle relay: 1. Granite Hills (Cavan Cox, Lucas Johnson, Teagan Pennings, Luke Knierim) 1:39.74; 2. Valhalla (Christopher Raffo, Matthew Hansen, Tyler Piscopo, Jonathan Brikho) 1:40.90 100 backstroke: 1. Aidan Keane (GH) 57.38; 2. Vaughan Clark (GH) 1:02.49; 3. Eli Mohr (V) 1:02.60 100 breaststroke: 1. Alexander Golu (V) 1:04.07; 2. Teagan Pennings (GH) 1:09.59; 3. Chance Hall (GH) 1:15.36 400 freestyle relay: 1. Granite Hills (Cavan Cox, Vaughan Clark, Braden Felio, Aidan Keane) 3:33.62; 2. Valhalla (Eli Mohr, Tyler Piscopo, Alexander Golu, Jack Forstot) 3:37.25.
Note: Dual Meet held March 31