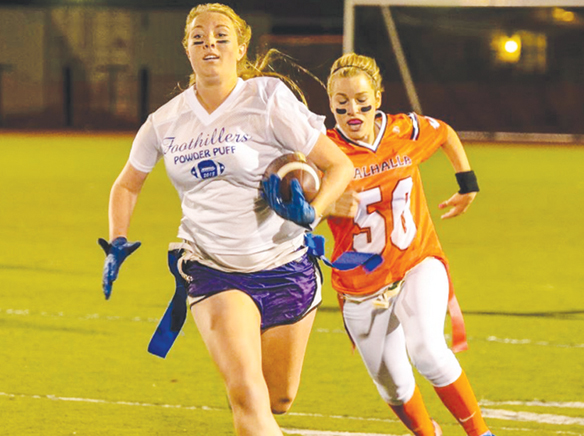 Call it a once-a-year adrenalin rush.

Call it a once-a-year adrenalin rush.

"It was different to go out there and just hit someone," said Grossmont High senior Danika Brown. "You could see it in the eyes of the offensive linemen, too. It was just fun making physical contact and going for it."
Unlike her male counterparts, which partake their equivalent in pads and helmets, Brown and her Foothillers made the most of their annual Powder Puff football derby, out setting three rallies by visiting Valhalla to take a 28-21 triumph last Friday (Apr. 26) at Lt. Thomas M. Adams Field at Jack Mashin Stadium.
Every time Grossmont scored a touchdown, the Norsemen would fight back to tie the contest until the Hillers' Lili Pringel romped 72 yards for the game-winning score with 5:07 remaining
"It was a perfect way to end my senior year," added Brown,
Gaining success in a Powder Puff game is simple: find a player with good arm strength to throw the ball as the quarterback, then send your quickest players to the outside as ball-carriers on sweeps.
"I guess that's the reason they picked me — I actually have muscels in my arm," noted Grossmont's Savanah Phillips, who heads for Cal State Bakersfield next year on a partial water polo scholarship. "I need to really fire the ball in water polo, so throwing a football was actually easy."
A Phillips pass to Brown was key to set-up a touchdown early in the second half to break a 14-14 tie.
However, Valhalla battled back to tie it for a third time when Madison Hauser broke loose on her second mammoth play, splitting a gap to rumble 72 yards for a touchdown. Earlier, Hauser was on the back end of the night's longest play, racing past the Grossmont secondary to catch a bomb from Norsemen quarterback Madison Labshere for an 81-yard score.
The Foothillers' Carlee Battle powered the defensive with four tackles for loss, including a pair of quarterback sacks. Pringle also rushed for a 68-yard TD in the first half, finishing with a game-high 210 yards on 11 carries.
For Valhalla, running back Dionna Smith registered TD rushes of 8 and 42 yards, The softball standout finished with 119 yards on 11 carries, while hauling in another pass for 19 additional yards.
On defense for the Norsemen, (No.7) and (No.8) each recorded an interception.