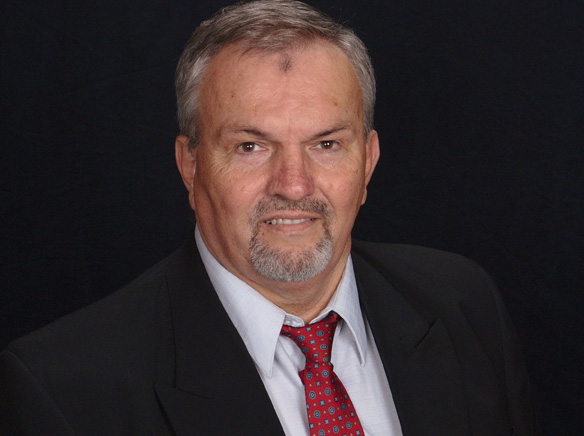 With redistricting in effect this election season, Fotios (Frank) Tsimboukakis, (D), is challenging Sen. Joel Anderson's seat on the state senate floor, vying for California's 38th State Senate district. Though new to the political arena, Tsimboukakis is not a stranger to East County. He is well known for his advocacy for fiscal responsibility, civic engagement, education, and reliable, energy efficient and affordable utilities. Tsimboukakis said he decided to run for the California Senate in March of last year at a meeting for the Quail Brush Power Plant in Mission Trails. He not only opposed any power plants in the district, but also spoke against about large solar plants in East County's backcountry and said he believes in bringing less expensive and less invasive solar projects to homeowners. He said the large solar farms are as invasive and destructive as the continuous plea for power plants near residential and environmental areas.
"The first thing I noticed was that Sen. Anderson was the only legislator that did not send a letter of support or opposition of the power plant. Yes or no, I don't care," he said.
He said this is when he began looking at Anderson's record and began evaluating himself as one that could bring the changes he felt the people need.
Tsimboukakis said he has a clear understanding of what he believes needs changing. His goals, if elected include:
* A five and 10-year plan to eventually eliminate tuition on the three education systems in California—community colleges, the UC and CSU system.
* Work with technology, biotech, industrial and medical pharmaceutical companies both in the U.S. and abroad to establish long-term business and jobs in the district.
* Establish a Home Owners Association oversight and enforcement agency at the state level. Work with solar energy companies and installers to maximize the ability for any homeowner to move towards more efficient and environmentally friendly energy needs.
* Ensure no power plants are built in the district by expanding renewable energy options.
* Get rid of the $150 backcountry Fire Fee in all county areas not covered by a fire district and oppose attempts by local municipalities to attach sewer fees to county property taxes.
* Supports the reduction of the number of water districts in the county which leads to excessive administrative costs, which will lower rate for users.
Tsimboukakis said he is not in this for the money, or the title, but decided to run because he firmly believes his background in business management, financial investments, sales and marketing and community organizer is an asset that will make him a representative of the people, not large corporations and interest groups.
With his campaign contributions, Tsimboukakis said he refuses to take money from large corporations and interest groups and plans on running a "clean campaign." His plan, if elected, is to relinquish 50 percent of his salary as a senator to schools, fire and police stations in his district, and to bring his income "in line" with voter incomes. In getting with the people of East County, he said he plans to hold 22 eight hour meetings a year compared to the one holiday constituent meet and greet that Anderson holds, twice a month, switching between El Cajon and Escondido.
In his research on Anderson's record, he said that Anderson has taken campaign donations from Sempra Energy/SDG&E, is one of the top spenders in the total legislative costs in the first three quarters of 2013.
"So I went and studied and pulled some of the things he (Anderson) voted against, and some of them were great ideas and some of them were smart ideas," he said. "I think I have better ideas. I consider myself a pure democrat. I am not a puppet democrat. I live my life and work as though someone was always behind me, checking what I am doing."
Tsimboukakis said despite Anderson's opposition to California's liberal spending policies, as director of the Padre Dam Municipal Water District resulted in millions lost. Rate Stabilization Fund balances dropped nearly 50 percent and its operating expenditures increased from $15.9 million to $22.2 million in five years (2000-2005). District salaries and wages increased from $6.5 million to $8.5 million and employee benefits went from $1.7 million to $4 million in the same time frame.
Tsimboukakis said this is just one example of why he wants to run for senate. His biggest priorities are in affordable education, affordable utilities that give the people more power than the large energy entities, and creating long lasting relationships that will increase the economy and jobs of the district.
"I am running because in a four year term I want to procure some changes. To make changes you have to know why," he said. "Not because my party told me to, but because I have talked to you and found out what you think about an issue. That is why I want to hold 22 meetings a year. I want people to come shout at me if they don't like something. Doing it once a year is not enough. When they see you, the people feel closer to you, are more comfortable and can express themselves."
The county and state Democratic Party, Sen. Marty Block, Lemon Grove councilmembers George Gastil and Raquel Vasquez and the East County and Poway Democratic Clubs, currently endorse Tsimboukakis. He said he is up for endorsement considerations by County supervisors Dianne Jacob and Dave Roberts, the Police Officers' Association of El Cajon, California Nurses Association and California Faculty.
"I have raised and continue to raise money from individuals compared to my opponent who raises almost exclusively from special interest groups," he said.
Tsimboukakis immigrated to the U.S. in 1977 to attend college. He earned two degrees in Sociology and Mass Communications and went on to earn his MBA.
To find out more about Tsimboukakis, his biography, issues, priorities and plans go to fotiosforsenate38.com.