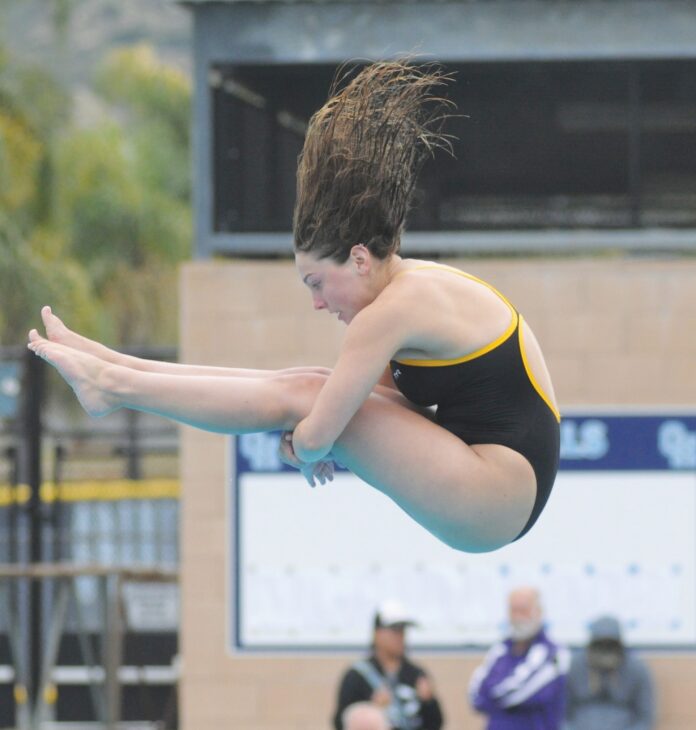 With seven out of 21 entrants at this year's San Diego Section girls diving championship meet, East County had solid representation. Plying their talents off the one-meter springboard last Friday at Granite Hills High School were the El Capitan sophomore tandem of Rhema Rose and Ryley Brittingham, the Steele Canyon duo of Cortlyn Patterson and Mackenzey Corella, Granite Hills junior Jada Clark and Grossmont sophomore Addyson Clark.
The top eight place-finishers in both the Division I and Division II field received medals.
Rose placed fourth in the seven-deep Division II field with 171.25 points while Brittingham was fifth with 167.50 points. Jada Clark was the highest East County finisher in the 14-deep Division I field with 187.85 points to place fifth while Addyson Clark just missed grabbing a medal after finishing ninth with 178.90 points.
Patterson, a junior, finished 11th in the Division I field with 164.65 points while Corella, a senior, finished 13th with 141.55 points.
Addyson Clark won this year's Grossmont Hills League title with 200.95 points while older sister Jada Clark placed fourth in the 23-deep varsity league field with 168.8 points. Patterson (167.05 points) was sixth while Corella (147.55) placed ninth.
Rose and Brittingham finished 1-2 at the preceding Grossmont Valley League dive finals.
El Capitan coach Craig Schoonderwoerd lauded the Lady Vaqueros' performances throughout the season, including at the CIF finals.
"It was amazing since both are novice divers and not club divers," he explained. "Both had scores easily competitive with club divers."
Jada Clark, who also competes in competitive cheer, improved dramatically from151.55 points and an 18th place-finish at last year's CIF finals.
"It's fun and a little competitive," she said. "I had put in a lot of hard work."
Family bragging rights also were up for grabs.
"It was fun, a nice experience," Addyson Clark said in regard to competing alongside her older sister. "I had finished ahead of her in league, so I didn't want to finish behind her in CIF."
But Jada was ready.
"I am so very proud to see Jada's progress and all the hard work she put in," Granite Hills dive coach Ron Ortiz said. "She really worked on her reverse dive and her somersaults. I'm really happy she got to dive with her sister."
Canyon Crest Academy sophomore Micah Finley won the girls Division I title with 238.66 points while Carlsbad junior Keira Kuderka finished runner-up with 238.15 points in a dynamic duel to the finish.
San Marcos junior Lauren Kudo placed third with 215.85 points while Patrick Henry sophomore Madelyn Mercer finished fourth with 198.90 points.
State qualifiers (top four points-finishers in the combined field) included Finley, Kuderka and Kudo from the Division I meet and D'Angelo from the Division II meet.
Eastern exposure
East County was represented by two divers on the boys side — Grossmont senior Bruce Nordloff and Granite Hills sophomore Chance Hall.
Hall, a returning state qualifier, placed 10th in an exceptionally competitive Division I field that featured seven divers with scores of more than 200 points in the six-dive card, including a pair of divers who scored more than 300 points.
Nordloff placed 11th in the 15-deep Division I field. Hall previously won the Grossmont Hills League title with 207.05 points while Nordloff placed runner-up with 179.50 points.
The top four divers in the combined Division I and Division II fields qualified for the state meet. The top three place-finishers in the Division I field — San Ysidro senior Andres Sanchez with 355.65, Torrey Pines junior Ezra Purcell with 304.22 points and Poway sophomore Connor Liddle with 270.20 points — along with Division II champion Mason Hood, a junior from Pacific Ridge, qualified to compete Thursday in Clovis.
Sanchez, who became the Cougars' first male CIF dive champion, finished just 13 points off the division record of 368.70 points posted by Granite Hills alumnus Kevin Dreesen in 2011.
Hall had placed third at last year's Division I meet to earn a trip to the state finals but saw his return path negated by a veritable roadblock of fellow hopefuls.
The margin of error was extremely tight last Friday with 24 points separating five divers in the middle of the Division I field.
"Chance missed on a couple of his bread-and-butter dives he usually scores well on," Ortiz said. "The competition was so strong, so fierce, to overcome. He still had a good showing, but it wasn't enough to make state."
Nordloff was, of course, "excited," in his words, to qualify for the CIF dive finals two years in a row.
"I've been working on my height and my distance, and my toe-point," he said. "In league, I didn't have that much competition, I was only behind Chance really. When I got to CIF, I had a lot of competition. But I had worked hard all season and was prepared when I got there."
Nordloff, who finished just 16 points behind Hall, is hoping to continue his dive career next season at Grossmont College.
San Diego Section Diving Championships
May 5 at Granite Hills High School
Girls Finals
DIVISION I
1. Micah Finley (Canyon Crest Academy) 238.55
2. Keira Kuderka (Carlsbad) 238.15
3. Lauren Kudo (San Marcos) 215.85
4. Madeyln Mercer (Patrick Henry) 198.90
5. Jada Clark (Granite Hills) 187.85
6. Ashley Lawlor (Scripps Ranch) 184.80
7. Brielle Martinez (Canyon Crest Academy) 183.50
8. Ashley Dierling (Oceanside) 180.25
9. Addyson Clark (Grossmont) 178.90
10. Maile McMahon (Fallbrook) 169.40
11. Cortlyn Patterson (Steele Canyon) 164.65
12. Kaya Nepomuceno (Westview) 158.45
13. Mackenzey Corella (Steele Canyon) 141.55
14. Carminho Coelho (Poway) 131.50
DIVISION II
1. Sol D'Angelo (Mt. Carmel) 246.30
2. Jaya Kuldau (Our Lady of Peace) 182.50
3. Emily Hedges (Mt. Carmel) 173.90
4. Rhema Rose (El Capitan) 171.35
5. Ryley Brittingham (El Capitan) 167.50
6. Kelsey Velarde (Mt. Carmel) 160.40
7. Maya Smallwood (Our Lady of Peace) 138.60
Boys Finals
DIVISION I
1. Andres Sanchez (San Ysidro) 355.65
2. Ezra Purcell (Torrey Pines) 304.22
3. Connor Liddle (Poway) 270.20
4. Mason Shin (San Marcos) 254.95
5. Simon Borovkov (Poway) 225.40
6. Caleb Gonzalez (Mission Hills) 218.10
7. Noah Gardner (Del Norte) 217.40
8. Timothy Hansen (Canyon Crest Academy) 210.10
9. Luke Ferratt (Rancho Bernardo) 201.90
10. Chance Hall (Granite Hills) 195.10
11. Bruce Nordloff (Grossmont) 179.45
12. Jaxson Lass (Carlsbad) 167.60
13. Ethan Bentley (Poway) 165.45
14. Luke Raggo (Poway) 156.00
15. Felix Alcorn (Fallbrook) 144.30
DIVISION II
1. Mason Hood (Pacific Ridge) 257.95
2. Isaac Norris (Mt. Carmel) 206.65
3. Igor Tvrdisic (La Jolla) 163.05