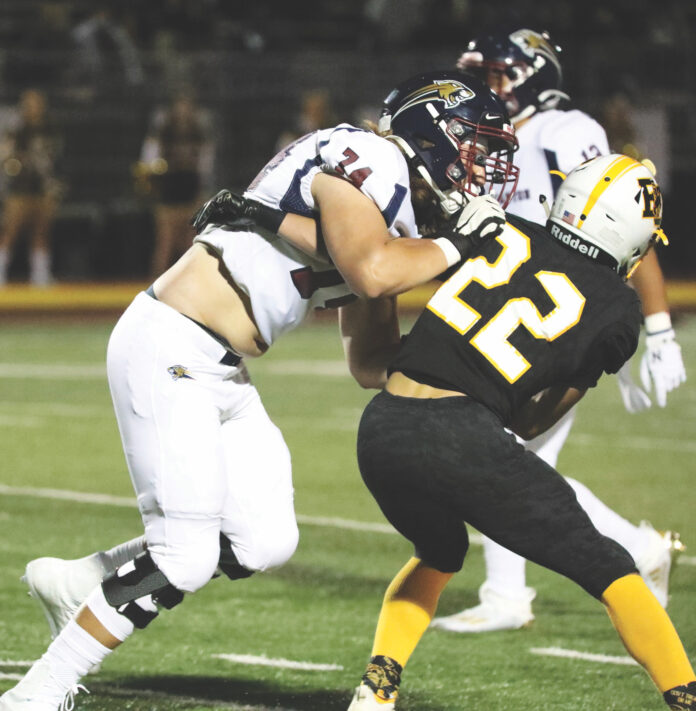 High school football fans got a taste of gridiron action during the spring; now it's time to serve the full course meal.
Regular season play kicks off Aug. 20, preceded a week earlier by scrimmages.
Coaches are in universal agreement about the positives afforded by a return to more normalcy, particularly the existence of a true off-season in which players were able to hit the weight room and scrimmage live opponents in seven-on-seven summer passing tournaments.
Though no formal league champions were declared in the shortened 2021 spring season, the unbalanced schedule did shine a spotlight on teams that were able to put things together on short notice and still experience success.
The Granite Hills Eagles were the de facto Grossmont Hills League champions after defeating Helix Charter, Steele Canyon and Grossmont. In fact, the Eagles had a chance to post a county-leading 6-0 record before being torpedoed by the Carlsbad Lancers, 63-14, in the teams' regular season non-league finale.
El Capitan, Monte Vista and Santana all finished with 3-1 Grossmont Valley League records to forge an apparent tri-championship.
What will differ from the abbreviated spring season will be the return of the San Diego Section divisional playoffs.
Rankings were kept during the spring for each division, but no official CIF champions were declared.
Top-ranked teams in the spring included Cathedral Catholic (Open Division), Torrey Pines (Division I), La Jolla (Division II), Mater Dei Catholic (Division III), Patrick Henry (Division IV) and Tri-City Christian (Division V).
How will those teams stack up in a full 10-game regular season and playoffs?
It will be fun to find out.
El Capitan Vaqueros
The Lakeside team under head coach Ron Burner finished its six-game season 3-3 with non-league losses to Granite Hills and Steele Canyon and a league setback to Monte Vista.
Burner said while the skill positions return intact, there exists some concern about youth on the line. Eight starters return on offense and seven starters return on defense. The Vaqueros' starting quarterback, starting running back, starting receiver and top defender all return.
Anchor players for the upcoming season include senior quarterback/safety Savigon Lloyd Yokley (6-3, 180), senior running back/defensive back Xavier Peace (5-10, 170) and senior middle linebacker/running back Alex Fa'aea (5-10, 245).
Both Yokley and Peace were prone to score long breakaway touchdowns in the spring.
El Capitan faces Canyon Hills on the road in an Aug. 20 non-league game to kick off the new season.
Steele Canyon Cougars
The Rancho San Diego bunch finished 3-3 last spring, 1-2 in Grossmont Hills League play (defeating Grossmont).
The Cougars, fielding a youth-laden squad, capped the shortened season with a non-league victory at Monte Vista.
Steele Canyon head coach Scott Longerbone's 2021-22 edition features 14 returning starters — five on offense and nine on defense.
Top returners include senior tackle Logan Hicks (6-6, 270), junior running back Major Givens (6-0, 200) and junior strong safety Adrien Chargualaf (5-10, 170).
Givens rushed for 716 yards and scored seven touchdowns in six games. He also caught 10 passes for 85 yards and one touchdown.
Hicks anchored an offensive line that allowed the Cougars to rush for an average of 140.7 yards per game and score 10 touchdowns and passed for an additional 81.3 yards per game. An intimidating presence on the line, Hicks was credited with five pancake blocks last season.
Chargualaf led Steele Canyon defensively as a sophomore with 62 total tackles, including 46 unassisted stops.  He added a sack, interception and caused fumble to his personal stat sheet.
The Cougars kick off the season Aug. 20 at defending Metro-Mesa League champion Eastlake.
Granite Hills Eagles
Head coach Kellan Cobbs' 2020-21 team was the showpiece of East County, led by quarterback Justus McComb and defensive back Matt Keeley. McComb, the team's leading passer and rusher, averaged an incredible 267.2 total offensive yards per game, threw for 16 touchdowns and rushed for seven more. Keeley paced the Eagles defense with 31 tackles.
Cobbs lists his team's strength this season in the defensive secondary.
Impact players include senior defensive lineman/tight end Zach Burton (6-3, 255), offensive/defensive lineman Tanner Vielguth (6-3, 245) and junior utility/defensive back Joaquin Thomas (5-11, 165).
Burton ranked third on the team in the spring with 21 tackles while adding 1.5 sacks and one fumble recovery.
Thomas led Granite Hills (5-1) with 695 all-purpose yards, averaging 115.8 yards per game. The Eagles averaged 406.2 offensive yards per game with protection from the team's linemen.
Granite Hills hosts Poway in the teams' season opener on Aug. 20 at 7 p.m.
West Hills Wolf Pack
Head coach Casey Ash is blessed with 17 returning starters for the upcoming season, just about evenly split between offense (nine) and defense (eight). Experience appears key for this year's team, though overall depth and team speed may be areas that need work.
The Wolf Pack finished 2-3 overall last spring, 2-2 in GVL play.
Top returners include senior slot back/defensive back Dylan Snyder (5-9, 175), senior receiver/outside linebacker Maximus Conaway (6-3, 190) and senior slot back/linebacker Dylan Freund (5-9, 180).
Snyder reeled in 17 passes for 259 yards and two touchdowns while scoring once on the ground.
Conaway had two interceptions and one fumble recovery on defense while averaging 35.2 yards on 21 punts.
West Hills will kick off regular season play with a non-league home game against Kearny on Aug. 20 at 7 p.m.
El Cajon Valley Braves
The Braves finished the spring season on a positive note and enter the fall campaign braced by 17 returning starters (eight on offense, nine on defense).
Impact players include senior middle linebacker/running back Jaheim Mendenhall (5-8, 175), senior receiver/cornerback Ruben Cosio (5-6, 150) and senior free safety/receiver Daniel Jacobs (5-8, 150).
What El Cajon Valley may lack in physical size, the Braves make up for in heart and unity, according to head coach Nick Osborn.
Mission Bay will serve as the opponent for El Cajon Valley's home opener on Aug. 20 at 7 p.m.