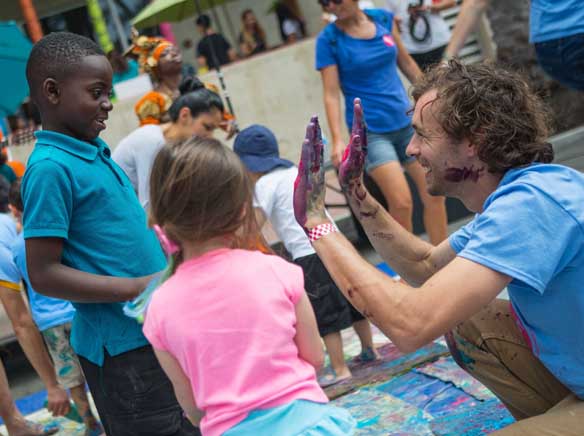 By Suzi Woodruff Lacey
As 11-year-old Tut climbed the rope ladder into a labyrinth of rooms and passageways, he could not possibly have imagined how much he and his South Sudanese refugee community had influenced the space he was entering.
By Suzi Woodruff Lacey
As 11-year-old Tut climbed the rope ladder into a labyrinth of rooms and passageways, he could not possibly have imagined how much he and his South Sudanese refugee community had influenced the space he was entering.
He was exploring The Wonder Sound, the newly opened, semi-permanent installation by artist Wes Sam-Bruce at The New Children's Museum, 200 West Island Avenue in downtown San Diego. The Wonder Sound is a collaborative two-year project with community centers throughout San Diego. The Southern Sudanese Community Center was one of six participants.
Tut explains, "You actually had to think about it – where you're going and how you get out. Once you've done it, it gets easier. You know you've accomplished a goal."
This is exactly what artist Sam-Bruce hoped would happen.
"The Wonder Sound is part tree house, part village, part undiscovered world. The participant becomes an investigator and an explorer in this strange threshold," muses Sam-Bruce. "
Drawing influence from canyons at night, sacred plants, silhouetted mountain ranges in the distance, animals that have never been seen, empowered neighborhoods, original stories, forgotten histories, whispered languages, ancient footpaths, imaginary places and the human condition, The Wonder Sound is an entirely new and complex culture that blends fact and fiction, the tangible and the ephemeral. It is a work of art that you physically enter into and discover.
During a series of workshops given as part of the downtown Museum's fourth annual Mass Creativity community outreach program, the children created unique flags and wind chimes, painted a door yellow and constructed magical, creative structures.
And they shared their stories. And their family's stories.
They are part of the approximately 6,000 Southern Sudanese refugees in San Diego, forced to leave their country because of ongoing religious, ethnic and political persecution. Many of them spent a great deal of time in refugee camps before being admitted into The United States.
"Each time I left a workshop at The South Sudanese Community Center, I felt a huge sense of peace," relates artist Sam-Bruce. "From their stories, their creativity, I designed a new alphabet, a new language, drawn from all of the centers. The letter they inspired has as its ancestral name Zouzudan, a magnificent white cow, representing hope. The letter is shaped like the horns of a cow, an upside down U, representing the cow with its horns tilted upwards, looking up at the sky in hope.
There are many sounds throughout the installation as well as an original/experimental soundscape by composer Joel P. West. There is poetry. And there is the new alphabet you can learn to read and write, to name the constellations and to speak the names of ancestors.
"I really appreciate this opportunity," said Alexa, an Africologist, who brought her two daughters. "My husband works a great deal and we only have one car so it would be difficult to come here on our own. Our heritage is Irish and Sudanese, and I brought my daughters because I want them to learn about their cultures and other cultures. It is beautiful to learn about the heart of people."
Some fifty children came on busses from The Southern Sudanese Community Center. Not all were Sudanese; the center welcomes all from the refugee community.
"This really inspires imagination and creativity in our kids! They loved experiencing the hands-on art, " said Southern Sudanese Community Center Director Chuol Tut. "Many of these children have never been to a place like this."
Six complimentary workshops were held in diverse communities in San Diego: Casa Familiar in San Ysidro, Sherman Heights Community Center in Historic Barrio District – Logan Neighborhoods, South Bay Community Services in Chula Vista, The Museum School in Banker's Hill, The San Diego LGBT Community Center in Hillcrest, and The Southern Sudanese Community Center in City Heights.
Children from all six communities danced in (washable) paint, played on climbable sculptures, blew bubbles, built towers of wood and explored The Wonder Sound on the free Mass Creativity Day, June 25.
Nadia, age 7, says, "My favorite part was the library. It was very big with a lot of books and I love to read."
Nyadoni, age 14, sums up the experience, "It was really fun! The minute I finished it, I wanted to do it again!"
The Southern Sudanese Community Center is a non-profit, founded in 1995 with the mission to assist all Sudanese refugees in their resettlement through education, social, economic, and cultural support, guiding them towards self-sufficiency and full integration into American society.
Currently, the center is looking for monetary donations for its soccer and basketball programs.
To learn more visit www.ssccsd.org.
The New Children's Museum is a new model of children's museum whose mission is to stimulate imagination, creativity and critical thinking in children and families through inventive and engaging experiences with contemporary art. The Museum brings families together in a rich educational environment that fosters creativity — blending elements of children's museums and art museums. The Museum collaborates with contemporary artists on an ongoing basis, both for large-scale thematic exhibitions, individual installations and educational programs for children. The New Children's Museum is a non-profit institution funded by admissions, memberships and community support.
To learn more, visit www.thinkplaycreate.org.