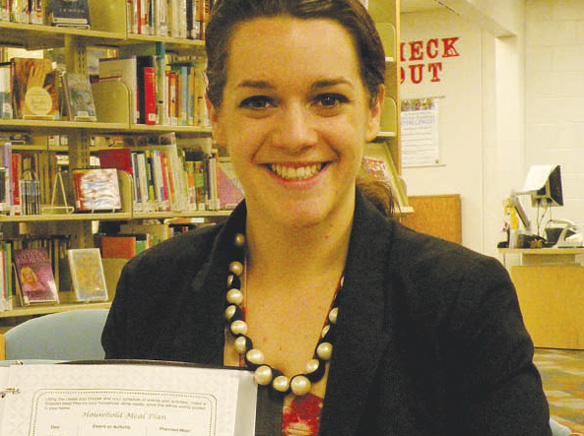 SANTEE — Just after dinnertime, Jessica Barna walked to a table in the middle of the Santee Library. Several people were waiting to hear her presentation, "Meet Me At the Dinner Table."
"My goal is to help bring family dinners back to America," said Barna, founder of Kitchens Resolved. "That means keeping the TV turned off and having conversations."
SANTEE — Just after dinnertime, Jessica Barna walked to a table in the middle of the Santee Library. Several people were waiting to hear her presentation, "Meet Me At the Dinner Table."
"My goal is to help bring family dinners back to America," said Barna, founder of Kitchens Resolved. "That means keeping the TV turned off and having conversations."
Barna, a UCSD graduate with a degree in history, said that a Harvard study has shown that children who eat dinner at home with family are twice as likely to get A's in school.
"They are also less likely to smoke and drink. Obviously, obesity goes down," she said.
Eating together is the single largest variable making a difference in a child's life, "more so than church attendance or going to a certain type of school," Barna said.
A surprising find by the Harvard study is that pre-schools and young children acquire a better vocabulary.
Dinnertime is the one time when all the family members can get together," Barna said. "It's not just about the food we eat but about family tradition."
Good manners are picked up more easily during family dinnertime, she explained. "Think about the difference between how civilized and uncivilized people eat. Those good manners are transposed to the outside world," she said.
"But I have two teenagers, ages 13 and 16," said Jeremy Hassler in the audience. "They are gone nearly five days a week doing some activity. Tonight they're rehearsing for a play."
"That is a challenge in today's world," Barna said. "When you organize the family meals for a week, make sure you know everyone's schedule.
It's important, too, she said, to make dinnertime something to look forward to.
"Approach the family dinnertime with a positive attitude, not with the idea that 'okay, you're going to do this no matter what,'" she said. "For instance, make Saturday night a dress-up time."
Hassler said another challenge of his was that his teen-age daughters often did not like the food that was put on the table. "Last week, maybe they liked something okay, but this week they won't touch it," he said.
Barna said that it was possible that kids are picking up on attitudes toward food from their parents.
"I worked with one family where the mother was very picky about the vegetables she ate. Her kids began to make the same associations," she said.
Also, it takes up to five times for children and teens to try something before they may actually like it.
"For the younger kids, try little games like you take one green bean for each year of their age," she said.
Grocery shopping for a family's own meals brings the house spending down by about $300 a month. Barna suggested eating in a restaurant only for special occasions.
"It's a lot healthier," she said.
In the audience, Carolyn Wood agreed. "It's better to treat health with food than medications," she said.
To get a copy of Barna's "Meet Me at the Dinner Table" workbook, go to www.kitchensresolved.com.