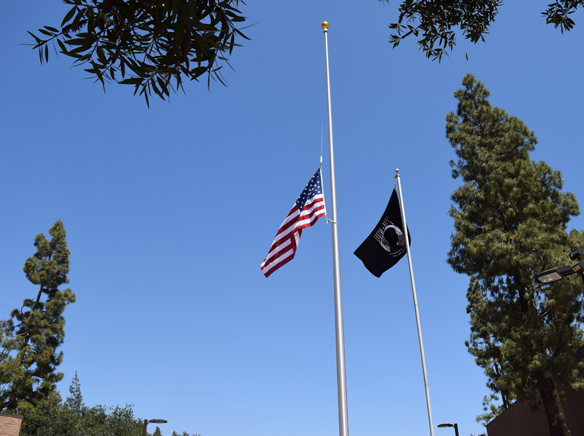 In between budget and City Council meetings the El Cajon City Council and the El Cajon Veterans Commission gathered outside of City Hall to dedicate its new 50-goot flagpole at the Veterans Memorial. In an intimate ceremony, the El Cajon Police and Heartland Fire & Rescue Color Guards presented the colors, raising it to the top, and then lowered it back down to half-mast position. This dedication was in tandem with Flag Day and the 241st birthday of the U. S. Army. Pastor Wayne Clark, chair of the El Cajon Veterans Commission began the ceremony with an prayer, and Brice Johnson from St. Madeleine Sophie's Center sang the National Anthem.
Mayor Pro Tem Tony Ambrose said that the flag has great symbolism for everyone, but in his personal experience in the U.S. Navy, seeing the American flag high on the mast of the ship always reminded him that he was still an American regardless of where he was. "And that was always important to me," he said. "To see that that flag was still waving up there.
Councilmember Bob McClellan said he was proud to share the moment with the veterans there and those that were not. He said the flag is a constant reminder to him for the veterans at home, in conflicts and those that made the ultimate sacrifice in keeping the symbol of the American flag as a reminder of the price that many Americans paid in keeping our freedom.
With the flag at half-mast, Councilmember Star Bales said that she did not envision the dedication to be this way, but expected to see it flying high at the top of the flagpole. She said our hearts and prayers go out to the victims and families of the recent massive killing spree that hit Orlando, Florida this past weekend, but that the flag still represented a bond that brings all Americans together. She went on to say that the first time she saw the American flag was in Iraq at the American Embassy when she was signing her Visa to come to America. She said her heart filled with such a powerful joy that she still feels every time she sees the American flag waving.