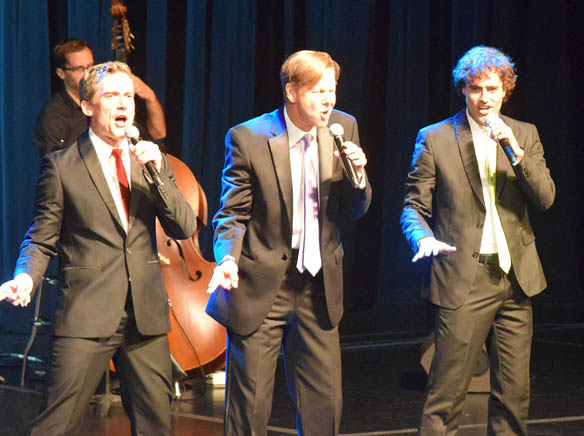 For a one night only San Diego performance, Sycuan Casino's Live & Up Close theatre presented a remarkable performance featuring three of The Broadway Tenors on June 25. Kevin Kern, David Burnham and Ron Bohmer. They provided a great of ensemble featuring many of Broadway's classic musical numbers along with some phenomenal melodies of Broadway best writers and contemporary music on June
For a one night only San Diego performance, Sycuan Casino's Live & Up Close theatre presented a remarkable performance featuring three of The Broadway Tenors on June 25. Kevin Kern, David Burnham and Ron Bohmer. They provided a great of ensemble featuring many of Broadway's classic musical numbers along with some phenomenal melodies of Broadway best writers and contemporary music on June
Whether singing solo, duets or as a trio, these three seasoned tenors delighted the crowd with powerful and moving performances. With each song and melody, it was a step in time taking the audience to their favorite Broadway show, or memories of contemporary music from musicians and writers that changed the world of music forever with timeless classics that have stood the test of time. Without all of the props of a Broadway musical nothing was lost in translation as they took command of the stage with undeniable voices that sliced through the air with beauty, style and muscle. All accomplished Broadway performers it was an evening for Broadway fans to remember.
For lovers of Rogers and Hammerstein, Andrew Lloyd Webber and multi-platinum award winning Barry Manilow fans, the melodies gave a wonderful representation of these prodigious songwriters. With arrangements that seamlessly transitioned from song to song giving a satisfying taste of these classic songs, the harmonies and interaction of the three singer's voices created a range of emotions through each performance.
David Burnham provided an incredible experience with "Joseph and the Amazing Technicolor Dreamcoat's" "Close Every Door." It was simply beautiful, and his voice called "ridiculous" as his partners joined him back on stage. And that it is. His range, tone, power, they all played into a great performance. Kevin Kern's rendition of "Memory" from "Cats" was breathtaking. His venture through the beautiful lyrics and his smooth tones left the audience silent and lost in the moment.
It was a night of wonder and beauty as the three beautiful voices rang through the air. If San Diego gets another chance to witness The Broadway Tenors, it will be a show that you will not want to miss out on again.
Sycuan's Live & Up Close theatre is a wonderful intimate venue and it continues to bring a variety of high-end performances at a reasonable price to San Diego County. It has a remarkable line up this season with many shows that you will not want to miss out on.
Bell Biv DeVoe-June 28
Ryan Cayabyab and RCS Singers, July 2
Superstars on Stage, July 7 & 8
TLc, July 11
Craig Morgan, July 14
Jody Watley, July 21
Little River Band, July 26
Psychedelic Furs, July 27 & 28
KC and the Sunshine Band, Aug. 3 & 4
Freddie Jackson, Aug. 17 & 18
Chippendales, Aug. 19
Future performances by Chubby Checker, Lita Ford, Night Ranger, Ready for the World, Trvis Tritt and more.
For more about performances at Sycuan Casino's Live & Up Close theatre visit www.sycuan.com/events.