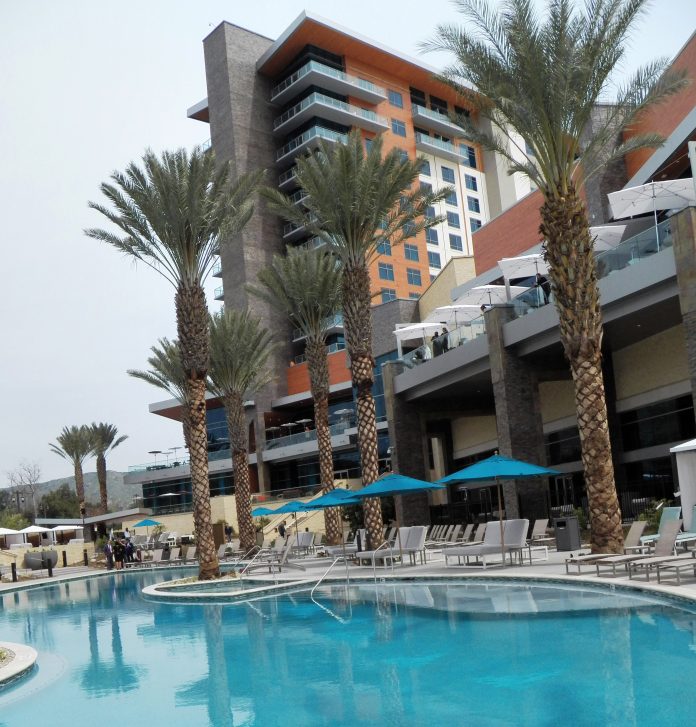 Two years in the making, Sycuan Casino Resort opened its doors formally on Wednesday, March 28.
Leaders and elders of the Sycuan Band of the Kumeyaay Nation gathered to celebrate the occasion on the eve of the Grand Opening with a Ribbon Cutting ceremony on Tuesday, which included invited media and guests like San Diego Mayor Kevin Faulconer.
Cody J. Martinez, chairman of the Sycuan Tribal Council, led the ceremony.
"On behalf of the Sycuan Band, welcome to Sycuan Casino Resort," Martinez said.
Martinez further thanked the tribal elders for taking the gamble to open a Bingo Palace in 1983, which formed the foundation for stages of gaming entertainment expansion through 35 years.
"And now, over 250 tribal members depend on this economic engine," Martinez said.
Martinez detailed the economic benefits of the just-completed resort, including over 3,000 workers involved in building the project. Initially set to cost $226 million, the total investment in the expansion came in at $260 million. The California Clean Air Project recognized the expansion as a 100 percent smoke-free facility, providing healthier indoor entertainment. (The exception will be the self-contained high stakes Poker Room.)
The casino resort design contains 302 hotel rooms with 57 luxury suites. The overall venue now contains 2,800 slot machines and 54 table games. The outdoor centerpiece features two pools and a lengthy lazy river.
"This is our coming of age," Martinez said. "This is a momentous and historic occasion."
When John Dinius, Sycuan Casino Resort general manager, took to the podium, he said, "I am honored to be here. I have never been more proud of this organization."
Dinius added that the new construction required 1.3 million man-hours.
"This all comes back to the team," Dinius said. "The past two years have been very challenging."
Dinius noted that the all-new casino resort is of benefit to all of East County, with over 850 new team members added to the employment rolls, and more to come in coming days.
Faulconer praised the expansion as a magnificent facility, citing how the enterprise really benefits the regions all around San Diego County.
"This has been a labor of love, and it shows," he said.
The newly hired Sycuan team members agreed that this "economic engine" is an important new attraction in East County.
Lanita, recently hired at the Bull and Bourbon Steakhouse, described the attitudes expressed during orientation for new workers.
"We were told this is all about hospitality, that what comes first is the guests," Lanita said. "And not just the servers, but everybody is in hospitality, including the transportation department. We were told as well to treat each other like guests too. It's really like a family here."
Bull and Bourbon is open during evening hours, and reservations are not required. The steakhouse restaurant also offers a 40-seat separate dining room for large parties and meetings. Dinius stated that this steak eatery would get guests to tables and served quickly.
Another dining option at the casino resort is Rank & File, a sports bar near the entryway, which pours over 30 beers, including a specially crafted blonde beer from Thorn Brewing for the new resort. Viewpoint Neighborhood Kitchen is open for meals throughout the day and night. The unCommons provides diners a central open seating space, with choices among fast casual food counters, from Hangry Slice for pizza, Hodad's for delicious burgers, Lucha Libre tacos, Phil's BBQ dinners and Luna Grill's fresh Mediterranean fare.
Sycuan employee Lindy greeted entrants to the unCommons.
"It's amazing, isn't it," she said, "how this all came together?"
Elicit Bar & Lounge pours craft cocktails and other adult beverages. The small-plates menu items available in the lounge emphasize seafood, including a raw bar and Asian-inspired appetizers.
Food and drink are also available outdoors at Retreat Pool & Cabanas. The five full bars emphasize refreshing cocktails and seasonal bites for alfresco enjoyment.
Billy Guerra, manager at Retreat, explained that the outdoor venue is still in process for determining the necessary cabanas and awnings for poolside comfort of guests. Retreat is currently open only to those staying at the resort's rooms.
Guerra noted, however, that day passes are expected to be available for local residents and daylong visitors by May, as warm weather graces the area. East County locals and organizations may further be interested in the casino resort meeting rooms and the large event center.