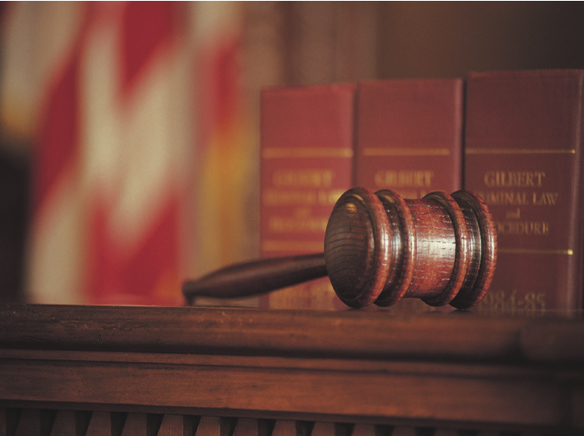 A judge has ordered the release of a sexually vio­lent predator (SVP) to live in a house in Jacumba Hot Springs, a court clerk said on Jan. 3.
The decision by San Diego Superior Court Judge Albert Harutunian III for Thomas Joseph Cornwell, 41, was made during the Christmas break after he took it under submission following a Dec. 19 hearing.
Another SVP lived in the same house on McCain Valley Road before he was returned to a mental health program. The site is close to Boulevard.
Three people objected to the release including Jeff Collins, an aide to County Supervisor Dianne Jacob, in the Dec. 19 hearing. He said the release is unfair to the back country area because a number of oth­ers were placed there.
A Boulevard property own­er, Alice Keyser, said "we don't feel safe" with other sexually violent predators be­ing released.
"It is not the proper place for Mr. Cornwell. East Coun­ty is overflowing with sexual offenders," said Alice Keyser. "We're unfairly treated."
The 41-year-old is one of the youngest SVP to be part of a conditional release pro­gram as most other offenders are at least 56 years old.
Cornwell will be moved from Coalinga State Hospital where he was housed after he finished an 8-year prison term. He was convicted of lewd acts with two children in 2006 and 2008.
He will be released under supervision with Liberty Healthcare, who hires secu­rity guards to be present at all times when he leaves the house. The Department of State Hospitals recommended release.
David Forester, who rep­resents Liberty Healthcare, told the judge there have no incidents of anyone being released and re-offending in San Diego County.
Some SVPs have been re­turned to Coalinga because they violated release condi­tions, and not new molesta­tion allegations.
Cornwell filed for condition­al release on April 5 and the District Attorney's office was opposed to it.
A May 6 preliminary hear­ing has been set for a Texas man who has been charged with a 36-year-old murder in La Mesa.
New DNA evidence led to the arrest of James Mitchell Boget, now 64, in the Dec. 28, 1983 slaying of William Mambro, 43, in his home in the 9300 block of Loren Drive in La Mesa.
Boget was arrested Nov. 19, 2019 in San Antonio, Texas, and he was extradited here and arraigned in El Cajon Su­perior Court on Dec. 12.
A prosecutor couldn't be reached for comment. Boget has pleaded not guilty and remains in jail on $2 million bail.
An accomplice in a fatal burglary in Lemon Grove has been charged with murder in the shooting death of his friend who was killed by a homeowner.
A murder charge has been filed against Joshua Tanielu Manu, 26, who is also known as Joshua Manu in the 2017 death of Derrick Harris Jr., 15.
It is alleged that Manu and Harris broke into a home just before 2 a.m. on Edding Drive in Lemon Grove on Feb. 7, 2017. The sheriff's depart­ment said both were armed and they shot the son of a homeowner.
The home owner shot and killed Harris in self-defense while Manu fled the scene. Sheriff's deputies have been looking for the second person with Harris and identified Manu on Aug. 28.
Manu is also charged with two counts of attempted mur­der, two robbery charges, and shooting in an inhab­ited building. It is alleged that Manu committed these crimes to benefit a criminal street gang.
Manu has pleaded not guilty in El Cajon Superior Court. A preliminary hearing has been set for Feb. 11. He remains in jail without bail.