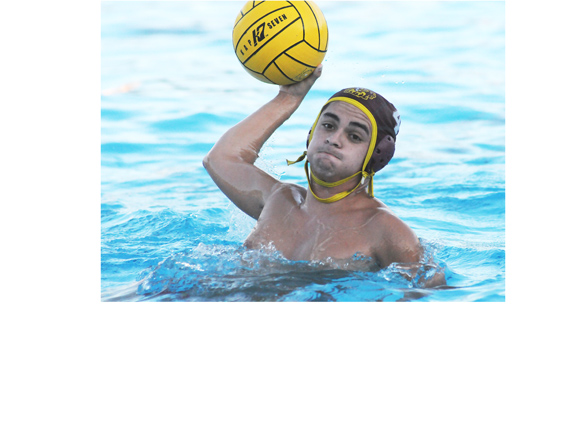 East County high school water polo teams will face off the 2015 season in September but it will not be without an offseason of inactivity. Far from it in fact, as teams prepped for the upcoming campaign over the summer with an emphasis on both fun and fundamentals.
East County high school water polo teams will face off the 2015 season in September but it will not be without an offseason of inactivity. Far from it in fact, as teams prepped for the upcoming campaign over the summer with an emphasis on both fun and fundamentals.
Play wrapped up last week in the East County Summer League, which is organized under the auspices of American Water Polo. League director Robin Sanchez said the league's five-week season – from June 22 to July 23 – accomplished several important goals.
"It's not all about winning (at this point) but about getting ready for the upcoming season," said Sanchez, the veteran boys and girls water polo coach at El Capitan High School. "It's a matter of trying new things in some instances … of getting in younger players to get them more experience."
The league, which is one of the longest running in Southern California, included boys and girls club teams in 16-under and 18-under divisions. Some teams featured a combination of players from more than one school.
Sanchez said the informal atmosphere allows everyone to thrive.
"Some schools put in a lot of hours over the summer, which is always good to see," he said.
Clubs represented this summer included the Seawolves, 94 Polo, Bulldawg, Norseman, South Coast, Waterdog, C&C, Sultan, Rancho San Diego, Cowboy, ECA and PACE.
Cowboy is primarily drawn from players from El Capitan. However, Sanchez said club teams do not completely mimic high school teams.
"Some players are not available during the summer because of family vacation or work commitments," he said. "You never know who you're going to have during the summer."
Most of the games this summer were closely contested with an odd blowout thrown into the mix.
Norseman defeated South Coast, 11-1, to wrap up play in the 18U boys division.
El Capitan's boys' team opens its season with a non-league home game against Pacific Ridge on Sept. 10. The girls season starts in late November.
Sanchez said play this season should feature more parity throughout not only the Grossmont Conference but the entire San Diego Section as well.
"We should see a more competitive CIF playoffs," Sanchez said. "I think there will be more parity with some teams from Division III moving to Division II and some teams from Division II moving to Division III."
El Capitan is among the boys' teams moving from Division II to Division III. Sanchez said the move should be a more "competitive" fit for his team.
"We want to be competitive, get a win to go to the next round, surprise some people," said Sanchez, whose team finished 8-16 last season. "I think the new system provides a great opportunity for some teams to make it to CIF, and that's something that can help build programs in the future."
Top returners for the Vaqueros include senior Tristan Duncan, a first team all-Grossmont Valley League performer last season who scored 107 goals, and goalie P.J. Ninteman.
Duncan, a baseball standout at ECHS, has been touring the country this summer while playing that sport. But Sanchez expects him to once again be an impact player in the pool once conditioning drills start in August.
"I think baseball is his first love but water polo might be his second love," Sanchez explained. "He's our hole man but he can play anywhere in the pool. He has such a strong arm that he can also shoot the ball from the outside."
This year's Grossmont Conference lineup includes Steele Canyon, Helix, West Hills, El Capitan, Mount Miguel and El Cajon Valley in the six-team Grossmont Valley League and Granite Hills, Grossmont, Valhalla, Santana and Monte Vista in the five-team Grossmont Hills League.
Steele Canyon and Monte Vista are making the switch between leagues this year.
Sanchez said since league membership is now based more on competition level than geography, more schools could change positions in upcoming seasons.
"Every year there could be one or even two schools switching leagues," Sanchez explained.
Monte Vista, which finished 19-10 last season, will be fielding a young team this season. The Monarchs are keyed by varsity returners Jared Otjens and Ruben Santos, both seniors, and Troy Gunter, a junior.
Both Otjens and Sanchez helped brace the 94 Polo club team over the summer – Otjens in the cage and Santos in the field. Both will be playing their third year at the varsity level.
Otjens, who has surfed since he was 4, said watching the 2012 London Olympic Games water polo competition sparked his interest in the sport.
"I thought it looked really cool," he said. "It's turned out pretty well. I've definitely improved.
"You have to have good legs (to keep swimming in place), you have to have good hand-eye coordination and good conditioning. The game itself is really fun, it's one of my favorites."
The Monarchs have qualified for the CIF playoffs twice during Otjens's tenure with the team – the first as a freshman in 2012 and the second as a junior last season. Both times Monte Vista advanced to the next round before being defeated by Serra (2012) and Mar Vista (2014).
The 2015 season looks to be a rebuilding year for the Monarchs, in which summer league play took on added importance.
"It offered a chance to get better and get some experience, especially for the freshmen," Santos said.
El Capitan will host its annual East County Invitational for JV teams on Sept. 11-12 and varsity teams on Oct. 5, 9-10.