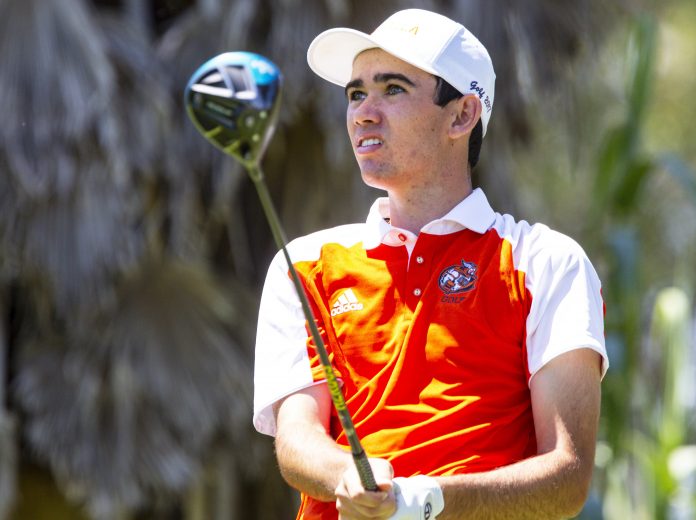 FROM STAFF REPORTS
The San Diego County Junior Golf Association, respected for pioneering junior golf programs since 1952, is committed to enriching the lives of youth through the game of golf.
Over the decades, the association has helped influence the lives of thousands of San Diegans with later success as business and civic leaders, parents, and individual citizens.
That includes current East County youth.
Jamul's Shea Lague captured the boys championship division at the Craig Stadler annual junior event Aug. 3-4 in the 36-hole championship division at the Twin Oaks Golf Club with a 9-under-par score of 135 and four shot win over Rancho Santa Margarita's Zander Grant.
Lague, who be a senior at Steele Canyon High School, posted scores of 67-68 for the win. He made 13 birdies to win his first event this year. His previous best finish was a tie for fifth place at the Sean O'Hair Heritage event.
Lague's championship performance moved him up to eighth place on the season leaderboard.
Irene Park from Diamond Bar High School won the girls championship division at the Craig Stadler event with a 5-under-par score of 140 and one-shot victory over La Mesa's Annika Yturralde.
Park posted a 4-under-par score of 67 during the final round which included six birdies, including three birdies over the final five holes.
Yturralde ranks eighth in the association's season girls standings.
BOYS  season LEADERS
Points: 1. Dylan Oyama (Carlsbad) 1,440.99; 2. Jacob Paule (Chula Vista) 1,238; 3. Jaden Hunter (Rancho Santa Fe) 1,180.5; 4. Jackson Moss (San Diego) 1,152; 5. Tyler Kowack (San Diego) 781.33; 6. Ryan Voois (Ladera Ranch) 714; 7. Davis Lee (San Diego) 710; 8. Shea Lague (Jamul) 666; 9. Jacob Zhang (San Diego) 663.83; 10. Zander Grant (Rancho Santa Margarita) 651.83; 11. Rei Harashima (Chula Vista) 631.83; 12. Lucaino Conlan (Carlsbad) 582; 13. Logan Kim (La Canada Flintridge) 545.33; 14. David Zhang (San Diego) 525.83; 15. Evan Rafael (San Diego) 499.33; 16. Michael Behr (San Diego) 476; 17. Carlos Mattei (Chula Vista) 473.33; 18. Arman Rahgozar (San Diego) 463.33; 19 (tie) Liam Koeneke (San Diego), Andre Nacional (Oceanside) 416; 21. Jaeyoung (Jeffrey) Kwak (La Mirada) 317.33; 22. Connor Williams (Escondido) 300; 23. Adam Moss (San Diego) 290.5; 24. Nolan Ward (La Jolla) 280.5; 25. Steven Deutsch (Chula Vista) 245.33
GIRLS SEASON LEADERS
Points: 1. Libby Fleming (Escondido) 1,918; 2. Karen Tsuru (Carlsbad) 1,730; 3. Jasmine Leovao (Oceanside) 1,574.5; 4. Janae Leovao (Oceanside) 1,550; 5. Estibaly Garcia Rubio (San Ysidro) 1.306; 6. Taylor Riley (San Diego) 1,185.83; 7. Melanie Reyes (Chula Vista) 980; 8. Annika Yturralde (La Mesa) 976; 9. Lynn Pham (San Diego) 884; 10. Sade Jackson (Imperial Beach) 844; 11. Anna Davis (Spring Valley) 630; 12. Lucy Yuan (San Diego) 595; 13. Natrada Pongasin (Anaheim) 512; 14. Napua Glossner (San Diego) 464; 15. Lauren Williams (Escondido) 389.33; 16. Yaming Yang (San Diego) 374; 17. Sasha Lisnevsky (San Diego) 347; 18. Kathleen Keomahavong (San Diego) 333; 19. Yiyun Xu (San Diego) 288; 20. Crista Izuzquiza (Coronado) 275