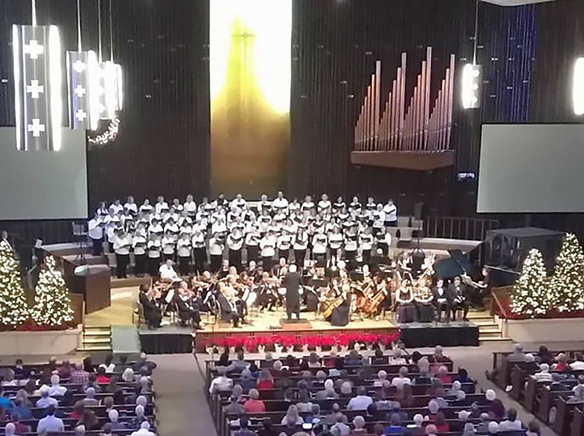 "This is a wonderful way to bring in the holiday season. You don't feel like you had Christmas until you started with 'Handel's Messiah,'" said Pat McAfee during the intermission of "Sounds Good" winter concert performed on Sunday by the San Diego Festival Chorus and Orchestra (SDFCO), a non-profit organization based in East County. McAfee is an alto soloist who started out as a cellist, "but then I gradually went to voice, I had a wonderful teacher and it turned out I had an operatic voice, so God was good to me."
"This is a wonderful way to bring in the holiday season. You don't feel like you had Christmas until you started with 'Handel's Messiah,'" said Pat McAfee during the intermission of "Sounds Good" winter concert performed on Sunday by the San Diego Festival Chorus and Orchestra (SDFCO), a non-profit organization based in East County. McAfee is an alto soloist who started out as a cellist, "but then I gradually went to voice, I had a wonderful teacher and it turned out I had an operatic voice, so God was good to me."
It is all about God, the scriptures, especially the Old Testament, and the Christ coming into this world to die for people's sins in this uplifting oratorio by the German composer George Frederic Handel, with a Bible-inspired libretto written by Charles Jennens. The performance filled up the elating space at the College Baptist Church to the brim with a very enthusiastic and responsive audience who sang, generously applauded and stood up to honor the centuries old tradition during the hallelujah chorus. McAfee explained this is a very old tradition dating back during King George II where legend says he attended one of Handel's performances and stood up during Hallelujah chorus.
"I don't know if he just needed to stretch or if he felt like it was so wonderful," said McAfee. As for her solo alto part in the oratorio she said, "Well, I sort of tell everybody what to do, you know?" She then proclaimed, "Rejoice greatly, O daughter of Zion. I am telling everybody to rejoice and the whole thing is about rejoicing and the Christ child coming."
Handel wrote Messiah to celebrate the Easter, but because the first part is about Christ's birth, Messiah became a traditional feature performed in December in concert halls throughout the world.The evening was split in two parts, with the first half filled by Handel's sublime Messiah and conducted by SDFCO founder and musical director Anthony Mostardo, who left Chicago in 2001 because of "that lady right there, she is the reason why I came to California. That's Greta, that's my wife," he joyfully confessed.
Asked about what gives him stamina to take on two concerts per year coupled with the incredible work of training and directing over 130 singers and instrumentalists, the maestro smiled. "You know what it is, it's music, that's it. If it wasn't for the music, I wouldn't be here. When I came to California 18 years ago, I was just tired of sitting in a chair, so I decided to start this thing. It wasn't very hard, we started very small and we grew rather rapidly and most everyone is a volunteer. I am fortunate." Mostardo invites everyone who wants to be part of the chorus to join the group for the upcoming repetitions starting in January 2018.
Directed by Ron Concell, the second half of the evening was less solemn and more playful, with the orchestra and the chorus performing "A Musicological Journey Through the Twelve Days of Christmas," composed by Craig Courtney, awarded composer, pianist and choral director. Courtney assembled 11 minutes of enchanting musical parodies after Handel, Vivaldi, Strauss, Mozart and others classic composers, followed by popular songs grouped under Christmas Classics and ending with a modern jazz interpretation of "Carol Swing" that brought hundreds of audience members up on their feet, singing and rejoicing. Besides McAfee, there were three other professional soloists, Tasha Koontz, Timothy Simpson and Christopher Stephens who made the high cathedral walls of the Baptist Church to vibrate with their amazing voices.
"What you have here is professional sounding from a volunteer chorus and Tony takes great pride in the quality of our performances and the beautiful sound of our music despite the fact that our chorus is not auditioned. Our musicians are professionals and most play with the Chamber Orchestra and with the San Diego Symphony and enjoy playing with us as well. We are not affiliated with any church and we often do compositions by different writers, as we've done beautiful Jewish music, Catholic music among others," said Renata McLaughlin, chairperson with the tickets department.
San Diego Festival Chorus and Orchestra will have the next traditional public performance in May of next year with updates available at www.sandiegofestivalchorus.org.