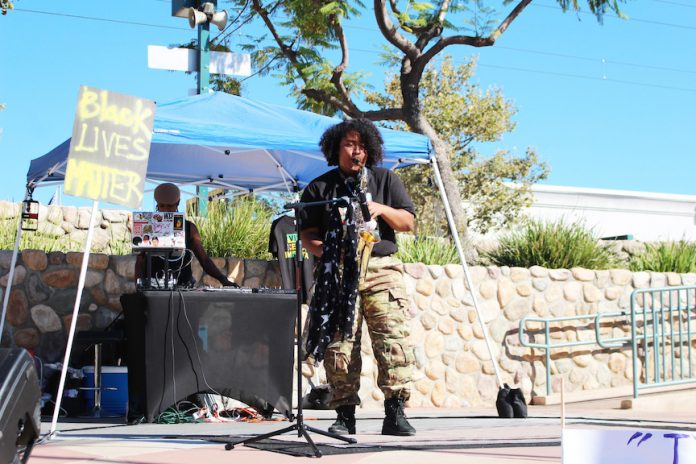 Justin Haskins said a Defend East County rally he organized July 18 was about creating a community.
"I want to distance myself from race politics," the Santee resident said after he stepped away from where several hundred people were mustering alongside their vehicles at the Cameron YMCA in Santee on Saturday morning.
Country music poured out from a portable speaker while attendees rigged the American flag along with Trump 2020, Don't Tread on Me, and Keep America Great flags to cars and trucks staged in the public parking lot for an event billed as a caravan to support Law Enforcement and First Responders.
It was the same parking lot where nearly 1,000 people had gathered in June for a march in support of civil rights and the Black Lives Matter movement against police brutality. That day participants marched to the Santee Sheriff's substation on Cuyamamca Street for a silent vigil before making the 3-mile roundtrip to the YMCA.
Haskins gestured to a group of young children playing in the grass.
"These kids see towns getting burned, the flag destroyed, sports figures kneeling for the pledge of allegiance and meanwhile a lot of positive interaction with law enforcement is gone from schools. I'm trying to promote something positive," Haskins said.
Defend East County was created the day after the La Mesa riots, Haskins said, referencing a May 30 Black Lives Matters protest that spiraled out of control when sheriff's deputies fired tear gas into a crowd and groups of looters subsequently burned and destroyed businesses in downtown La Mesa.
Saturday's goal, however, was to offer support and show appreciation for law enforcement by hosting a parade of cars through the city. He said he also wants to bring the community together.
But some nearby residents expressed anger and ambivalence about the group's purpose.
"We don't need this here. I absolutely believe this crowd brings racist and homophobic beliefs with them," said Bryanna Fornerod as those gathered in the nearby parking lot turned toward a large retired military vehicle fitted with an American flag that ran the length of the attached flatbed trailer and recited the Pledge of Allegiance.
The vehicle pulled in front of the private entrance to Fornerod's residential community, waiting to take up the rear of the caravan for a short drive down Cuyamaca street.
"This is a private community, he's trespassing. Several community members have said they feel unsafe with this crowd. I tried asking the driver to move and he won't so I called the non-emergency Sheriff line because it is a fire hazard to be blocking our only entrance," Fornerod said.
Fifteen year old Catherine Nickoli was perched nearby on her patio wall, stoic, and held a single rainbow Pride flag until the entire caravan had passed by.
"If they have the right to wave their flag, I have the right to wave mine," Catherine said.
After the caravan returned from parading in the streets, Lakeside Planning Group board member and business owner Steve Robak showed up in a military-grade water tanker and doused a gaggle of laughing children who ran around the parking lot while hundreds of gallons of cool water rained down on the crowd.
Sarah Pond had gathered children's notes and artwork to add to scrapbooks of gratitude she hoped to give to law enforcement officials and first responders who had been invited to attend.
California Highway Patrol Officer Silber said he was grateful for the community show of support.
"It's nice having the community come out and show their support for law enforcement and events like this show there is an immense amount of support," CHP officer Brian Silber said.
Haskins said CHP and the Santee Fire Department  were the only invited first responder agencies that showed up to receive their tokens of appreciation.
"We purposely did not come because of the political nature of the event but we sent a battalion chief to pick up (a) flag after we thought the event had ended because it was a gift," said Santee Fire Chief John Garlow.
YMCA representative Courtney Pendleton said they were not aware the event would be taking place in the public parking lot outside the facility.
"From what I understand, there were a few people from the event who tried to use the restroom who were not happy about our policy when they were told we could not allow it. We did call the non-emergency Sheriff line about some of the behavior we encountered," Pendleton said.
Authorities said a sergeant from the Santee Sheriff's station responded to the call and was resolved without incident.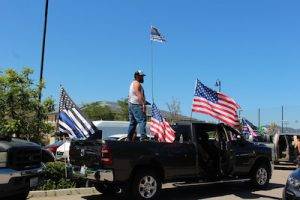 Less than 24 hours later  a few dozen people gathered for The People's Music March for Change in the amphitheater at Santee Town Center and said they want to replace the local police departments with stations powered by the community.
The event, organized by Kaia Reuter and members of Black activist group Umoja, combined music festival-style acts such as Angel Farrah playing saxophone for an opening act, followed by others who sang for the audience, gave instructional speeches and shared personal narratives.
Reuter told the audience she worked on planning the Santee event in part because she has been an ally to Black Americans since she started helping as a three-year old at a domestic violence shelter.
"Now you see the color of my skin," Reuter said, gesturing to her fair skinned arms.
"However, I was raised in an all-Black household. My first poem I ever wrote was called Brown Skin and was an ode to my Grandma and Papa. My Grandma was a strong Black woman from the South…" Reuter said, before breaking into song.
DeVaughn Walker, a member of the Black Panthers and Umoja—which advocates community-based governance—said his group was there to advocate for a return of power from the state to the city.
"The community should get the right to have a station they oversee, we need to defund the police departments and do more with less," Walker  said.
He considers it vital to learn how to govern the community on a local level to break the cycle of needing to ask the government for help with anything.
"We need to take back our power, break the paradigm," Walker said.
He invited parents to stop by a community-run City Heights garden and try gardening and composting with their children, saying there is nothing like getting your hands in the dirt.
"The structure and organization were on par, some people were nervous about coming to Santee, not sure if there were going to be people for or against equal rights for all but looking at the fact that we had security, vendors, COVID supplies like masks for the microphones and  sneeze guards, the DJ, people of all ages and that it was so organized—I believe that was the success," Reuter said.