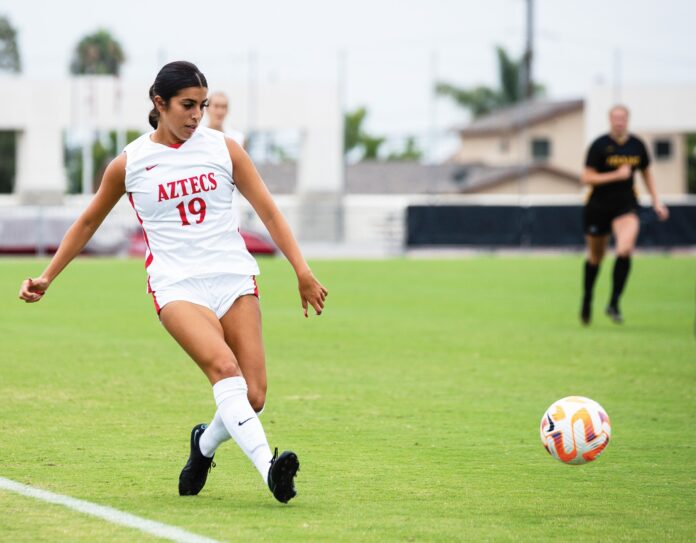 The San Diego State women's soccer team has been predicted in annual preseason polls to finish either first or second in Mountain West Conference play in 12 of the last 13 years.
The Lady Aztecs, braced by 10 local prep products, including two from East County and six from South County, advanced as far as the semifinals of this year's conference championship tournament, falling by a score of 1-0 to top-seeded Wyoming, Nov. 2 at the University of New Mexico Soccer Complex in Albuquerque.
Fifth-seeded SDSU finished with a final 7-6-8 record. Wyoming, which went on to place runner-up to San Jose State in the championship game, had earned a 2-1 win over the Lady Aztecs in regular season play.
SDSU out-shot the Cowgirls, 20-12, in the playoff rematch but could not bulge twine. San Ysidro High School alumna Denise Castro led the Lady Aztecs with seven shots as both teams finished with five cornerkicks.
Wyoming goalkeeper Miyoki Schoyea made six saves to record the victory.
The 2022 season kicked off Aug. 18 with a 2-1 non-conference win at the University of Nebraska.
The Lady Aztecs drubbed the Idaho Vandals by a score of 7-2 in their home opener Aug. 21 at the SDSU Sports Deck.
The Lady Aztecs kicked off Mountain West play with a 5-1-1 run before hitting a 0-2-2 skid to end regular season play and finish with a 5-3-3 conference record.
SDSU defeated fourth-seeded Utah in the conference playoff quarterfinals in what proved to be a marathon encounter even by soccer standards. The Lady Aztecs and Lady Utes battled through 22 rounds of a penalty kick tiebreaker before SDSU emerged with a 19-18 advantage on spot kicks.
In what is believed to be an NCAA record, 44 penalty kicks were taken and 37 found net. The Lady Aztecs entered the conference tournament having allowed only three goals in their last nine games, including six shutouts.
Otay Ranch alumna Emma Gaines-Ramos finished as SDSU's leading scorer on the season with 19 points (six goals, seven assists) while Castro finished runner-up with 18 points (seven goals, four assists). Gaines-Ramos, a junior, and Castro, a sophomore, both expect to key the offense again next season.
Six of the 10 San Diego area products produced points on the scoresheet.
Trinity Coker, a sophomore from Poway, ranked in a tie for fourth in team scoring with five points (two goals, one assist). Eastlake grad Olivia Sekimoto, a junior, finished the season with one goal and two assists while Canyon Crest Academy's Lily Davis, a sophomore, scored one goal. Helix grad Claire Watkins, a senior, had one assist.
SDSU's roster also included redshirt freshman Daniela Chavira (Eastlake), redshirt freshman Alyza Eckhardt (Bonita Vista), senior Jalyn Lupo (Steele Canyon) and redshirt freshman Dori Savage (Mater Dei Catholic).
All-MW
Four SDSU players earned all-conference honors based on regular season accomplishments. They included Castro, Emma Gaines-Ramos, both on the first team, senior midfielder Kiera Utush on the second team and freshman defender Grace Goins on the newcomers team.
All-tournament
Junior goalkeeper Alexa Madueno and Utush both made selection to the MW all-tournament team. San Jose State goalkeeper Bente Pernot earned tournament MVP honors after guiding the Lady Spartans (8-67) past Wyoming with a 6-5 win in penalty kicks following a scoreless tie between the teams in the championship game.