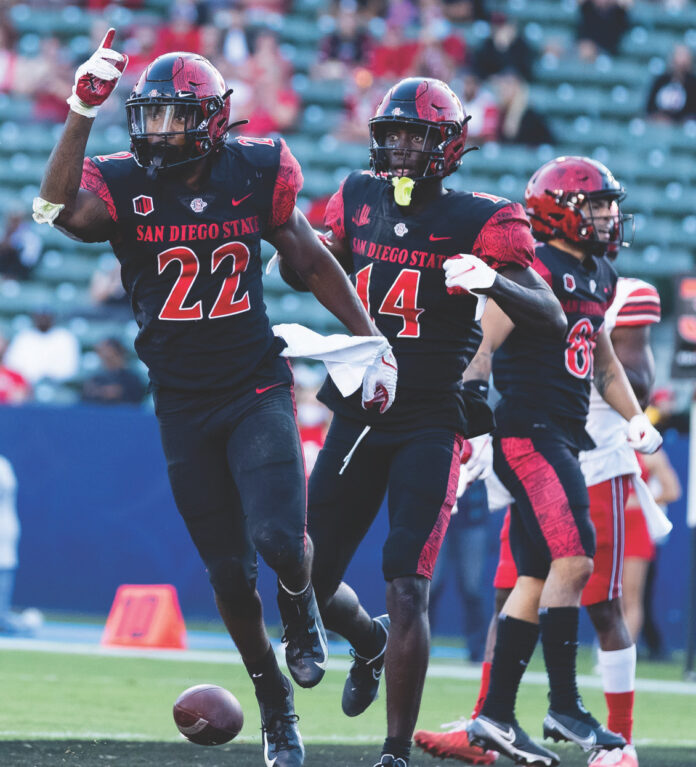 Qualcomm Stadium may be a hole in the ground at present and the Los Angeles (nee San Diego) Chargers are no longer the region's favorite sons, but the San Diego State University football team is starting to gain converts right and left with its 6-0 record to start the current college football season.
The 24th-ranked Aztecs defeated the host San Jose Spartans, 19-13, in a double-overtime thriller last Friday in Mountain West play to remain undefeated on the season. Head coach Brady Hoke's team is starting to reach heights reserved for only the very best in program history.
The perfect start marks only the second time in 46 years that SDSU has kicked off a season with a 6-0 record. With six wins, the Aztecs are already bowl eligible for the 12th consecutive season.
SDSU is one of 11 teams tied for the national lead with six victories.
The Aztecs keep climbing the rankings charts with their current winning streak, measuring in at No. 22 this week when the team travels to Colorado Springs to take on the Air Force Academy (3-1 in MW play, 6-1 overall) in a key conference encounter Saturday at 4 p.m. PT.
This marks the fifth time in the program's Division I era that SDU has started a season 6-0.
As for 7-0? Anything is possible. How high is high?
The Aztecs finished the 1966 and 1969 seasons 11-0 under legendary coach Don Coryell.
Names of the game
Homegrown high school products have been key contributors to this season's unbeaten start.
Senior running back Greg Bell (Bonita Vista) has 113 carries for 561 net yards with five touchdowns to lead Aztec ball-carriers while senior quarterback Lucas Johnson (Mt. Carmel) has thrown for four touchdowns, including both overtime scores last Friday.
Junior kicker/punter Matt Araiza (Rancho Bernardo) had a big impact in last Friday's Aztec victory with two field goals and one extra-point conversion to earn MW Special Teams Player of the Week honors. On the season, he is averaging 53.85 yards on 40 punts (leading all FBS players), including a long of 86 yards (longest this season), is seven-for-11 on field goals, including a long of 53 yards and is averaging 64.9 yards on 34 kickoffs.
This is the second time this season that Araiza has earned Special Teams Player of the Week honors and the third time in his career.
He was recently named an AP Midseason All-American.
Junior receiver Jesse Matthews (Christian) has 11 catches for 94 yards with two touchdowns — both coming in overtime last Friday.
Other notable locals in the SDSU program include junior linebacker Andrew Alves (St. Augustine), junior linebacker Michael Shawcroft (Helix), freshman tight end Miles McCormick (Cathedral Catholic), junior receiver T.J. Sullivan (Mt. Carmel), redshirt freshman receiver Darius De Los Reyes (Lincoln), defensive lineman Cameron Thomas (Carlsbad), sophomore cornerback Noah Tumblin (Mira Mesa), senior offensive lineman Dominic Gudino (Olympian) and junior offensive lineman William Dunkle (Eastlake).
Thomas ranks second on the team with 29 tackles and tops the team with 3.5 sacks and a team-leading 12 quarterback hurries.
Shawcroft has logged 19 tackles on the season, including 13 unassisted stops, 5.5 tackles for a loss, three sacks and one interception.
He tied a career high with eight tackles in last Friday's game in San Jose and recorded a career high three tackles for a loss and his third sack of the season. He also had his second forced fumble of the season and fourth of his career.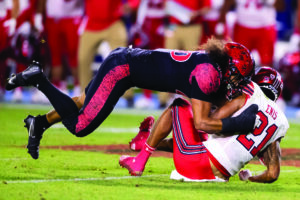 Tumblin ranks seventh on the team with 21 tackles.
The Aztecs feature six East County players on their current fall roster. Helix has contributed four of them: Shawcroft, senior safety Rashad Scott, freshman cornerback Jaiden Brown and freshman offensive lineman Josh Simmons.
West Hills and Grossmont College alumnus Jack Browning, a sophomore transfer kicker-punter, has blasted a 62-yard kickoff in his only appearance this season.
Airwaves
SDSU quarterbacks have yet to really find their niche with just six passing touchdowns in six games compared to 15 rushing touchdowns.
Johnson has appeared in all six games with a 122.2 efficiency rating. He's completed 59.2 percent of his passes for 234 yards with four touchdowns and one interception.
Jordon Brookshire (Santa Rosa) has appeared in four games with a 105.2 efficiency rating. He's completed 47.6 percent of his passes for 521 yards with two touchdowns and one interception. He's thrown for an average of 130.3 yards per game
Brookshire has added 112 rushing yards to top the team with 628 yards in total offense while Johnson has 64 rushing yards and 322 yards in total offense.
On the receiving end, Daniel Bellinger (Las Vegas) has 12 catches for 197 yards with one touchdown.
Grinding it out
As a team, the Aztecs are averaging 215.3 yards per game, thanks to an offensive line anchored by Gudino (6-3, 300) and Dunkle (6-5, 330)
Jordan Byrd (Albuquerque, N.M.) has 18 carries for 156 net yards and three touchdowns. Byrd also has one kick return for a touchdown this season while averaging 34.9 yards on seven returns.
Six-and-oh
SDSU had averaged 35.6 points per game in its opening five games, but last Friday's conference opener for the Aztecs proved to be a defensive struggle in which neither team scored a touchdown until the overtime tiebreaker when the teams combined for three scores, including two by the victors.
The Aztecs never trailed in lasty Friday's game, though it was tied three times.
Araiza gave SDSU a 3-0 lead on a 53-yard field goal in the second quarter. Matt Mercurio counted with a 32-yard field goal for the Spartans to tie the game 3-all.
Araiza connected on a 28-yard field goal later in the second quarter to push the visitors ahead, 6-3, on the scoreboard.
The second quarter featured three field goals between the teams — two by SDSU.
The third period, like the opening period, was scoreless. The Spartans produced the only points in the fourth quarter on a 48-yard field goal by Mercurio.
The game proceeded into the overtime tiebreaker. Both teams scored on their opening series. Matthews caught a 14-yard pass from Johnson while Tyler Nevens scored on a one-yard run to knot the score at 13-13 following successful one-point conversions by each team.
Matthews made a leaping catch in the end zone for what proved to be the game-winning touchdown on a 24-yard toss from Johnson.
Prior to Matthews' second catch, senior safety Trenton Thompson (Palm Springs) had intercepted a pass in the endzone to nullify San Jose State's second overtime possession.
It was Matthews' first two touchdown catches this season and the fourth and fifth of his career. He caught four passes in the game for 54 yards, including one for 34 yards.
Matthews admitted it had been testing his patience "a little bit" at the relative inactivity so far this season.
"(Wide receiver coach Hunkie Cooper) always says just to be ready when my opportunity comes and that's what I try to do. Going every day at practice, just work hard. When I get the opportunities, I try to make the best of them."
SDSU prevailed despite being outgained 345-240 in total offensive yards. Brookshire generated 132 passing yards while Johnson played the two overtime possessions, ending the game with two touchdowns.
B.J. Busbee (Long Beach) had three catches for 41 yards while Bellinger had five catches for 34 yards. Isaiah Richardson had one catch for 24 yards.
Araiza made two of three field goals — he missed a 55-yard attempt in the third quarter — while recording seven punts for a 52.9-yard average and three kickoffs for a 65.0-yard average.
He is the only player to register an 86-yard punt and a 53-yard field goal in the same game since 2012.
SDSU Aztecs Schedule
September
4: SDSU 28, New Mexico State 10
11: SDSU 38, Arizona 14
18: SDSU 33, Utah 31 (3OT)
25: SDSU 48, Towson 21
October
9: SDSU 31, New Mexico 7
15: SDSU 19, San Jose State 13 (2OT)
23: SDSU at Air Force, 4 p.m. PT
30: Fresno State at SDSU (Health Dignity Sports Park), 7:30 p.m.
NOVEMBER
6: SDSU at Hawaii, TBA
13: Nevada at SDSU (Health Dignity Sports Park), 7:30 p.m.
19: SDSU at UNLV, 8:30 p.m. PT
26: Boise State at SDSU (Health Dignity Sports Park), 9 a.m.
DECEMBER
4: Mountain West championship game, noon PT