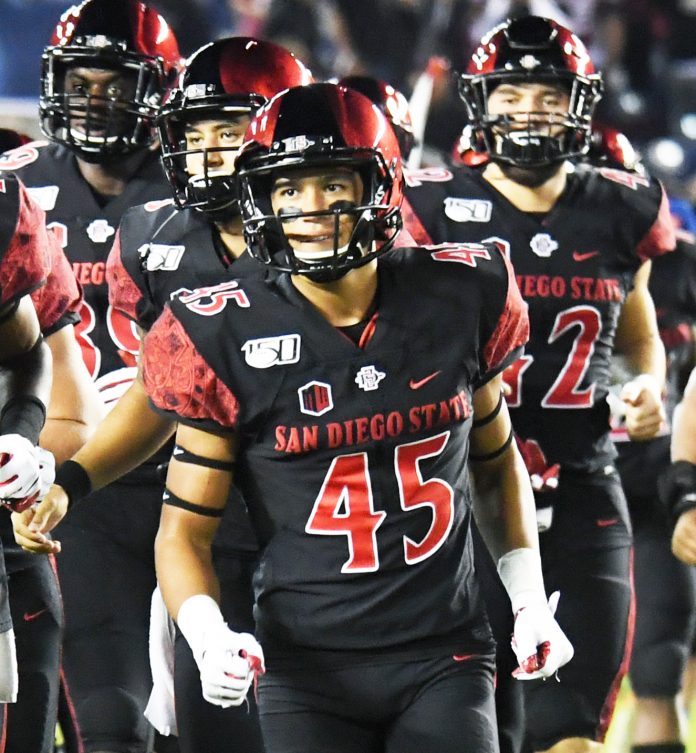 The 2019 San Diego State University football team lists 110 players on its roster. Counted among them are 22 San Diego County high school graduates, including four from East County.
Perhaps not surprisingly, three of the four East County Aztecs hail from Helix High School.
They include redshirt freshman quarterback Carson Baker, sophomore safety Rashad Scott and freshman linebacker Michael Shawcroft.
Redshirt freshman wide receiver Jesse Matthews, a Christian High School alum, rounds out the talented quartet.
All have made contributions to SDSU's 5-1 start to the season.
Scott and Matthews both entered their names on the stat sheet in last Saturday's 26-22 come-from-behind win over the Wyoming Cowboys at SDCCU Stadium, a game in which the Aztecs trailed 14-3 midway through the second quarter.
Matthews made a career-high six receptions for 73 yards, including one catch for 25 yards. He caught five passes for 65 yards in the second half as SDSU out-scored Wyoming 20-8.
Scott made his first career fumble recovery.
SDSU improved to 2-1 in Mountain West play and will next play this Saturday, Oct. 19, at San Jose State (3-3 overall, 1-2 in conference play) in a key MW West Division contest.
The Aztecs, who have made nine consecutive bowl game appearances, won back-to-back conference playoff championships in 2015 and 2016.
SDSU has six regular season games remaining on its schedule. The Aztecs need two more wins to become bowl eligible.
Eastern exposure
Matthews, who earned two letters at Christian High School, has worked his way up from the No. 4 Z-receiver on the SDSU depth chart to earn a start in last Saturday's game at one of the two wide-out positions.
A walk-on coming off a strong spring campaign, Matthews has appeared in all six Aztec games this season after earning accolades as the team's offensive scout player of the year during his 2018 redshirt year.
On the season, Matthews has 21 receptions for 224 yards. He showed his versatility with one catch for 20 yards, one carry for seven yards and one punt return for 13 yards in SDSU's 23-17 loss to visiting Utah State on Sept. 21.
A first-team all-league selection in 2017, Matthews helped the Patriots to an 8-3 record as a senior in 2017 with 57 catches for 888 yards and 14 touchdowns.  He also completed two passes for 102 yards and a pair of scores while making 35 tackles on defense with three interceptions and two fumble recoveries.
Scott, who ranks second on the team's depth chart at the safety position, helped the Scotties to a 39-7 (.829 winning percentage) during his prep career.
A three-time varsity letter-winner and two-time All-CIF first team selection, he helped Helix to an appearance in the 2017 CIF Division 1-AA state championship game (along with Baker and Shawcroft), posting eight interceptions and 11 pass deflections as a senior.
Scott played in the final 11 games of the 2018 season for SDSU as a true freshman on special teams with one tackle.
Shawcroft, the 2018 San Diego Section Defensive Player of the Year, appears to have a bright future on Montezuma Mesa.
He played three seasons at Helix, scoring seven touchdowns during his career on offense while helping the Highlanders post five defensive shutouts in 2017.
He's appeared in all six games this season for the Aztecs, making one tackle in SDSU's 6-0 season opening win over visiting Weber State on Aug. 31.
A team captain for two seasons and two-time All-CIF pick and two-time league offensive player of the year while at Helix, Baker is listed second on the SDSU depth chart at quarterback but has yet to see any on-field action this year.
However, he did participate in the Aztecs' annual spring game, passing for 96 yards and one touchdown, at the team's preseason scrimmage at SDCCU Stadium on Aug. 17, completing six of 12 passes for 46 yards with one interception.
Baker used his redshirt season in 2018 but appeared on the travel squad for three games.
During his three years at Helix, Baker logged some outworldly numbers. He passed for 5,544 yards in his prep career, completing 67.3 percent of his passes, while throwing 62 touchdowns against eight interceptions. He also rushed for 590 yards and scored seven touchdowns.
During his senior year he completed 33 touchdown passes against just three interceptions.
He is valued by the Aztecs for his accurate arm and potential and is clearly a top prospect for the future.
Game on
Redshirt freshman Matt Araiza (Rancho Bernardo) kicked a pair of field goals in the first half to supply SDSU's offensive output before the Aztecs put their game in high gear in the second half in front of 28,758 fans on Aztec Hall of Fame Weekend.
Senior running back Juwan Washington scored a pair of touchdowns in the third quarter — the first on a 15-yard pass from starting senior quarterback Ryan Agnew to trim the Wyoming lead to 14-13 and the second on a 10-yard run to put SDSU in front 19-14.
With his team trailing 22-19, Agnew completed a 12-yard pass in the end zone to sophomore tight end Daniel Bellinger with 2:09 to play in the game to stand up as the game-wining touchdown. Agnew (209 passing yards in the game) scrambled to his left and threw back across his body to Bellinger, who caught the ball while sliding to the turf.
Saturday's game in San Jose features a 4 p.m. kickoff and will be streamed on Facebook.
San Jose State has the best turnover margin among FBS teams at +2 per game. SDSU ranks in a tie with Notre Dame for second at +1.67.
The Spartans have 18 takeaways and six giveaways; the Aztecs have 13 takeaways and three giveaways.
SDSU is 49-5 under head coach Rocky Long when making few turnovers than its opponent in a game.
Defense has definitely proven of good benefit, particularly in last Saturday's game.
SDSU ranks fourth in the FBS in allowing fewest rushing yards per game (64.0).
The Aztecs held the Cowboys to just 11 first downs and allowed only 92 total yards in the second half, including just 28 yards on the ground.