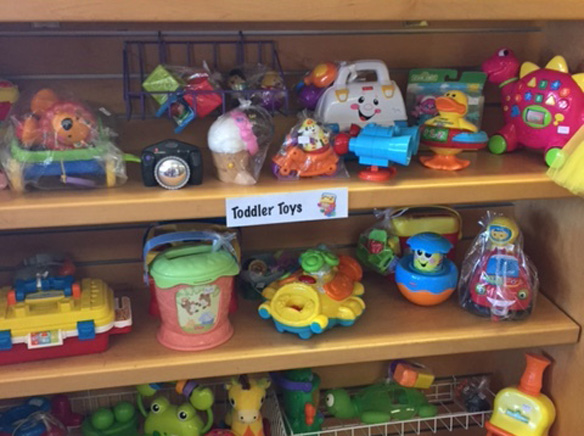 Pockets feeling a little empty? Do you need a cheap pair of new pants with good pockets? Or have you outgrown those gently used pants of yours but know that someone else could wear them?
Pockets feeling a little empty? Do you need a cheap pair of new pants with good pockets? Or have you outgrown those gently used pants of yours but know that someone else could wear them?
If so, consider celebrating National Thrift Shop Day, which this year falls on Monday, Aug. 17. East County features an abundant choice among these thrifty storefronts, where customers can discover rare finds at inexpensive prices on donated or resale goods, or just good prices on everyday necessities. Getting a good deal can be even better for students, seniors and military troops, as several area thrift shops offer deeper discounts on already low-cost items to purchasers in these categories.
Resale and consignment shops are a subset of thrift stores with bargains aplenty, many specializing in keeping current or classic items in stock to draw shoppers looking for high fashion at low prices. Items can also be resold or traded through resale and consignment shops. These types of thrift stores are usually most interested in acquiring seasonal selections, while also featuring a sampling of best-of-all seasons clothing, including ugly Christmas sweaters and Halloween costumes.
One often-overlooked but very beneficial set of resale stores are dedicated to offering reasonably priced items that are almost always gently used before becoming unused—baby, infant and children's gear. One such shop is The Baby Exchange, at 721 Arnele Avenue in El Cajon. Jenna Thurman, a sales representative there, described how customers could shop or sell at the store. Name brands will be bought back. Certain specific items can be placed in exchange for cash or store credit for other purchases. New clothes go for 30 to 70 percent off regular prices. In general, Thurman estimates that a buyer will spend around half as much at this shop as in retailers' stores. In addition to clothing and shoes, The Baby Exchange features new cribs, strollers and car seats.
Cory's Closet in Rancho San Diego has been in business for 22 years as a resale shop specializing in items for children and parents. The family-owned store is located at 3745 Avocado Boulevard. Celine has worked at the store for 15 years and praises the "upscale" shop for selection and customer service. "We take pride in our store," she reported. Celine said the store features "lots of nice" baby equipment, including new baby carriers ad like-new toys. Many of the items for sale are half the price of new. Children's clothing items available for sale run from newborn tiny to size 12. Maternity clothes for the mother-to-be are also sold at Cory's Closet. A children's playroom at the store entertains the youngsters while their parents shop the nearby racks and shelves. Books and infant clothes for babies up to nine months are "buy two, get one free." And if a sought-after item is not currently available at the store, it can be placed on a "wish list" with the item-seeker contacted once the shop has it in stock.
Do you have a good cause in mind that you like to support? Many thrift stores serve the purpose of providing income to local charities. Whether you buy there or donate items there, you will be helping others.
Local charitable organizations will accept such unused items for donation as clothing and shoes that are in good condition, books, house wares, furnishings, electronics and even vehicles. In exchange, you can receive an income-tax deduction form stating the value of your donated goods. The easiest donation process is with a group that schedules pickups at homes or other specified locations. Vietnam Veterans of America, United Cerebral Palsy's UCP Thrift Stores and the Salvation Army are charities that will come to get your unwanted items. Donation bins for Goodwill Industries are scattered around East County, or items for donation may be dropped off at any Goodwill store, including the El Cajon store at 2650 Jamacha Road, Suite 153, or the new La Mesa store, which opened a month ago at 3713-3717 Avocado Boulevard. These organizations run their own thrift shops or align with other charitable thrifts, using the income from item sales to fund their community service programs.
The McAlister Institute Thrift Store, located at 993 E. Main Street in El Cajon, is seeking donated items that are in "good, gently used, and working condition." Especially prized for donation there are clothing, appliances, collectibles, furniture, household goods and tools. Donations are tax-deductible and can be dropped off or picked up for free, with all proceeds going toward McAlister Institute programs of quality, low-cost substance abuse treatment and education.
Donations in the Salvation Army's various Family Store shops bring in money through sales, and the donated items also provide work skills training for those enrolled in the group's Adult Rehabilitation Centers (ARCs). Furthermore, anyone in need of clothes, from personal crisis or low income, can request assistance from the Salvation Army, which will give out vouchers that can be used for clothing at any of the group's stores. East County Salvation Army Family Stores can be found at 8828 Cuyamaca Street in Santee and in the College area at 6875 El Cajon Boulevard.
Blake Swarthout, who has served as resident manager at the ARC in downtown San Diego, located at 13th and Broadway, recently described how clothing donations provide skills training for the 100 men in residence at the facility. These program enrollees are housed long term, for a minimum of six months but up to one year for rehabilitation from alcohol and drug abuse problems. Many have been unemployed for several years and need job retraining. Their work therapy assignments are in the on-site warehouse, where donated clothing items are delivered and then prepared for sale. El Cajon Corps ministry assistant Taneya Garrett pointed out as well for local donors that the Salvation Army keeps donations local. She said, "Everything goes back into the community. Whatever is donated in the community raises money that is used for services to people in that community."
You can get yourself a bargain by thrifty shopping. And you can give back to your neighbors in need at the same time.