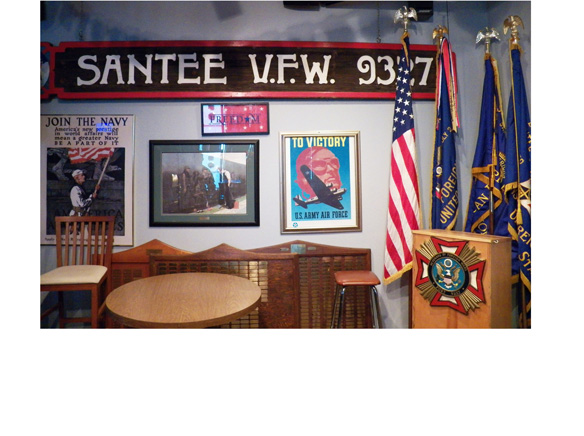 Awareness and concern are high over military veterans who are homeless. But what about those organizations of veterans who are dedicated to serving other veterans and what happens when such veterans' service organizations lose their "home"?
Awareness and concern are high over military veterans who are homeless. But what about those organizations of veterans who are dedicated to serving other veterans and what happens when such veterans' service organizations lose their "home"?
Santee's Veterans of Foreign Wars Post 9327, the associated VFW Auxiliary Unit, and the co-located American Legion Post 364 will demonstrate what transpires. These groups received notice to vacate their current home in strip mall facilities at 8790 Cuyamaca Street, Suite F, by September 10.
These three veterans service organizations plan to move their furnishings and operations during the interval from September 1 through 10. The groups will follow a normal schedule of hours and events through the last day of August. One urgent need is for assistance with a storage capability, to hold Post furnishings and equipment until a move into a new facility is possible.
And they are asking others in the Santee community for help.
"For years we have helped veterans and others in need here in Santee. Now we are asking for help from the same community," said VFW Commander Todd Childs.
Neal Goforth, commander of American Legion Post 364, concurred.
"We want to keep doing what we have been doing for the community, and we ask the community to help us continue," he said. "We want people in Santee to know that we are not shutting down. We are relocating. We are not going away, and we will still be helping veterans and the community. Any help people can give us will be greatly appreciated."
The local Eagles have stepped up, offering the three organizations temporary housing, by amending the Eagles bylaws for eight months to permit members in good standing of the three Santee veterans groups an implicit automatic sign-in authorization for access to the Eagles club house at 9317 Shadow Hill Road. This will provide the homeless veterans organizations with a base of operations, and the Eagles have agreed to assist the veterans groups with continuing their Friday night dinners, Sunday breakfasts and football game viewing events to raise money.
The leaders of VFW Post 9327, which holds the lease on the groups' current space, requested rent reductions from the property management company for the Cuyamaca storefront facilities, because the recent economic downturn had dwindled receipts from Post fund-raising opportunities. The requests were granted, with conditions. Since January, the lease agreement has been for a payment of $3,000 each month, but the lease is on a month-to-month basis while the property managers sought a new tenant that can pay more. On July 1, the 60-day notice to vacate the premises was delivered.
In response to the news, the Santee veteran's organizations set up committees to split responsibilities for various aspects of the forced move. House meetings are scheduled for every Sunday at noon, until the facilities transfer is completed.
Eugene Michonski, junior past commander of American Legion Post 364, said, "We are exploring every avenue to make this happen. At the first Sunday meeting, we saw more people than we've ever seen here. The attendance was standing room only."
The temporary housing at the Santee Eagles facility harks back to similar cooperative junctures when the Eagles and VFW Post 9327 have hosted each other's organizations. About eight years ago, both groups had to move to new places. Leroy Rogers is both a past president of the Eagles and a VFW life member. He provided the background on that history of mutual assistance. The organizations used each other's facilities, with the VFW first moving in as tenants for the Eagles.
"The outcome was very successful," Rogers said. He described how the VFW needed to put together enough money to make a move into new quarters, and how the extra income the VFW events brought in for the Eagles during the interim permitted the Eagles to start a fund to finance purchase of their own building.
The veteran's organizations are at the mercy of the city's land boom. Santee's success has made commercial property pricey for renting, leasing or buying. Most of the properties that the groups have looked at for relocation will cost $5,000 to $10,000 per month.
Members of the moving committee have contacted local realtors about feasible properties for relocation. They have looked at around 20 properties, including the old Enterprise car rental offices and the former Margarita's restaurant on Mission Gorge Road.
So where will these Santee veterans' service organizations go for a new, permanent home is still in question. The groups have a few essential features in mind that their future post must have. A zoning designator for a property that is compatible with the groups' needs must allow bar operations, which means the facility cannot be too near a school or church. The hall must be large enough, at 2,500 to 3,000 sq. ft., with commercial kitchen facilities already installed or readily put in place. The new location must be in Santee. And the VFW and American Legion Posts intend to stick together.
"We plan to hang our charters right next to each other in our new home," said Michonski.
On their wish list, the Posts believe that their ongoing income from fund raising events, bar operations and meal services will support a monthly payment of $3,500. They desire a rent or lease bill of no more than that. They are seeking a long-term lease. They want a stand-alone facility, with a meeting hall separate from the kitchen and bar areas. They are eager to find a new property with an easy kitchen move-in, featuring gas lines, drains and a grease trap. They would prefer a site with lots of available parking slots and an outside patio attached to the building.
The Santee veterans groups are requesting donations and assistance of whatever kind businesses and individuals might be willing to provide, and as soon as possible. Whenever the current Post facility is open, the bartender on duty can give receipts for contributions or donations in kind. Thank you letters and tax deduction record letters will be sent to donors. Members of the moving committee would appreciate leads on finding a property the organizations could acquire, whether by renting, leasing or purchasing. Even once a new home for the groups is secured, regulatory hurdles will take six months or more to meet until they can move in. Any potential landlord willing to give the veterans groups a break by reducing the monthly rent price would be eligible for credit of the difference as a donation.
These veterans groups will be losing all income from bar receipts, a not insubstantial amount of the Posts' usual revenues, as of Sept. 1. They estimate they will need to amass at least $20,000, with $25,000 a better "cushion," for their moving fund. The expectation is for a gap of around two months after moving into new quarters, until the new bar and food services are up and running.
"In the grand scheme, we'd love to create a veterans center here in Santee for veterans throughout East County," said Michonski. "In reality, we need a place to operate with a kitchen. We need to survive as organizations. We need to maintain."
Anyone wishing to give a donation to the veterans' posts can contribute by mail at P.O. Box 9640-B Mission Gorge Road, PMB 351, Santee, CA 92071. Online contributions can be given at www.GoFundMe.com/y9y3wga8. More information is also available by phone at (619) 562-4022.